Chef's Roll hopes to be the LinkedIn for chefs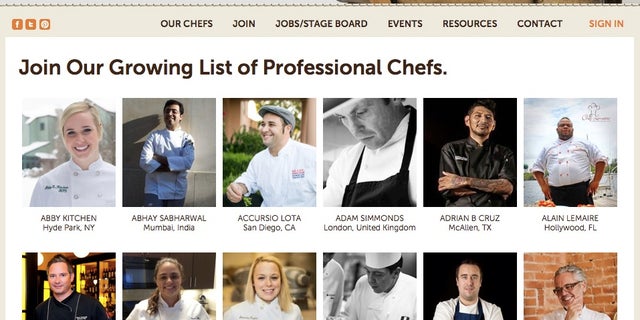 The most important ingredients for a successful chef's career used to be killer culinary skills and creativity in the kitchen.

But today, in the age of celebrity chefs and reality TV, having a digital presence and worthy television material is as important as knowing how to flambé.
"We want to build a worldwide community."


That's the idea behind Chef's Roll, a professional networking website designed to let people in the culinary world tell their story, showcase their talents and connect with potential clients, employers – and even casting producers.

"They can showcase themselves and their talents through videos and pictures and links to everything they've done," says Thomas Keslinke, a 13-year hospitality industry veteran who launched the site with tech expert Frans van der Lee.

It's a mix of LinkedIn and Facebook that enables chefs and culinary professionals to set up profiles that include photo galleries, bios, education and experience, skills and expertise, press links, event affiliations and other assets.

Keslinke says he and van der Lee got the idea for the site when they were running a marketing agency and chefs started approaching them for help with self-promotion.

"Unfortunately our price point was a little too high," Keslinke says, and the chefs also didn't have time to devote to a lengthy branding process. Keslinke and van der Lee realized there was a niche that needed to be filled: providing easy and affordable professional promotion for culinary crews.

Chef's Roll, which launched last month, already has thousands of members and has been endorsed by Cedric Vongerichten, David Burke and Fabio Viviani.

Ronald Hayes, author of "Creating Your Culinary Career" and director of career services at the Culinary Institute of America in Hyde Park, N.Y., says a digital presence is a must for culinary careerists.
"All of these chef-focused sites are really good if your goal is to work as a chef, and if your goal is to expand to opportunities beyond the kitchen, you need to be where your hiring managers, human resources professionals and recruiters are --and that's LinkedIn."
So why not just use LinkedIn? Profiles on the Chef's Roll, which cost $19 per month or $99 per year, can be viewed by anyone, anywhere with no restrictions. LinkedIn restricts viewing of profiles based on membership levels. Non-members might be able to see a photo and name, but generally the details are restricted or not viewable at all.
While it is important to show people that you know how to cook through pictures and recommendations, Hayes cautions that Chef's Roll may not land you on the next season of "Chopped."
"You have to do something with what you have -- you have to turn that from a tool in your tool belt to a tool in your hand," he says.

South Florida-based personal and private chef Alain Lemaire says he jumped onto Chef's Roll when a colleague told him about the site.

Praising the site for its user-friendliness, he called it "another tool that you can use to promote yourself to not just a certain demographic or area or region. It's pretty much global, because there are chefs from all over the world that are part of this."

Lemaire said he started using the site in January, and in addition to some search engine hits, he's seen people reach out to him.

Visuals are a key part of Chef's Roll. With the rise of reality TV and media opportunities, Keslinke and van der Lee say their site is already being utilized for casting purposes.

"We do have confirmation that those networks are starting to look at our network and find new talent," Keslinke says. He says a casting decision for Food Network's "Cutthroat Kitchen" was recently made via Chef's Roll, though they have to stay mum about names.

But the Internet isn't everything, Hayes emphasizes. The Culinary Institute of America hosts on-site career fairs at its campus that attract hundreds of employers looking to recruit. He also recommends students start networking as early as possible in order to build long-term relationships.

The job market looks good for those in the field, Hayes says. According to the National Restaurant Association, restaurant industry employment grew 2.4 percent in 2012 while U.S. employment grew only 1.5 percent.

Once Chef's Roll reaches a larger scale, Keslinke and van der Lee plan to add a "recommendation" feature, so culinary pros can give each other kudos. Call it online culinary street cred, a must in an increasingly digital world.

"Even looking at today versus five or eight years ago, it wasn't the same job market, it wasn't the same expectations," Hayes says. "Even three-star Michelin restaurants now – there are some that are owned by corporations and you have to apply online the same way you would with Sodexo. A digital presence really helps, because then you can showcase your work."

The site, while still new, is rapidly growing. Soon, Keslinke and van der Lee will be launching a similar site for sommeliers dubbed Sommslist.com, with master sommelier Eddie Osterland as their adviser.

For now, though, Chef's Roll is their primary focus.

"We want it to be the most professional network out there for the culinary industry," Keslinke says. "We want to build a worldwide community."