Chefs' favorite at-home recipes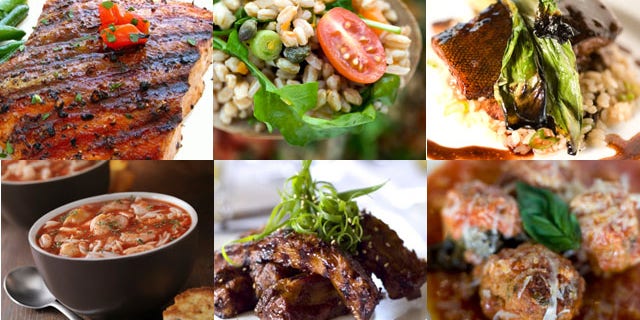 Ready to graduate from making semi-homemade meals to cooking like a chef? Many home cooks who aspire to improve their cooking skills and take on a challenge look toward chefs for guidance and inspiration. Chefs are the barometer by which we judge food trends, including what new ingredients are popular, what techniques are cutting-edge, and what cuisines are the next big thing. They are there to inspire and excite home cooks with new ideas.
But sometimes, a do-it-yourself approach to chef cookery can be intimidating. What makes a good recipe also an accessible one? Hardly anyone has the time, or the resolve, to spend precious time poring over cookbooks or hunting around for obscure ingredients from a list a mile long. It's understandable that home cooks might just throw down their aprons and go out for a meal.
That's why we're here to help bridge the gap and demystify chef cookery. Here at The Daily Meal, we make it part of our mission every day to make chefs' recipes accessible to home cooks. So we've put together some recipes from Food & Wine's cookbook, Chef Recipes Made Easy, as well as a few of our old favorites to inspire you to recreate some of these chef's most iconic dishes. You'll save some dough while impressing that special someone or friends and family at dinner.
Be sure to try Bobby Flay's Chile-Honey-Glazed Salmon, which he serves at his restaurant, Mesa Grill, in New York City. It's been simplified without losing the essence of the dish; plain sour cream stands in for the crema (which can be hard to find) used at the restaurant and using canned beans instead of dried means you don't have to wait overnight to make the sauce. And we all know how much of a chore trimming artichokes can be, so Jonathon Sawyer's Farro with Artichoke and Herb Salad as adapted for home cooks uses jarred marinated artichokes for maximum flavor with a minimum amount of work.
So quit making excuses, get in that kitchen, and sharpen your knives. As they say on that one show, "Allez cuisine!"
This sweet and silky fish dish from Nobu New York has been cloned at restaurants all over the country. It's fairly straightforward to make. The fish marinates overnight in just enough sake and miso to coat. Quickly searing the cod, then finishing it in the oven, creates a beautifully burnished crust.
Farro with Artichokes and Herb Salad Recipe
When he makes this farro dish at Cleveland's Greenhouse Tavern, Jonathon Sawyer poaches the artichokes in white wine, then uses the leftover artichoke poaching liquid to cook the farro.
Trimming and poaching fresh artichokes is laborious; jarred marinated ones make quick work of this recipe. The farro simmers in store-bought chicken broth.
Traditional bouillabaisse is a marvelous dish that requires many kinds of seafood and a lot of time to make. My quicker version delivers all the thrills of the original but uses only shrimp, plus fennel and edamame. Yogurt adds a sense of the characteristic creaminess, and buttery garlic bread completes the meal.
Bobby Flay's Spaghetti and Meatballs Recipe
Spaghetti and Meatballs, how to make them and who makes them better, are always a highly contested food. Flay might not have won this Throwdown challenge, but his recipe won us over. Simple and delicious, it's great for kids and adults — and adults who want to feel like kids again.
Spicy Cherry-Glazed Baby Back Ribs Recipe
If we were in Mexico, these tender Yucatán-style baby back ribs might well be wrapped in leaves and cooked in a deep pit. Barring a hole in your backyard, the ribs are encased in traditional banana leaves, covered with spices and orange juice, and slowly baked with a zesty cherry glaze. Spareribs are a great icebreaker and add a fiesta-like atmosphere to any dining event.
Chile-Honey-Glazed Salmon Recipe
At Mesa Grill in New York City, Bobby Flay serves his famous spicy-sweet salmon with three different sauces: roasted tomatillo salsa, chipotle-spiced black bean sauce (made from dried beans soaked overnight) and jalapeño crema, a Mexican sour cream.
More from The Daily Meal:
Chefs Favorite At Home Recipes
10 Eating Habbits that May Help Prevent Diabetes
The 10 Most Common Food Allergies