Chains offer free treats on National Donut Day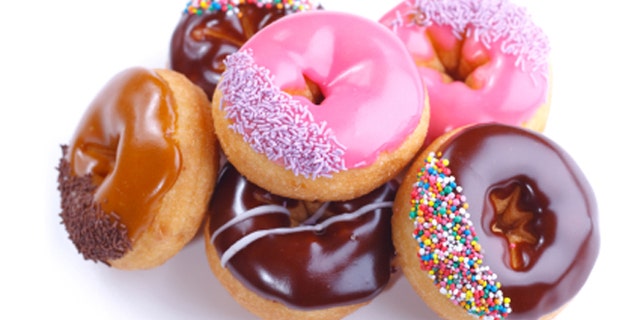 Homer Simpson, and all others who love biting into deep-fried batter, rejoice. In case you haven't heard, today is National Donut Day.
Across the country, national chains are offering free (and almost free) treats to end your week.
Krispy Kreme is offering a deal for customers who stop in. They'll get one free doughnut of any kind, no purchase necessary. LaMar's Donuts, a chain in Colorado and the Midwest, is also offering one doughnut per customer, no strings attached. Tim Hortons, which has chains across the U.S. and Canada, is offering a free doughnut with any other purchase, after you "like" it on Facebook and print a coupon.
The Dunkin' Donuts deal isn't completely free, but is still pretty sweet. Buy any beverage and they'll throw in a complimentary doughnut, while supplies last.
Entenmann's, the famous supermarket pastry brand, is also getting into the action. It created what it says is the largest box of doughnuts that will be unveil at a celebration in New York City. The company plans to donate $25,000 to The Salvation Army at an event in Manhattan.
National Donut Day, which began as a fundraiser for the Salvation Army in 1938, is celebrated annually on the first Friday of June. It originally honored all the female volunteers who served donuts to soldiers behind the front lines during WWI.