Celebrities' backstage food demands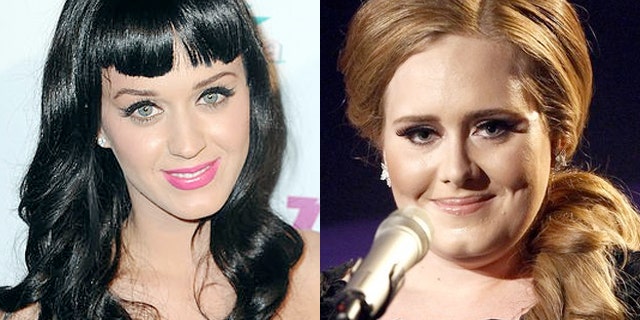 Everyone fantasizes about being a celebrity at some point or another. Flying around the world in first class, indulging your creative side — even if that means wearing a meat dress — can be a pretty good life, right? One of the most well-known perks of being a celebrity is being able to order whatever snacks might strike your fancy and have them delivered backstage or to your trailer.
Lauren Saks Merriman, CEO and founder of Black Book Music Group, LLC, explained that it's not always about making outrageous demands.
"No matter what level of artist you are working with, there are always going to be requests," she said. "I don't really see artists as being high maintenance. Think about it this way: When you're traveling or away from home for any extended period of time, you typically still want all the comforts of home, and then some artists, just like everyone else, like to surround themselves with familiar things and favorite amenities." And for pop singer Adele, that means imported beer only, whereas Jerry Springer has to have his Starbucks.
Saks Merriman reasons that these kinds of luxuries are deserved when the artists are spending half their lives performing for the enjoyment of others and the other half practically living on a bus or a plane. Add to that the pressures of living in a fishbowl, whether the constant dodging of paparazzi or being dissected by the media for every pound gained or mistaken fashion choice, and it makes Selena Gomez's barring of Wonder bread a little more palatable.
"No matter what it is that one does for a living," Saks Merriman says, "a huge part of it is to please your clients and make them feel comfortable."
Hopefully these artists are in fact pleased, after indulging in everything from crab legs to filet mignon and down to a "VERY tasty and delicious" brown mustard.
We found 10 of the funniest, most outrageous, and most reasonable requests (because let's face it, that's weird in and of itself) on The Smoking Gun, which publishes public documents and mug shots.
Request: Turkey sandwiches, but NO WONDER BREAD
Selena Gomez has had kind of a rough year, what with Bieber's baby-mama-drama and rumors about her relationship flying all over Tinseltown. Even though she may not be able to count on things in her personal life remaining private, the one thing the singer can always count on is having supplies to make just your basic turkey sandwich backstage. Gomez is a stickler about her bread, though, as it states in her contract that she should never be provided with Wonder bread.
Michael Bublé
Request: One bottle of premium single malt scotch and a local team hockey puck
All we heard this holiday season was "Have you heard the new Michael Bublé Christmas album?" Yes. We did. It's great. His appearance on Saturday Night Live was also hilarious. So honestly, his request for a bottle of premium single malt scotch backstage at his appearances is well justified. Have a drink, sir. You deserve it. (Side note: To go along with that scotch, Bublé also stipulates that he would like a puck from a local hockey team, he?
Adele
Request: Individually wrapped, freshly made sandwiches, which should not include chilli [sic], vinegar, tomatoes, or citrus.
Adele scared us with that whole operation thing. (Glad she's OK so we can keep "rollin' in the deep"!) Now that she's getting back to tour-ready status, she'll be able to take advantage of the delicious backstage treats her rider affords her, such as cases of beer (no varieties from North America) and fresh sandwiches, which shouldn't include "tomatoes, vinegar, chilli [sic], or citrus fruit." Food allergy? Odd citrus phobia? The world may never know.
Request: Water cooler dispenser with SIGG bottles for each crew member. Freeze-dried strawberries.
Katy Perry finds time in her busy schedule to take care of the environment while she's taking care of herself. Her rider requests water dispensers in all dressing rooms and production offices to allow her tour crew to fill up the reusable aluminum water bottles they are provided with, in an effort to reduce waste. Good job, Katy Perry! Also, inexplicably listed in her many food requests is a bullet that reads simply "freeze-dried strawberries."
Jerry Springer
Request: Lox and bagels with cream cheese and a cafe mocha from Starbucks Coffee. Piña colada-scented smoke is also used on stage.
Jerry Springer seems to be a pretty low maintenance guy. Well... except for the request for 30 pounds of ice after lunch. And 60 pounds of ice after dinner. And the request that the theatrical smoke used at his events be "piña colada"-scented. We've never seen a Jerry Springer event, but between the ice and the cocktail-scented smoke, now we can't wait. His snack of choice at gigs is lox and bagels with cream cheese and a cafe mocha from Starbucks.