Celeb chefs dish on best brunch ideas for Mother's Day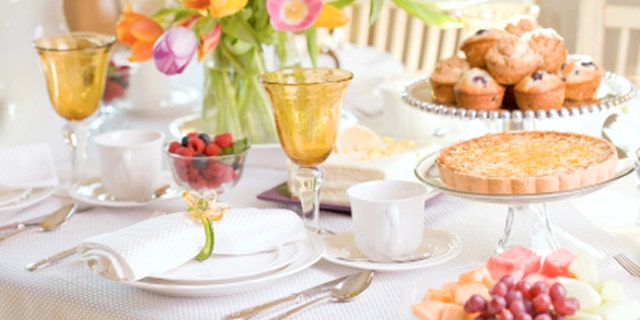 Throughout the year, mothers slave away in the kitchen to keep their families happy and fed. This Mother's Day, it's time to return the favor.
Homemade brunch is always a good idea; better yet breakfast in bed.
In case you're at a loss of what to make, Fox Foodie asked some all-stars of the culinary world have to give us some recipe suggestions.
"A nice poached salmon," says Chef April Bloomfield of NYC's The Spotted Pig. "Salmon's in season right now."
Many chefs recommended making mom breakfast. What better way to show your love than a nice breakfast in bed?
"I'm actually going to visit my mom for Mother's Day and I think I'm going to cook her breakfast, "said Chef David Chang of Momofuku Ssam Bar in NYC. "Just a simple breakfast."
For other celeb chefs, a simple breakfast is just not enough – they recommend a breakfast infused with luxury ingredients.
"I view Mother's Day as a good breakfast for my wife and our kids. So like scrambled eggs with fresh truffles would be delicious," suggests Chef Hugh Acheson of Five and Ten restaurant in Athens, Georgia.
World-renowned Chef Wolfgang Puck says he'll take his sons to the farmer's market and see what they can find.
"So me and my two young boys going to be cooking her favorite dish with maybe some eggs, some caviar."
Chef Thomas Keller of legendary restaurants The French Laundry in California and Per Se in New York shares Puck's vision for caviar and eggs.
"I think I want to celebrate my mother and certainly mother's day really I think about breakfast as beginning the day you know starting the day with a wonderful breakfast and so what better way to start the day then with caviar and eggs."
Sound a bit over your budget? Maybe so, but perhaps mom is worth the splurge -- at least on this one day.
"Let her sleep in, and do something special for her, so whatever she likes," says Gail Simmons of Food and Wine magazine. "I believe in champagne. That's number one, first and foremost."
So make the effort for mom this Mother's Day and cook her up something special to say thank you. And don't be nervous if your skills in the kitchen are lacking – even "Ace of Cakes" Duff Goldman knows mom's cooking is always superior.
"All Jewish boys say their mom makes the best brisket ever. My mom really does, she really does and I'm objective, a professional, I really know these things. My mom really does make the best brisket on the planet."