Caveman's Night Out: Restaurant Offers Paleolithic Cuisine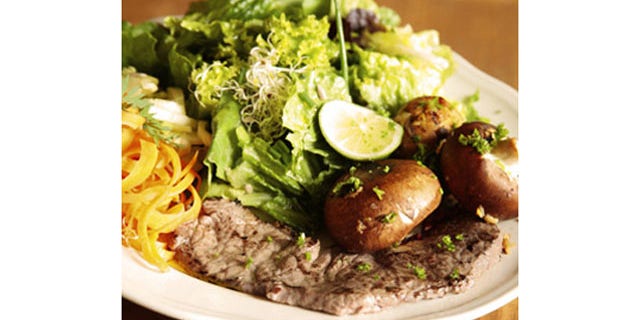 Diners in Germany can now channel their inner caveman at a new trendy restaurant that offers prehistoric cuisine.
Berlin's Sauvage restaurant says it's first in Europe to offer a 'Real Food Revolution – Paleolithic cuisine!'where the fare is prepared with no cheese, bread or sugar -- essentially only food that our hunter-gatherer ancestors had accessible more than two million years ago, according to Spiegel Online.
On the menu are salads with olives, capers and pine nuts, gluten-free bread with nut-based butter or olive tapenades, smoked salmon with herb dressing and other various meat and fish dishes. For desserts, the restaurant serves gluten- and sugar-free cakes, like a spicy pumpkin pie. And did we mention the wine?
But don't worry, they don't cook over an open fire or and customers don't have to eat in a cave.Diners eat at candle-lit tables surrounded by a contemporary cave painting hanging in the background.
The Paleolithic diet movement has taken off in recent years. Followers typically eat only organic, unprocessed fruit and vegetables, meat, fish, eggs, nuts, seeds, and herbs. Proponents say the Paleolithic diet promotes a healthier lifestyle -- with extra benefits like an improved sex drive and stronger teeth. Along with diet, some of its more strident followers adopt other aspects of cavemen lifestyle, for example, by going barefoot and exercising by picking up rocks and bolders.
"Many people think the Paleolithic diet is just some hipster trend but it's a worldwide phenomenon, with an online community that spans the globe," Sauvage's Boris Leite-Poço told Spiegel Online.