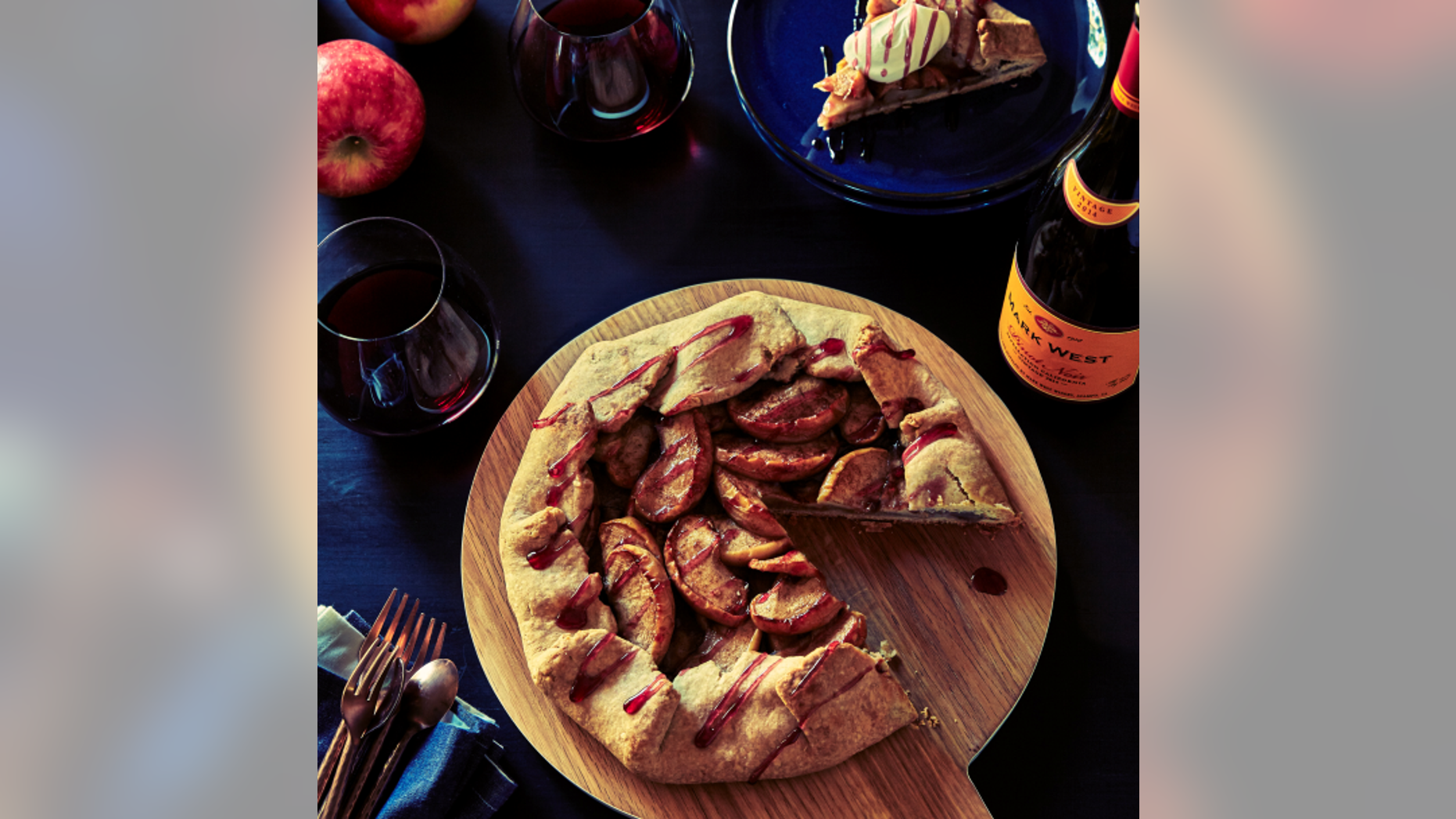 California-grown Mark West California Pinot Noir is the ideal pairing with holiday dishes. To make your planning easier, Mark West has created fun twists on the holiday classics, like, Mark West Caramel Apple Galette.
Cook Time:50 min
Prep Time:40 min
Total Time:1 hours30 min
Servings: 6
Ingredients:
2 cups all-purpose flour
? cup spelt flour
1 tablespoon granulated sugar
2 sticks (1 cup) salted butter, cubed, very cold
? cup ice water
? cup sugar
1 tablespoon Mark West Pinot Noir
1 teaspoon ground cinnamon
? teaspoon ground nutmeg
? teaspoon allspice
2 large honey crisp apples
Preparation:
To make the dough, add flours, sugar and cold butter to food processor. Pulse several times, until the mixture resembles coarse meal. Add one tablespoon of water at a time and continue pulsing the mixture until it holds together when squeezed, but is not sticky.
Turn the dough out onto a floured surface and gently gather into a ball. Flatten into a disk, wrap in plastic wrap and refrigerate for 30 minutes.
Meanwhile, combine sugar and Pinot Noir in a large saucepan and heat over medium heat for 8-10 minutes or until a dark amber caramel is achieved. Add the spices and apples and toss to combine. Continue cooking for 5-6 minutes or until apples have softened. Allow to cool.
Preheat oven to 375°.
Place dough ball on a floured surface and use a rolling pin to roll into a circular ¼" thick shape. Transfer dough to a parchment lined sheet pan. Place cooled apples in the center of the dough, leaving a 1" border on all sides. If there is excess caramel in the pan, reserve it but do not place on the dough. Fold the border of the galette up towards the center, crimping and pinching it as you go.
Cook for 40-50 minutes or until the crust is golden brown. The apples may ooze out of the crust a bit. Serve warm or at room temperature.