Can you really buy Trump steaks? The real deal with Trump's food empire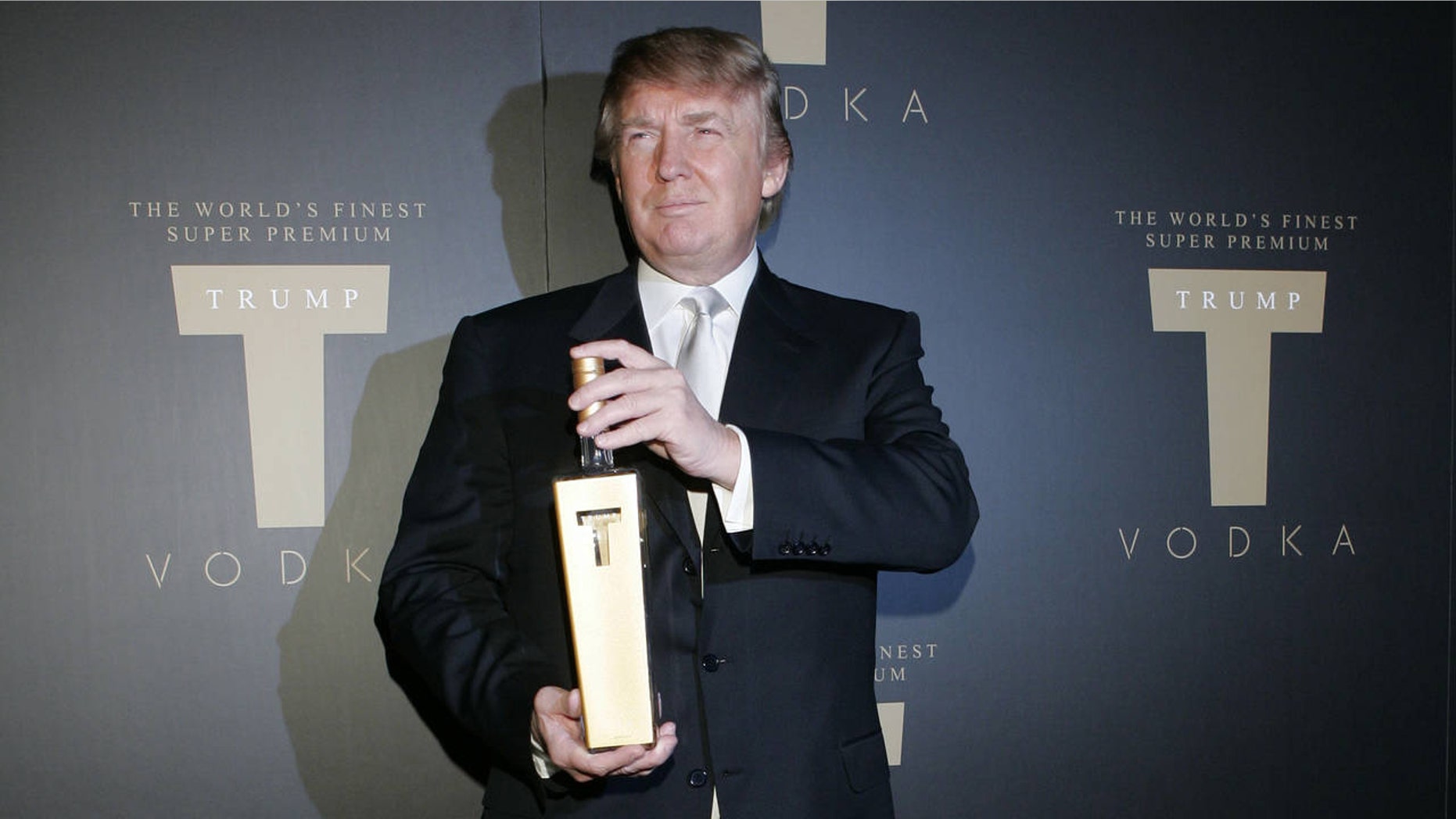 Donald Trump's branding may appear on dozens of properties around the globe but the real estate mogul has for decades dabbled in the culinary world.
You may know that The Donald once peddled steaks on QVC. But have you ever tried his refreshing ice water? What about his gilded raspberry vodka?
If you haven't stayed at a Trump-owned property, you may have never encountered a real Trump food. But as his presidential campaign continues to steamroll through primary season, more people have been wondering about his food-centric business ventures.
Here's a breakdown of Trump's food and beverage products and, if they're still available, where you can get them.
1. Trump Vodka
Many celebrities have tried their hand at the liquor business with mixed results. Trump's Vodka—which came in a gilded square bottle reminiscent of one of his towers with "T" emblazoned on all four sides—was launched in 2007. It came in original, raspberry, grape, orange and citron flavors and retailed for $33. But no one bought it and the trademark was abandoned in 2008.
But there's good news if you have a few hundred dollars lying around. Opened bottles of Trump Vodka are currently available on eBay for about $150. Full bottles will cost you more.
2. Trump Steaks
The Donald launched a line of steaks, first sold by The Sharper Image, in 2007. The Classic Collection -- two filet mignons, two bone-in rib-eyes and 12 burgers -- was priced at $199. They were also hawked on QVC until 2014. According to some reviews, they weren't very good.
A quick search for Trump steaks on QVC reveals Certified Angus Beef Burgers branded as Trump Steaks—but they are no longer available online.
However, at a press conference last week, Trump—who was caught parading slabs of raw meat emblazoned with the Bush Brothers company logo-- said he still sells steaks. Hope Hicks, a spokeswoman for his campaign, told Bloomberg that some Trump clubs and other properties allow patrons to purchase meat directly on site. So if you're in the mood for some presidential-hopeful meat, book a stay at one of his eponymous properties.
3. Trump Ice water
According to Trump's website, his water is "one of the purest natural spring waters bottled in the world." But where does it come from? Is it taken straight from a water hazard on the golf course near Mar-a-Lago? Not quite.
An NYMag article stated that the water is sourced and bottled from a a spring in the "exotic Laurel Run, Pennsylvania." Bottles of water bearing Trump's name and face are served throughout his owned restaurants, golf clubs and resorts around the world—but it's not available outside of Trumpland. The trademark for Trump Ice is still active so Dasani better watch its back.
4. Trump Wine
(Trump Winery)
This is a Trump product that you can  buy and enjoy today. But there's just one catch. Technically it's not affiliated with The Donald any more. In 2011, Trump purchased the active Charlottesville, Virginia vineyard and started producing wine later that year.
The vineyard produces different varietals of red, white, sparkling and rose wines priced from just $15 a bottle.
But at some point in the company's operation, Donald Trump handed over the reins to his son Eric, who is now the president of Trump Winery. And while the elder Trump recently boasted about "his" wine, this legal disclaimer appears on the winery's website: "Trump Winery is a registered trade name of Eric Trump Wine Manufacturing LLC, which is not owned, managed or affiliated with Donald J. Trump, The Trump Organization or any of their affiliates."
5. Other Trump Beverages
According to the Wall Street Journal, Trump held patents for several drinks including two non-alcoholic beverages—Trump Fire and Trump Power—and a beer, Trump's American Pale Ale.  All three were abandoned by 2007.
6. The Ultimate Trump Meal
Trump steaks may no longer boast nationwide availability but if you happen to find yourself in New York City-- and have a hankering to eat like the real estate mogul himself-- Trump Tower on 5th Avenue boasts four Trump branded eateries including a Grill, Bar and even an Ice Cream shop. And you can wash it all down with one of Trump's signature cocktails-- an Absolut Peppar Vodka Martini aptly named "You're Fired."