California's Own Santa Maria BBQ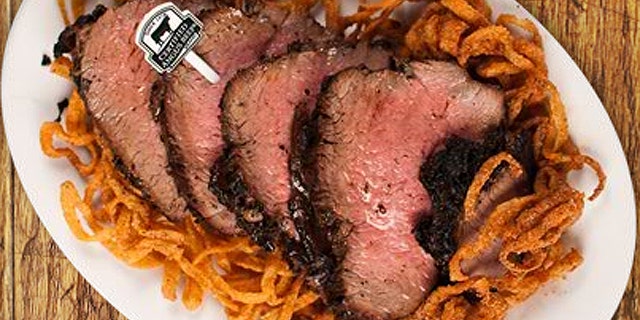 While many states are known for certain specific foods - New York's Buffalo wings and Virginia's ham both come to mind - California and its agricultural bounty has spawned an entire cuisine. California Cuisine emphasizes local ingredients harvested at their peak, prepared simply, without heavy sauces. Of course, as goes its cuisine, so goes its 'cue, known by the locals as Santa Maria Barbecue. In it, Tri-tip beef replaces traditional fatty, tough cuts, and indigenous Santa Maria Valley red oak stands-in for hickory, mesquite or post oak.
Tri-tip -- aka: California Cut -- is the boneless cut of meat that sits at the bottom of the sirloin. Midway between a roast and a steak, richly-marbled tri-tip is thin enough to cook quickly but thick enough to fully absorb red oak's unique flavor. Revered as it is among BBQ fans in the Golden State, you'd think that it would be easy to find the red-oak grilled tri-tip everywhere. Think again.
Far Western Tavern in Guadalupe has been serving authentic Santa Maria 'cue for more than fifty years. They use red oak for their famous fourteen-ounce rib eye Bulls Eye steak because "Santa Maria barbecue requires it," says General Manager Michael Cordsen, but tri-tip's not on the menu. The top sirloin Cowboy Steak comes close; top sirloin sits above the tri-tip. Though they serve it on request, "tri-tip didn't become part of Santa Maria barbecue until the 60s and 70s," explains Cordsen. Old-school places like Far Western (which sells a line of Santa Maria barbecue spices called Susie Q's) and Jocko's in Nipomo, pre-date the cut's "discovery."
True, says barbecue sleuth and Sacramento Bee journalist Alan Pierleoni. "Those places feel top sirloin is a better cut but I disagree." In late 1950s, he says, Santa Maria butcher Bob Schutz seasoned and grilled the bottom cut of the sirloin instead of routinely grinding it up or cubing it into soup meat. He dubbed his profoundly delicious creation "tri-tip" because of its triangular shape and it became a local sensation. Its taste and ease of cooking—it's hard to ruin—eventually led to statewide popularity. "Brisket takes ten or twelve hours and can end up dry and tough. Why spend twelve hours," asks Pierleoni, "when you can do a tri-tip in two and it always comes out great?"
The barbecue style originated in the cattle-ranching country of the Santa Maria Valley when mid-1800s ranchers hosted springtime barbecue feasts for local cowboys or vaqueros. They filled pits with local red oak, seasoned beef with salt, pepper, garlic and spices, grilling it over the coals. Small, native, pink pinquito beans along with salsa were and are still, the sides of choice. Pinquitos are now a commercial crop exclusive to the Valley.
Given its historical roots and native ingredients, the fact that it's hard to find only adds to the irony. True-blue red Santa Maria barbecue places that do use red oak, don't always serve tri-tip. Some newer places serve tri-tip, but more serve top sirloin. Some of those places use red oak, most don't. The consensus is that authentic 'cue is best found at local Lion's and Elk's Club barbecue fund-raisers set up along the main thoroughfare in the town of Santa Maria and at family or neighborhood barbecues. That's due to red oak's availability, regional pride and the fact that tri-tip costs less than top sirloin.
Tri-tip is hard to find outside the Santa Maria Valley and certain pockets in the Northeast and Midwest, but despair not. If your summer plans include no Santa Maria Elk's fundraisers, New York City's Tri-Tip Grill will ship you a twenty-one day-aged tri-tip, that's rubbed, seasoned, charred over a hot yellow flame, then cedar-smoked but raw in the middle. Pop it in the oven for thirty minutes and no one's the wiser.
The Tri-Tip Grill is an East Coast incarnation of the popular northern California quick-serve, upscale chain called the Buckhorn Grill, an empire built on tri-tip. "I'm a texture guy, just driven by texture, never much of a steak guy until I tried it," says Tri-Tip's owner, Dave Kassling. "It's an awesome cut of meat," he gushes. Tourists snap up his burgers, but New Yorkers and visiting Texans go for the tri-tip, "and they just love it. Texans know their meat," he says.
Only purists it seems hold fast to a strict tri-tip-and-red-oak definition of California 'cue. The real definition is more elastic, more expansive than other regional definitions. Just think of California's barbecue as "evolved," a label many Californians would probably appreciate.
Click here for more from FoxNews.com Food and Drink