California restaurant ridiculed for deconstructed avocado toast bowl: 'it's a salad'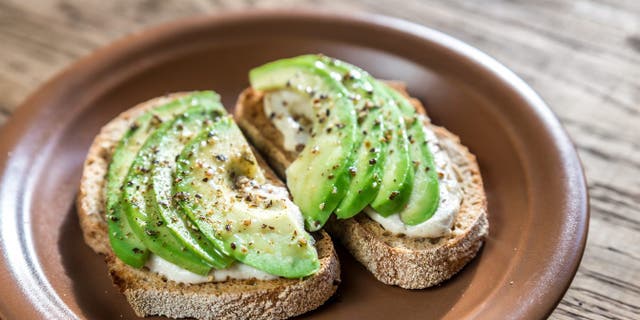 NEWYou can now listen to Fox News articles!
A restaurant in Venice Beach, California, has been mocked on Twitter for its alleged newest menu item: a deconstructed avocado toast bowl.
Twitter user Kara Swisher posted a photo of the unnamed restaurant's supposed new bowl along with an unenthusiastic tweet, "Ok now California trends are just f------ with me."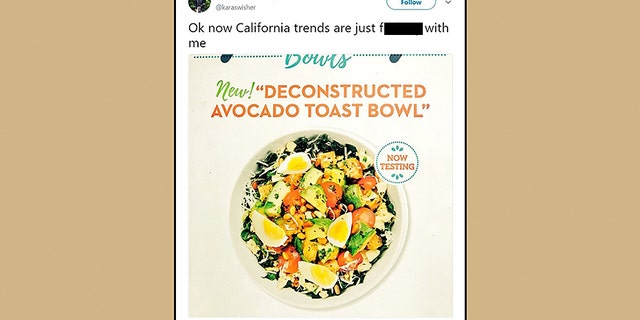 CALIFORNIA RESTAURANT FINED $3,000 AFTER CUSTOMERS DANCE IN DINING AREA
While some defended their state, saying the bowl is not a trend, others on Twitter were quick to agree with Swisher and point out the "new" bowl looks very familiar.
According to the photo, the bowl comes with "avocado and cherry tomatoes tossed in honey line vinaigrette with seven grain croutons over a bed of farro, crisp apple and kale. Served with a hard-boiled egg" – all common ingredients in salads.
However, people on social media have suggested calling the dish a "bowl" instead of a salad means the restaurant could potentially sell it at a higher price.
The price was not mentioned on the sign, or in Swisher's tweet.
FOLLOW US ON FACEBOOK FOR MORE FOX LIFESTYLE NEWS
The Golden State is not the only one being ridiculed for the deconstructing marketing ploy. A Reddit user in Australia posted a photo of a friend's deconstructed avocado toast dish that came with half an avocado, cut lime, two pieces of toast and a hardboiled egg. People on the online forum said the $17 dish looked more like a Do-It-Yourself meal.