California restaurant 'proudly' serves Popeyes chicken as its own, charges $13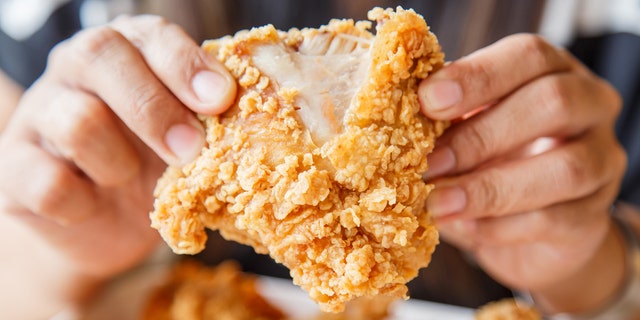 A popular Long Beach, Calif., breakfast spot has found itself in the middle of a fried chicken controversy after a Yelp reviewer attacked the restaurant for using Popeyes chicken and passing it off as their own.
Sweet Dixie Kitchen, a small restaurant specializing in comfort food with a Southern influence, was called out by Yelp user Tyler H., of Los Angeles, who claimed in his review, "Before my friends and I got seated [at the restaurant] we saw them quickly bring in two large boxes of Popeyes to the kitchen."
Once seated, Tyler H. ordered fried chicken and waffles that he said tasted "suspiciously like Popeyes."
"I kindly asked our waiter how they cooked their fried chicken. After checking he admitted that they do in fact use Popeyes," Tyler H. continued in his review. "The manager compensated us for the entire meal."
Sweet Dixie Kitchen owner Kim Sanchez saw the Yelp review and responded, boldly defending the origins of her chicken.
POPEYES CHICKEN TENDERS COATED IN COOKIE DOUGH CONFUSES INTERNET
"We PROUDLY SERVE Popeyes' spicy tenders — the best fried chicken anywhere and from New Orleans — which are delivered twice a day. We also in case you need to know buy our gumbo from a friend who sells it at a local farmers market," Sanchez said in her response.
"We promote usually small batch local producers in our menu. The exception is Popeyes – we can't fry at this location – and it the fried chicken I love so much and I ate a ton of it in the ATL. So I serve it," she continued.
Sanchez's Yelp response also added that they "don't mill our own flour" or "grow our own veggies."
In an interview with Fox News, Sanchez said that she started using Popeyes two months ago for two new dishes – fried chicken and waffles and their fried chicken sandwich.
"I tried Costco chicken, I tried Restaurant Depot chicken, and then I went to dinner at Popeyes and knew this was the chicken we had to use for the store. It's the best chicken," she says.
Sanchez claims that she has always been upfront with the use of the chicken chain's spicy fried chicken strips.
"We wrote it on our board in the restaurant, 'Imported from Louisiana this week, thank you Popeyes.' It wasn't a secret. We use the chicken as an ingredient in a menu item we made, we don't use their sauces or anything else."
But other customers that learned about the questionable chicken sourcing have felt duped and took to Yelp to vent their frustrations.
"Serving another restaurant's food and charging a premium!?" Yelp user Jeremy O. asked.
"I just can't wit them. I want to see the contract between this restaurant & Popeyes to know what percentage of $$ Popeyes is getting from this restaurant to be so proudly serving their chicken," another user, Agnes J. said.
However, despite the complaints rolling in, Sanchez has doubled down on her decision to outsource the restaurant's fried chicken in a long rant on Facebook detailing where the brunch outpost gets its ingredients.
The restaurant is open about making "roughly 95 percent" of the food they sell in house, like the seasoned potato salad and eggy quiche — the caveat being that the quiche, where they "crack each egg and measure spices and cream," is then poured into a "pie crust that was made elsewhere."
FOLLOW US ON FACEBOOK FOR MORE FOX LIFESTYLE NEWS
Sanchez said to Fox News that she has reached out to the franchise owner of the Popeyes where she gets her chicken to try and create a partnership, but has not heard back yet.
"I would be glad to put Popeyes on my menu. I walk in through the front door carrying the bag of chicken. The customers know where it's from. Popeyes knows."
Sanchez said going forward she will continue to sell the chicken on her menu and vows that she will continue the business "the same way we have always done — honest that we make nearly all from scratch."