Cajun restaurant's bathroom doors draw criticism, praise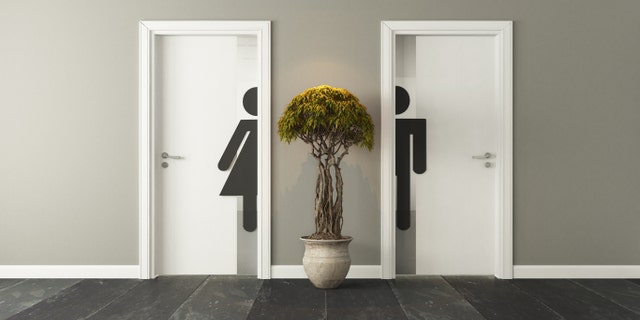 A Cajun restaurant in Texas is getting some feedback about its bathroom doors, which feature full-length photos of pre- and post-transition Caitlyn Jenner.
The restaurant, Dodie's Place Cajun Bar & Restaurant in conservative Allen, TX, has had the photos up since August, according to their Facebook page. But it wasn't until the Dallas Morning News' Dom DiFurio posted the photo of Twitter that the restaurant began receiving criticism about the photos.
"We've gotten a few responses, both positive and negative," Jim, one of the owners of Dodie's told Fox News.
COLORADO RESTAURANT REMOVES BATHROOM SIGN AFTER BACKLASH
Some have called the photos "transphobic" and "insensitive," while others think they're "hilarious." One person even posted on Twitter that they now "have to eat there," because of the signs.
"I don't understand how this has assumedly been up for as long as it has," a person said on Twitter.
In another tweet, a user responded to those calling the photos a joke, saying, "It's only a joke if you consider 'transgender people exist' as a punchline."
While another Twitter user felt the photos were "consistent with the trans community dogma."
"Yep. They're recognizing him as a her. I thought that's what the trans community wanted, lol," another said.
DiFurio, who was shocked to see the photos in the first place, told the Daily Dot, "I saw it as a bit of a physical manifestation of the wink and nod jokes told often to me when I see people from that part of town. The kind of jokes where you feel like the person telling the joke wants you to laugh to verify their inclinations, but doing so would perpetuate a terrible environment for anyone in the LGBTQ community."
He said these images are insensitive and further stigmatize transgender women.
FOLLOW US ON FACEBOOK FOR MORE FOX LIFESTYLE NEWS
Dodie's said they are still discussing if they will change the divisive photos on the doors or not. They plan to release their decision in a statement by the end of the week.
Last year, a bar in Los Angeles posted similar photos of Caitlyn Jenner before and after her change on their bathroom doors as distinguishers and received a "mostly lighthearted" reaction.