Businessman Maps Out Colorado Beer Drinker's Guide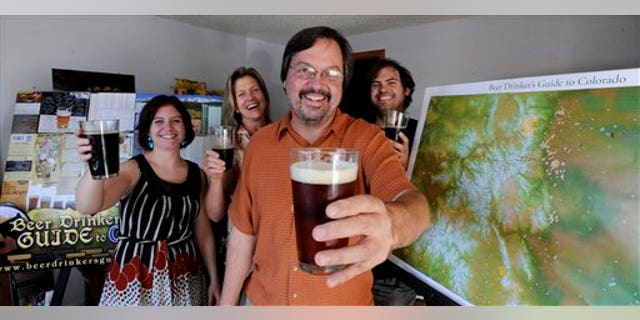 COLORADO SPRINGS, Colo. -- The late 1970s was not an easy time to find a good bottle of suds in America. In an age dominated by a few mass-produced, plain American lagers, why wasn't there a map showing where someone could get a better-tasting brew, beer-lover Mike Laur wondered.
It took 30 years, but Laur has created that map.
Laur, a Colorado Springs business owner, released the fourth edition of The Beer Drinker's Guide to Colorado last month. After initial struggles, the map and coupon book has begun to sell well across Colorado.
"It's been a learning curve for us, figuring out how to sell the thing and market it," said Laur, over a glass of porter on a recent afternoon. He paused.
"I wish I could say it's been extraordinarily profitable."
That's fine, though. He's not in it for the money. He's in it for the beer. And Colorado is a good place to do it.
The latest edition of the guide, put together by Laur and his 3.5 employees (one works part time), lists 126 breweries, 20 more than when he launched the publication in 2008. Colorado is among the leading states for beer production, and many of its beers -- not just Coors -- can be bought around the country. The Great American Beer Festival, the Super Bowl of beer festivals, is held each September in Denver.
A Texas native, Laur came to Colorado Springs in the early 1980s. After a stint as a photojournalist, he opened his own graphics and video company here in 1983. He watched with delight as the microbrew industry spread in the late '80s and '90s. Colorado Springs' oldest microbrewery, Judge Baldwin's, opened in 1990 on the first floor of the Antlers Hilton.
The large brewing companies that long dominated American beer, Laur said, "basically created a crappy product and tried to hide that with marketing."
But while some beverage-producing regions have capitalized on that, such as the wine-tourism industry in northern California, the beer industry was disjointed, with nothing to pull it together, a "third-class citizen," Laur said. So in 2007 he pulled his beer guide idea off the shelf, like a vintage barley wine, blew off the dust and set about making it.
The first edition came out in January 2008, a full-color map of Colorado's breweries, with facts about beer, beer-tasting tips and tidbits about Colorado.
But Laur had nowhere to sell it. Liquor stores, which he hoped would be a significant market, refused to carry the guide, because it wasn't included on the Colorado Liquor Enforcement Division's list of what they can sell. When he asked the state to allow it, officials said no, although the state's liquor code allows the sale of "beverage publications, books or magazines, where the use or content is focused primarily on alcohol beverages or the alcohol beverage industry."
Undeterred, he waged a 10-month struggle with the bureaucracy, finally convincing liquor-enforcement officials to take a look at the guide. They approved it for sale.
The first edition, by then, had been collecting dust for so long that Laur recycled all 4,000 copies.
Sitting in a brewpub in Pueblo one day, he and a friend were scratching their heads about how they could make the guide a success. Another patron overheard them and asked, "Why not give out free beer?"
Free beer? That was what they needed.
For the second edition, they got four breweries to include coupons for free beer.
They sold most of the second edition. All 5,000 copies of the third edition sold. The fourth edition includes coupons for free beer, food or merchandise at 26 breweries around the state. Laur printed 6,000 copies.
Laur laughed. "I don't know if the coupons have driven the map or if the map has driven the coupons," he said.
Duane Lujan, brewer and "beer ambassador" at Rocky Mountain Brewery, a taproom and home-brew store in Colorado Springs, has seen an increase in people coming from other areas, map and coupon in hand.
"They bring them in all the time and I always make the comment, 'That's the best beer in the world.' Grandpa said the best beer in the world is on someone else's nickel," Lujan said.
They're the beer tourists, suds lovers going around the state and checking beers off their list. But Lujan also sees value in attracting more casual beer drinkers.
"I think Mike and (employee Carole White) have done an absolutely wonderful job. They promote the breweries. They promote the home-brew shops. They promote tap rooms and other bars," he said. "I just think it's been a tremendous addition to the Colorado market."
Laur sees the emergence of local beers as more of a resurgence. A century ago, beer was an intensely local product, brewed with local recipes and water, in the local climate, to create a product that was uniquely, well, local.
"Beer is a perishable product. The only reason it has become mass-produced is because technology enabled the brewers to do that," he said.
Like connoisseurs of wine or coffee, beer lovers learn to appreciate the subtleties of the drink, and while the vast majority of the market is still dominated by the major beer producers, it's the love of craft beer that keeps Laur publishing the guide.
"It's not my swill in the glass. I would rather have something that's more interesting, challenges me, challenges my taste buds and makes me think about the possibilities that are out there," he said.
"If we're able to make money off of this, that's great. But mostly it's supporting the message that craft beer is a great thing to appreciate."