Burger King unveils a red hot Angry Whopper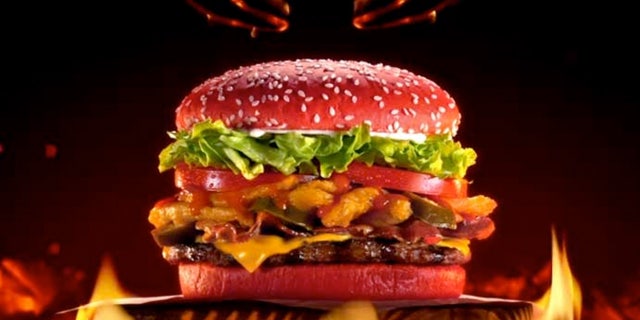 Burger King wants to know if you can handle your heat.
On Thursday, the fast food chain will begin selling a Whopper with red hamburger buns infused with hot sauce.
It's dubbing the creation its "angriest Whopper sandwich,"
In addition to the angry buns, the burger includes beef, bacon, American cheese, lettuce, tomatoes, "angry" onion petals, jalapenos, mayo and a "spicy angry sauce."
It's the latest colored-bun gimmick from Burger King, which released a Halloween Whopper in 2015 with a black bun infused with A1 sauce. That didn't go too well for them after diners complained that the burger made their poop turn green.
If you can survive what the burger may do you to your stomach, the Whopper could make your heart angry when you consume it. With all the ingredients, this Whopper weighs in at a whopping 830 calories and 51 grams of fat.
The limited-time menu item will cost anywhere from $5.49 and $7.49.