Burger King to sell burgers at breakfast, but is that a good idea?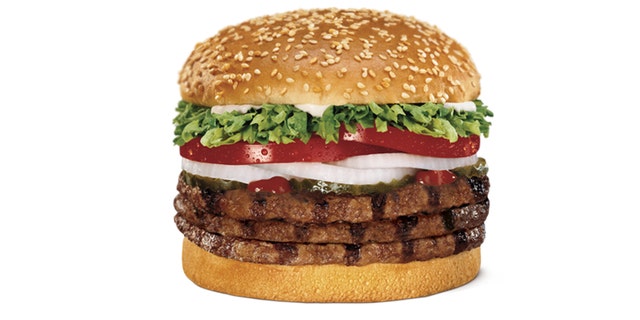 Burger King recently announced it will begin serving burgers in the early morning hours.
The fast food giant is hoping that some customers will opt for a Whopper, chicken sandwich or even its new Big King instead of a breakfast burrito.
"Selling burgers at breakfast at Burger King restaurants allows our guests to start their day their way — either with the great flame broiled taste of our signature burgers and sandwiches or with our delicious suite of breakfast offerings," said a spokeswoman in a statement to Ad Age.
Burger King has said its focus was to get rid of a limited-time product strategy in favor of "fewer, more impactful" items.
Burgers for breakfast are certainly memorable, but don't most people first think of coffee in the morning?
As the battle for breakfast among fast food giants heats up, many chains are upping their game to bring in a morning crowd.
In April, Taco Bell unveiled its A.M. Crunch Wrap and Waffle Taco, not to mention its clever ad featuring a host of men named Ronald McDonald praising Taco Bell's offerings.
McDonald's --which owns 25 percent of the breakfast market --fought back with free coffee for two weeks in April and an ad campaign of its own mocking Taco Bell.
Others have joined the breakfast battle. White Castle recently launched its own Belgian Waffle sandwich and Starbucks has upped their pastry game with new bites from San Francisco bakery, La Boulange.
So does Burger King, by serving burgers at breakfast, make the meal any better? Current breakfast offerings include a Crossain'Wich sandwich, French Toast sticks, and Minibons from Cinnabon.
The Street says yes and that the chain's addition of burgers to the breakfast menu could appeal to late night workers or those who just want lunch earlier in the day. Yet, Forbes, which noted that the move could be a low-cost attempt to compete in the AM hours, may have made a bad pr move as it continues to appeal to health-conscious customers.
The "burgers for breakfast" campaign will begin rolling out later this month at over 5,000 Burger King locations across the country.
Are burgers a good idea for breakfast? Let us know what you think.