Burger King creates boneless sandwich to compete with the McRib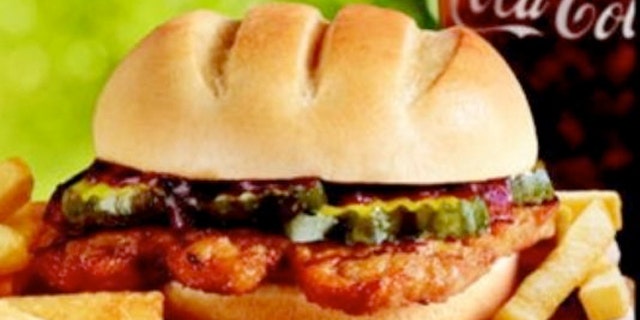 Are you ready for a Burger King version of the McRib?
Burger King on Thursday will unveil its 2013 summer menu plans, which features a new BK Rib Sandwich, reported USA Today. The sandwich is boneless and offered for a limited time only, just like the McRib, and has a tangy sauce that will be served with sweet bread and butter pickles. It will be sold nationally beginning May 21.
"Our guests have grown to look for a variety of options," Eric Hirschhorn, vice president of global innovation, told the newspaper. "It's not just about beef anymore, but other proteins like chicken and turkey and pork."
The McRib first appeared on the McDonald's menu as a limited-time offer in 1981. Over the last three decades, the McRib has become something of a legend, by transcending the realm of fast food fans and making its way into pop culture, earning mentions in "The Simpsons" (as the Ribwich) and on David Letterman's Top 10 lists.
Fans of the McRib are known to be fiercely loyal, so there's no telling if Burger King's move to take on McDonald's will work.
In addition, to the BK Rib, Burger King will again offer the Memphis Pulled Pork sandwich, plus sweet potato fries and Carolina-style BBQ sandwiches. It also will introduce a new BBQ Chicken Salad and line of Oreo-infused desserts.
The BK Rib sandwich will retail for $3.49 - are you going to give it a try?