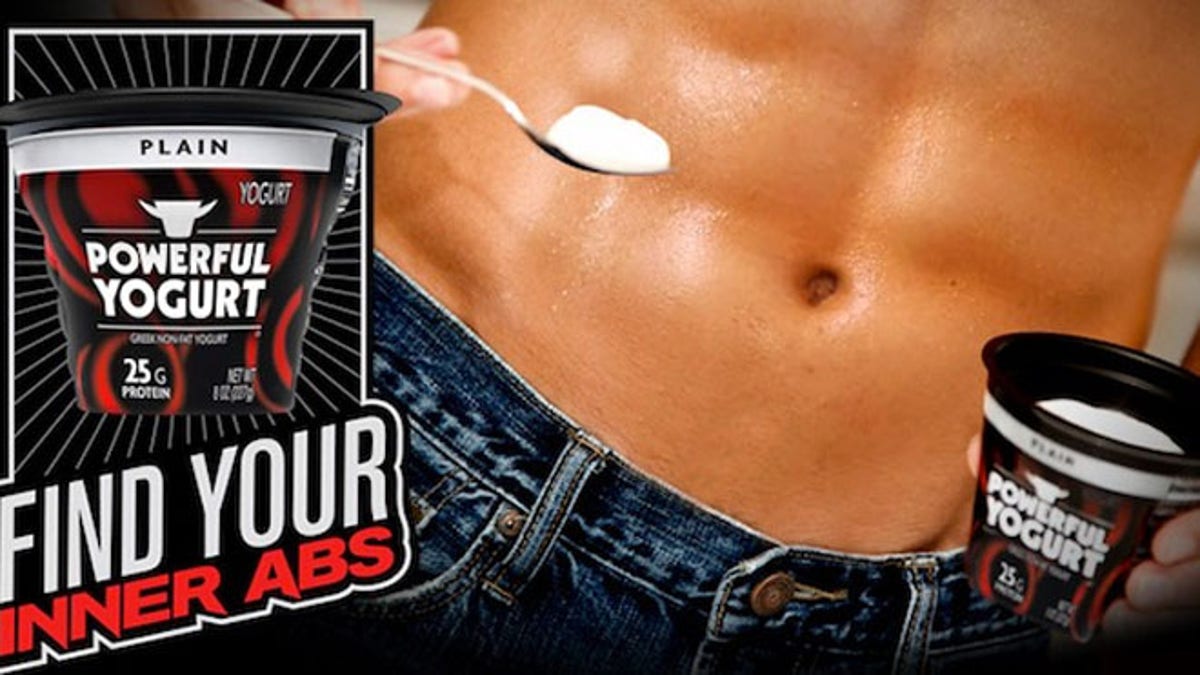 Nothing screams masculinity quite like shirtless, hairless, physically fit men eating Greek yogurt--at least, it doesn't seem that way to Powerful --the company behind a new all-natural snack/meal substitute called Powerful Yogurt.
Packed with protein and "specifically designed to meet the health and performance needs of busy men with an active lifestyle," Powerful Yogurt is said to help those who eat it lose fat, gain muscle and improve digestive health. According to the website, the yogurt, which is sold in "man-sized" packages with six flavors including banana, apple-cinnamon and mango, was designed by sports nutritionists, trainers and food scientists. Powerful Yogurt also boasts the tagline "find your inner abs."
"In a niche typically dominated by female consumers, we decided to develop a new Greek yogurt specifically suited to address the unique health and nutrition needs of the most neglected consumers in the category: men," the website says.
Grubstreet was quick to coin aptly-nicknamed "brogurt" -and other websites such as the Atlantic Wire posted images of screen grabs from Powerful Yogurt's website claiming that the yogurt contains mineral zinc, "which according to studies done at the University of Michigan can help male fertility..." These claims have since been removed from the company's site.
Powerful has not yet responded to FoxNews.com's inquiry as to why they are no longer advertising that ingredients in the yogurt may help improve the quality of a man's sperm.
No word on whether it is safe for women to enjoy Powerful Yogurt, but the brand's blog does include a picture of what looks like an attractive woman they claim is a nutrition consultant eating it.