Bombay Sapphire gin recalled for having far too much alcohol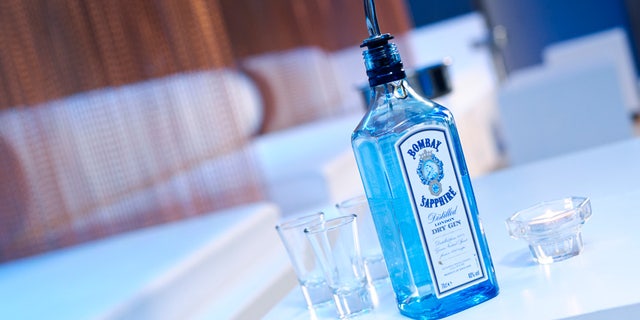 NEWYou can now listen to Fox News articles!
Depending on their preferences, gin drinkers in Canada were slightly disappointed or delightfully surprised by recent purchases of Bombay Sapphire gin.
Canadian liquor authorities have reportedly recalled an improperly distilled batch of Bombay Sapphire after it was found to contain nearly double the amount of alcohol advertised, reports the Canadian Food Inspection Agency.
According to the CFIA, the Liquor Control Board of Ontario determined that, during production, certain 1.14-liter bottles of Bombay Sapphire London Dry Gin were bottled before the dilution process, resulting in an alcohol content of 77 percent rather than the 40 percent that appears on the label.
USA Today adds that it was the liquor company behind Bombay itself which triggered the recall after a customer complained.
"Bacardi is committed to quality for all of the premium products within its portfolio," said spokeswoman Amy Federman in a statement obtained by Ontario-based news agency SooToday. "The over-proof product inadvertently entered the bottling line during a short period of time when they were switching from one bottling tank to another bottling tank."
HOW COSTCO'S SIGNATURE LIQUOR BRAND IS BOOSTING THE COMPANY'S BOTTOM LINE
The Liquor Control Board advises that consumers refrain from drinking the gin, and instead dispose of the product or bring it back to the store where it was purchased.
The Canadian Food Inspection Agency also confirmed that the stores themselves have been instructed to pull the affected bottles, which can be identified by their product code (L16304W) or their UPC (6 20213 19020 8).
Barardi Limited, the company that produces Bombay Sapphire, has also confirmed to USA Today that only six Canadian markets have been affected: Ontario, Nova Scotia, Manitoba, Alberta, Quebec and Saskatchewan.
FOLLOW US ON FACEBOOK FOR MORE FOX LIFESTYLE NEWS
SooToday reports that, in total, 1,464 bottles were affected by the bottling mishap, but so far, only about 275 have been returned or destroyed.
Bacardi Limited says no illnesses have been reported as a result of the over-proof gin.