Beyond Pumpkin: Thanksgiving Dessert Alternatives for Under $30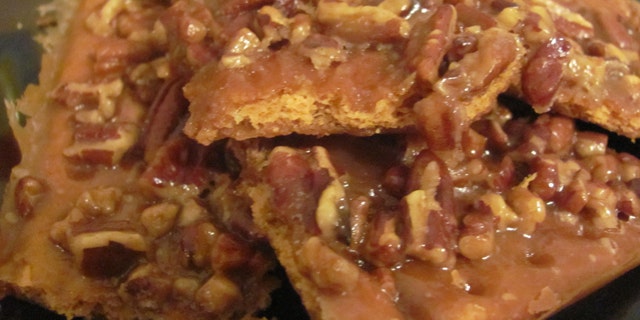 Pumpkin pie is a Thanksgiving classic. For less than $30.00, this easy to make annual treat is a standard at most Thanksgiving dessert tables. But if you're looking to stir the pot this Thanksgiving, how about these equally affordable and simple recipes sure to impress your family and friends.
SPICED APPLE CHEESECAKE TART
From: Dough Puncher
For a slight twist on pie, this cheesecake tart features warm apple flavors with a sprinkle of cinnamon. You can make the entire dessert for under $25.00.
Ingredients
Crust:
1 ½ cups finely ground graham cracker crumbs
1/3 cup sugar
6 tablespoons butter, melted
Filling:
8 ounces cream cheese
1 egg
1/3 cup sugar
? teaspoon vanilla extract
1 can apple pie filling
Directions
Preheat oven to 375 degrees. Mix graham cracker crumbs, sugar and melted butter until well blended. Press mixture into an 8 or 9 inch tart pan.
Bake crust at 375 degrees for 7 minutes. Let cool.
Combine cream cheese, egg, sugar and vanilla, but do not overmix. Pour into the cooled crust.
Bake cheesecake at 350 degrees for about 14 minutes, or until the cheesecake is solid.
Allow cheesecake to cool, then top with apple pie filling. Refrigerate overnight. Optional: sprinkle cinnamon over the top.
PUMPKIN FUDGE
From: Recipe Girl
If you're still craving a pumpkin presence on your Thanksgiving dessert plate, try this pumpkin fudge for the same price as pumpkin pie.
Ingredients:
3 cups sugar
? cup butter, melted
2/3 cup evaporated milk
? cup canned pure pumpkin
2 tablespoons light corn syrup
12 ounces (one bag) white chocolate chips
7 ounces (one small jar) marshmallow crème
1 teaspoon vanilla extract
Directions:
Line a 9 inch square pan with aluminum foil. Spray with non-stick cooking spray.
Combine sugar, melted butter, evaporated milk, pumpkin and light corn syrup in a medium-size heavy saucepan. Heat over medium-high heat, stirring constantly, for about 12 minutes, or until candy thermometer registers 234 degrees.
Quickly remove from heat and stir in white chocolate chips, marshmallow crème and vanilla extract until well blended.
Pour into prepared 9 inch pan. Refrigerate until cool, about 2 hours. Cut fudge into 1-inch pieces.
SALTED CARAMEL-PECAN BARS
From: Southern Living
Who says pumpkin gets to have all the fun at Thanksgiving? These salted caramel-pecan bars are a great option for those who don't care for cinnamon or pumpkin and can be made for less that $25.00. Try adding dark chocolate chips for a twist!
Ingredients:
1 cup chopped pecans
12 whole graham crackers
1 cup firmly packed brown sugar
? cup butter, melted
2 tablespoons heavy whipping cream
1 teaspoon vanilla extract
? teaspoon kosher salt
Directions:
Preheat oven to 350 degrees. Arrange chopped pecans in a single layer in a shallow pan and bake for 10 to 12 minutes, or until toasted. Stir pecans halfway through.
Line a 15 by 10-inch jelly roll pan with aluminum foil. Spray with non-stick cooking spray. Arrange graham crackers in a single layer across the prepared pan.
Combine the brown sugar, melted butter and heavy whipping cream in a medium-size heavy saucepan. Bring to a boil over medium heat, stirring occasionally.
Remove from heat and add vanilla extract and the chopped pecans. Combine and pour mixture over graham crackers, spreading to coat.
Bake at 350 degrees for about 10 to 11 minutes, or until bubbly.
Immediately sprinkle with salt and transfer foil from pan onto a wire rack. Allow to cool for approximately 30 minutes, then break into bars.
Nothing says Thanksgiving like the sweet-smelling aroma of a Thanksgiving dinner. From plump and juicy turkeys to delectable desserts, send us photos and videos of your Thanksgiving meals.