Best ways to save at Target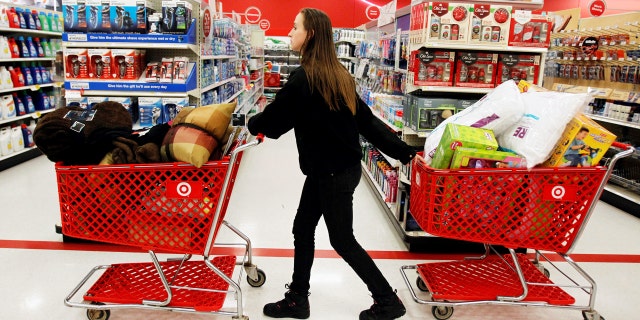 NEWYou can now listen to Fox News articles!
Target. Tar-jay. The Best Store Ever.
No matter what you call it, you likely end up snapping up plenty of swag every time you shop here-- and have the credit card receipts to prove it.
With something for everybody—from golf clubs to games to groceries—it's nearly impossible to walk out of the store without a cart laden with goodies. But to make the most of Target's massive selection and frequent sales, it helps to be in-the-know. There are a slew of insider secrets about how to hack the retail giant and walk away with incredible deals.
We spoke to shopping expert Kimmy Brogan—who hunts deals from major mass-market retails on her Instagram @QueenOfTheDeals—to find out the best ways you can easily save money at Target.
1. Stalk Mark Down Days.
"Target marks down various departments on certain days," explains Brogan. "If you're eyeing something, pay attention!"
Here's the list of daily departmental deals, according to Brogan:
Monday: Electronics, Accessories, Kids Clothing, Books, Baby and Stationery
Tuesday: Women's Clothing, Pets and Market (food items)
Wednesday: Men's Clothing, Health and Beauty, Diapers, Lawn and Garden items and Furniture
Thursday: Housewares, Lingerie, Shoes, Toys, Sporting Goods, Decor and Luggage
Friday: Auto, Cosmetics, Hardware and Jewelry
By planning ahead and doing savvy-shopping on days when you're in need of certain items—say, by doing your monthly bath and body shopping on Fridays, or a regular diaper run on Wednesdays—you can score big savings over the long run.
TARGET ADDING WINE AND BEER BOUTIQUES TO NEW STORES
2. Apply for a Target REDCard
Target offers both a credit card and a debit card—sign up for either one and start racking in the savings. "It's free and you'll save 5 percent off of your total every single time," Brogan says, who recommends the debit card which links to your bank account. Five percent is nothing to sneeze at. If you spend $500 a month at Target, by the end of the year, you'll have saved $300.
The card is also good for free shipping online at Target.com, while other benefits include 30 extra days for returns and an additional 5 percent off for every two prescriptions filled. There's no annual fee, either.
3. Download the Right Apps
Target has its own app, called Cartwheel, which features additional savings, daily deals, and more. "You can scan the item you're eyeing with your phone and it'll tell you if there's a Cartwheel deal available," Brogan says. You can also use it in addition to manufacturer coupons and the 5 percent Target REDCard discount and the app will also send you regular alerts about deals.
Brogan also recommends downloading the Coupons.com app to stay on top of manufacturer coupons.
4. Price Match
"Saw something cheaper at another place or online? Target will price match it, and you can use manufacturer coupons in addition to price matching," Brogan says. That means a coupon that isn't necessarily earmarked for Target can still be used there (as long as it says "manufacturer coupon") and if you find something cheaper at, say, Walmart, Target will honor the cheaper price.
According to Target's website, they'll even make price adjustments within 14 days of purchase—so hold onto those receipts.
FOLLOW US ON FACEBOOK FOR MORE FOX LIFESTYLE NEWS
5. Pay Attention to Clearance Items
Unless it specifically states otherwise, manufacturer coupons and Cartwheel can be used on clearance items. "You can also use sites like brickseek.com to locate clearance items and check out which Target store near you has the lowest price," Brogan adds.
Another tip: read the clearance tags. "A rule of thumb," Brogan explains, "If the price on your clearance tag ends in $0.04, it means it's the lowest that Target will be marking the item down to. If it ends in $0.06 or $0.08 than it will typically be marked down again during the next clearance cycle—every two weeks."