Best tacos in America for National Taco Day
When you close your eyes and picture a perfect taco, what do you see? Is it the Ortega taco-night special: a hard-shell taco, spiced ground beef, shredded cheese, lettuce, and tomato? Or is it something from your favorite taco stand: two small corn tortillas, shredded pork, onions, and cilantro? Or maybe something in between? There are plenty of tacos out there, from fried fish to pork with pineapple, and from roasted goat to cow's tongue, and we set out to find America's best.
First, let's define what exactly a taco is. By the broadest definitions, it's a handheld, folded, unleavened flatbread encasing something edible. And while some companies might be able to get away with calling the Choco Taco or Taco Bell's new waffle taco a taco, for our purposes we're defining a taco as meat or vegetables placed onto a warmed tortilla, with the express purpose of folding it and eating it with one hand. And man, there are some amazing tacos out there.
One great thing about a taco is that it's one of the most democratic foods known to man. You'll find them at the most homespun, rustic roadside shacks; you'll find them on the menu at some of the country's most high-end Mexican restaurants. One reason they're so popular is because they're so inexpensive, usually selling for just a couple of bucks. The low price and smallish size also makes it easy to become a self-styled taco expert, as seeking out great tacos and eating as many different varieties as possible is as honorable a pastime as any. On our quest for the country's best, we tracked down not only authentic Mexican offerings but also Tex-Mex tacos and a few that are decidedly not authentically Mexican but delicious nonetheless.
Even though tacos trace their roots to Mexico, they're quickly becoming more and more of an American staple. The 2012 census found that nearly 17 percent of the U.S. population is now Hispanic or Latino, up more than 3 percent from 2002. This increasing cultural influence has certainly made its way into the food we eat, with results that are decidedly positive. And from Baja-style tacos (grilled or fried fish typically topped with slaw, pico de gallo, and sour cream-based sauce) to chopped meat from a cow's head (cabeza), the possibilities really are limitless.
Tacos are a food that inspires fierce loyalty. Ask someone in Texas (Austin, in particular) where the country's best tacos are and they'll tell you've found it. But head to Los Angeles and you'll meet people convinced that there's nothing better than a perfectly fried fish taco. And you know what? They'll both be right. New Yorkers have complained for years that it's tough to find a great taco in their city, but in recent years several have been introduced that rival the best you'll find in Mexico. And up in Chicago, a town that has never exactly been a taco paradise, the Maxwell Street Market is becoming a world-class taco destination.
In order to assemble our ranking of America's best tacos, we asked more than 200 of the nation's leading food writers and taco authorities to send over a list of their absolute favorite tacos in the country. Not taquerías, mind you, but individual tacos, what they believe to be the absolute finest offering from their favorite taco shops. We asked them to include only brick-and-mortar taquerías as opposed to trucks, carts, and the like (that's a ranking for another day). We also didn't include breakfast tacos, because most would agree that those are an entirely different food altogether. We rounded out their submissions with tacos mentioned in best-of lists both in print and online, as well as our personal favorites, then assembled a list of more than 150 tacos, which we divided by region: East Coast, Midwest, Texas, Southwest, and West Coast. We then invited our panel of experts to vote for their favorites. At the end of the day, we were left with the 35 best tacos in America.
Some of the tacos that made the cut are certainly surprising. In posh Riverside, Conn., for example, an unassuming carnitas taco has won over legions of fans, and in Denver a slab of sweet and sour braised pork belly with candied garlic is quickly becoming one of the city's must-eats. At the same time, several popular favorites made it into the survey but not the final list, like New York's Empellón, Austin's popular Tacodeli, and Washington, D.C.'s Oyamel. We'll also be the first to admit that there are some stellar tacos out there that didn't cross our radar, so feel free to let us know if you think there's one that we missed.
So what makes a taco great, exactly? We polled our experts and most replied with similar qualifications: Great tacos are simple, with clean, vibrant, and varied flavors, with each component able to stand on its own. A perfect taco is balanced in flavor, and not loaded down by extraneous add-ons. The tortilla should be super-fresh and ideally handmade; the filling doesn't have to be either simple or fancy, just made with care and an eye for balance and moisture level; and the topping, be it onions and cilantro or chipotle harissa, should brighten, heighten, and tie the whole taco together.
Thanks to a growing Latino population and technological advances like, say, the Internet, not only are there more great tacos out there than ever before, but it's becoming easier and easier to track down those tacos. And a truly great taco is nothing short of a work of art.
1. Los Tacos No. 1, New York City: Adobada Taco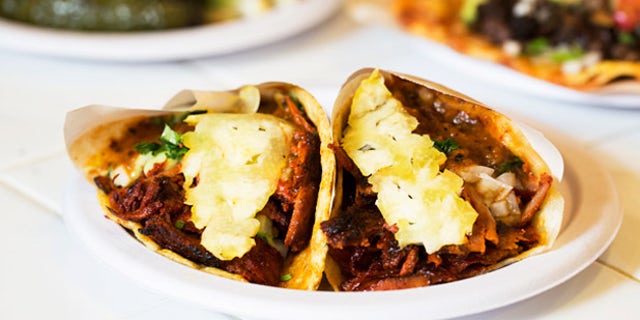 With Los Tacos No. 1 setting up in Chelsea Market, there's about one thing to say on behalf of taco-crazy New Yorkers when it comes to defending their assertions that they now have one of America's best tacos: God help you. West Coasters who haven't even sought out the city's best will likely have too much of a chip on their shoulder to admit it, many so-called East Coast taco experts haven't a leg to stand on to combat the cliché that there are no good New York tacos anyway, and it's going to seem pretty outrageous to declare a place open for less than a year as one that serves one of America's finest, so good luck with all that. But who cares anyway? Texans and Californians be damned, it's true. Los Tacos No. 1 serves a taco so good that you could dare anyone to taste it blindfolded against their supposed classic favorite confident and they'd secretly be worried they'd choose Los Tacos No. 1 instead. And Californians and Texans should have no reason to begrudge them anyway — it's a collaboration of three close friends from Tijuana, Mexico, and Brawley, Calif., for crying out loud, guys who heard the East Coast plight and wanted to proselytize the West Coast expertise. Forget reason. Let's go to taste. You really can't go wrong whether you go with adobo or pollo, but the winner is the red chile-marinated pork, the adobada. Moist. Salted. Flavorful. Sweet but not cloying. Accoutrements. Proper moisture and accurately delivered tortilla. There are expertly prepared salsas. Dress it yourself. You'll shut up because your mouth will be full and you will be happy. (You shouldn't need to undersell them New Yorkers, but like dealing with that difficult friend, loved one, or sibling, you know well enough that introducing your West Coast friends to Los Tacos No. 1 will mean bumping into them there getting their fix.)
2. Tito's Tacos, Culver City, Calif.: Tito's Taco with Cheese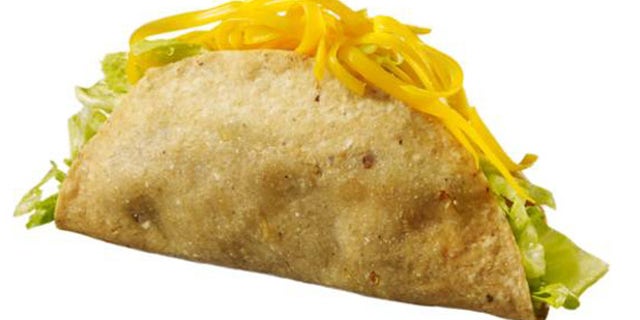 This Los Angeles Westside institution is famous for its plump burritos (like one with chili con carne and refried beans that people dream about), but for good old American-style tacos — the kind purists scorn — it's hard to beat this place. The beef is long-cooked and shredded, not ground; the shredded Cheddar is tart; the julienned iceberg is crisp and cool. It's nothing short of hard-shell taco perfection.
3. Torchy's Tacos, Various Texas Locations: Trailer Park Taco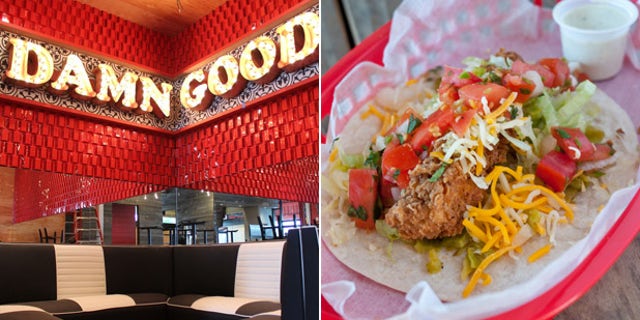 Texas (centered in Austin, Dallas, and Houston), owner Michael Rypka has created tortilla-bound concoctions that are nothing short of devilish, and made fresh every day. There's the Brush Fire (Jamaican jerk chicken, grilled jalapeños, and mango), the Dirty Sanchez (scrambled eggs with fried poblano chile, guacamole, escabeche carrots, and shredded cheese) and The Republican (grilled jalapeño sausage with shredded cheese and pico de gallo), but the wildest and most delicious, creation on the menu is the Trailer Park, a massive battered and fried hunk of chicken breast, topped with sautéed green chilies, lettuce, pico de gallo, and shredded mixed cheese on a flour tortilla from El Milagro, topped with poblano sauce. If you prefer to "get it trashy," they'll replace the lettuce and replace it with cheese sauce. And who needs lettuce when cheese sauce is an option?
4. El Real Tex-Mex Café, Houston: Chicken Puffy Taco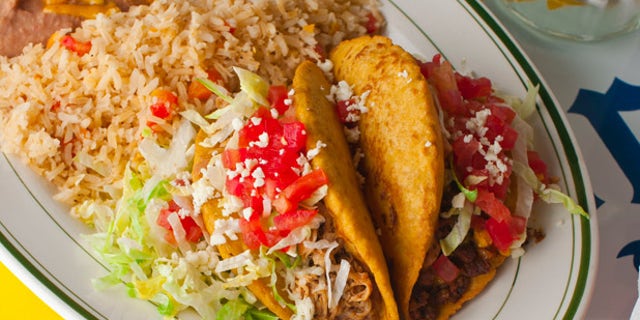 Located inside a restored theater in Houston's Montrose neighborhood, El Real serves Tex-Mex classics like chile con carne, nachos, and Frito pie, but we recommend you head directly for the San Antonio Puffy Taco Plate, with smoked chicken. The deep-fried shell gets a smear of refried beans, then the smoked chicken (which is smoked whole before being shredded) is liberally applied. Lettuce and tomato come on top, and it's a taco you're not likely to forget any time soon.
5. Mi Tierra Cafe Y Panaderia, San Antonio: Carnitas Michoacan Taco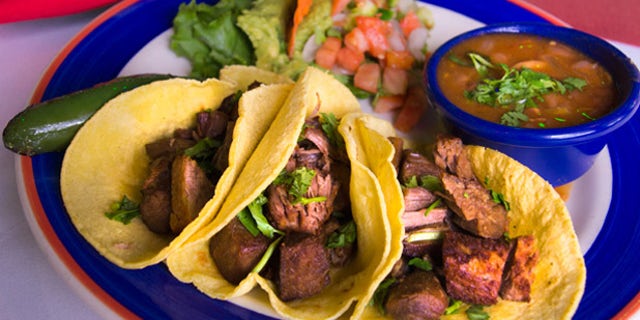 Locals and visitors alike fill this big, boisterous, absolutely dependable Tex-Mex restaurant and bakery — bedecked with Christmas lights and open 24 hours a day — for fajitas platters, enchiladas and quesadillas, and more (including first-rate menudo for breakfast), but the flour-tortilla tacos are possibly the best in town — especially the ones filled with carnitas Michoacan, pieces of pork marinated in orange juice and spices and perfectly fried, and presented with guacamole, pico de gallo, and beans.
6. Henry's Puffy Tacos and Cantina, San Antonio: Spicy Beef Fajita Puffy Taco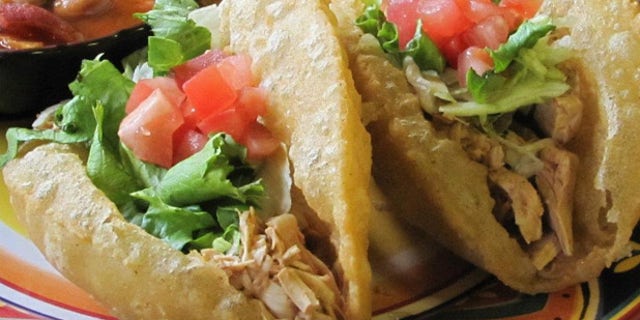 Henry's may not be able to claim authorship of the term "puffy tacos" (Ray's Drive Inn claims that honor), but it does claim to be the "home of the original 'Puffy Tacos' in San Antonio since 1978" — and it is an iconic spot for San Antonio's signature dish. Henry Lopez (who actually grew up in California) is retired, but his legacy continues at the family's friendly, eponymous strip-mall restaurant run by his sons Rick, Robert, and Jaime and their sister, Imelda Lopez Sanchez. The famed tortillas are made in-house, fried so that they puff out, creating a fun way to eat what otherwise is a relatively conventional Tex-Mex taco. You have the puffy tortilla shell filled with the meat of your choice (spicy beef fajita is the most popular), topped with shredded iceberg lettuce, grated cheese, sour cream, and guacamole. With truly great puffy tacos, the shell shatters a little, adding textural variation to each bite into the meat and condiments, and that's exactly what happens here.
7. Mexicali Taco & Co., Los Angeles: Carne Asada Taco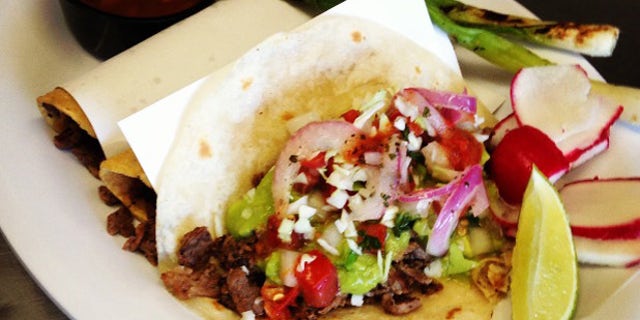 Mexicali Taco was founded by two friends, Esdras Ochoa and Javier Fregoso, in 2009, and it quickly carved out such a niche as one of the best taco stands in the already crowded Los Angeles scene that two years later they opened a brick-and-mortar location. The tacos here don't play around: they're big and full of meat, and the carne asada is prepared the right way, seasoned with a secret blend of spices and char-grilled on a smoking hot fire. You haven't had truly great carne asada until you've had it from Mexicali.
8. Taquería Arandas, Austin, Texas: Al Pastor Taco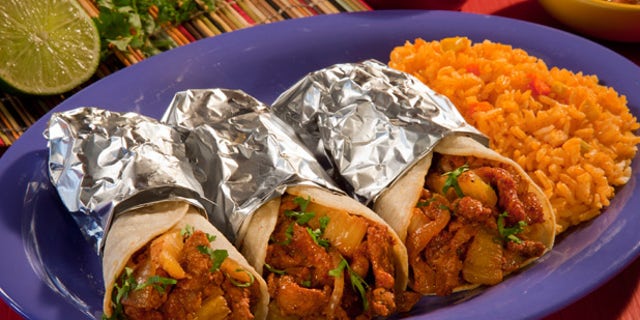 This Guadalajara-style taquería has several Austin locations, but is not to be confused with the Houston chain of the same name. Meat cooked "al pastor" (shepherd's style) is thought to be an adaptation of the spit-grilled shawarma (like gyro meat) brought to Mexico by Lebanese immigrants. In this case, though, and despite its name, it is usually pork instead of lamb. The meat is marinated, then cooked on a vertical spit with a peeled pineapple skewered above it. The juices of the fruit dribble down, tenderizing the meat, and little shards of pineapple are carved off to be mixed in with it. The tacos al pastor at this Austin favorite are stuffed full of juicy pork, then showered with chopped onions and cilantro and served with an excellent red salsa.
9. Frontera Grill, Chicago: Arabes Taco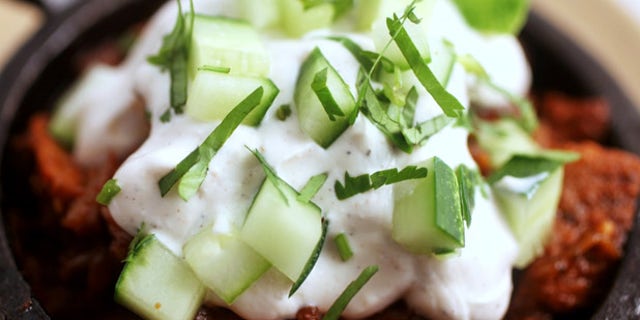 Everybody knows that Rick Bayless, the man behind Chicago's renowned Frontera Grill, is a scholar of Mexican food, and we appreciate his efforts to teach us about the real thing — but what's more important for present purposes is that he's also a really good cook, capable of producing dishes that we want to return to his restaurants again and again for. Like his tacos arabes, Arab tacos — delicious combinations of roasted, sliced black-pepper pork shoulder, chipotle salsa, cucumber, and jocoque, which is strained Mexican yogurt inspired by Lebanese yogurt just as the roasted meat is inspired by Lebanese shawarma. In Mexico, tacos arabes are often served in a piece of folded-over pita bread, but here, the filling bulges out of perfect corn tortillas.
10. Taco Taco Café, San Antonio: Puffy Taco with Picadillo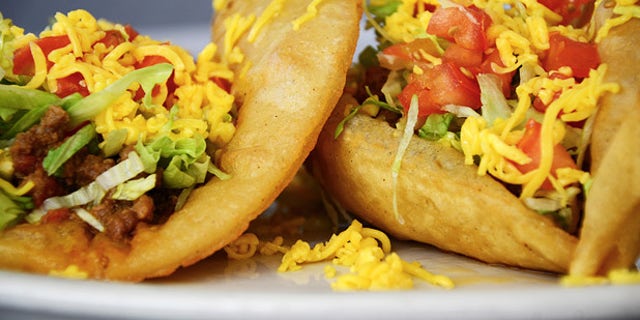 Puffy tacos, a San Antonio delicacy, can sometimes be tough and greasy, but the one at Taco Taco is light, airy, and almost out-of-this-world good. In the small, unassuming building, they make all their tortillas from scratch, including delicious flour tortillas, but if you try one thing here, go for the puffy taco with picadillo, or spicy ground beef. The ground beef is mixed with a blend of seasonings, and slow cooked with onions, tomatoes, and a little bit of potato. It's topped with a dash of hot sauce and some lettuce and tomatoes, and you can go home knowing that you've eaten a truly great puffy taco. Just make sure you head over for breakfast or lunch: they're only open until 2 p.m. daily.
See all 35 tacos at The Daily Meal
More from the Daily Meal
101 Best Restaurants in America for 2013