Best liquor money can buy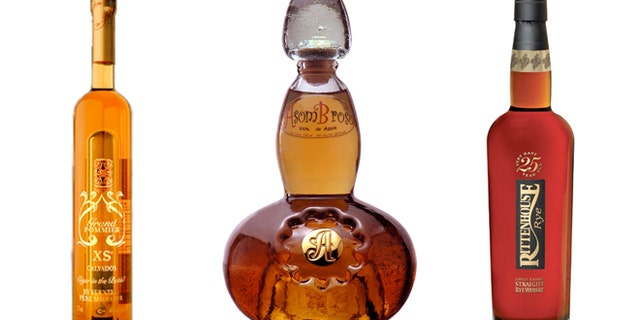 First there was the Cosmo craze of the naughts, followed by a lasting love affair with all things vodka. Then "Mad Men" came along, ushering in a nostalgic reverence for the drinks of yore, Old Fashioneds and Rye straight-up.
These days, bartenders add a bunch of organic veggies to a highball and call it artisanal, and there are folks who think you can pretty much mix anything with Red Bull and call it a cocktail.
But above the changing tides of trendy sips, there are spirits that need no frills and embellishments that exist in a league of their own. New to the top shelf of the top shelf, as it were, is a bourbon so strong the FAA won't allow it on airplanes, an 11-year-old tequila and a spare-no-expense gin that costs $700.
Our list of the ten best spirits features the nec plus ultra, standard-bearers in their categories for those who wouldn't be caught dead with an appletini --and those who can afford it.
BOURBON
Willett 16-Year-Old Straight Kentucky Bourbon Whiskey
$225
This family estate-bottled, true, single barrel bourbon is one of only 115 bottles on planet Earth. So extraordinary is this example of American bourbon, that it shows no heat on the nose. Its profile is so well balanced that it leaves the nose at a loss in detecting anything resembling a flaw, leaving just the spectacular bourbon to inhale. At 142.7 proof, the alcohol is so high that the Federal Aviation Administration will not allow it on an airplane, because it is considered a hazardous material at that strength. A road trip to taste or purchase a bottle of this exquisite elixir will reward you with a gem of American ingenuity and know-how. This is the standard by which all other bourbons should be judged. We had the pleasure of tasting some of the contents of Barrel 74, Rickhouse South 4, Stored in Warehouse E, Distilled April 6, 1993, bottle 35 of 115. Find it, whatever the cost!
BRANDY
Germain-Robin Anno Domini 2005 Alambic Brandy
$350
Some spirits are crafted well, some boast a remarkable smell, and still others are standard-bearers for their category. The Germain-Robin Anno Domini 2005 Alambic Brandy is in an altogether different class of spirits that are simply irresistible. This limited release (only 200 bottles were made; we tasted number 101) shows off the best of Mendocino, California's grapes distilled by the hand of a master, before resting in French Limousin oak until mature. The 2000 edition was renowned, the 2001-2004 editions were all award-winners, but the 2005 version is the pinnacle of both the concept and the distiller. Magic!
CALVADOS
Pere Magloire Grand Pommier XS Calvados
$350
The Grand Pommier, or Great Apple Tree, is an Extra Special Reserve Calvados with a subtle, refined spirit and a full-bodied finish of apple wood and spice, without the use of any preservatives or additives. Since 1821, the legendary French Père Magloire Calvados Distillery has been producing world-class product, and now delivers a complete after-dinner event in a bottle. As a present is not fully wrapped without a bow, so does the Fuente Forbidden X cigar encapsulated in the specially designed bottle provide the finishing touch to a perfect pairing with this extraordinary Grand Pommier XS Calvados. Here's finally a design with substance in both the stellar spirit and the accompanying world-class cigar. It's a great way to finish an evening — or start a party.
COGNAC
Tesseron Cognac Lot N°29 XO Exception
$400
Tesseron Cognac Lot N°29 XO Exception is captivating to the eye, as the topaz-colored spirit shimmers and glistens in the glass. Derived from a combination of Ugni Blanc, Folle Blanche and Colombard grapes from the rarest Tesseron stocks, and aged for more than three generations in pure French Limousin oak casks, this spirit lives up to its heritage and promise. It is Grande Champagne at its best and most complex, with aromas of plums, figs, honey and a touch of mango and kiwi simultaneously assaulting and hugging the palate. The round, thick, viscous mouthfeel and lingering finish of this cognac make it work as its very own course, without the need of a food pairing.
GIN
Nolet's Reserve Dry Gin
$700
Regal, artistic, stunning, royal... and that's just the bottling! This gin is the epitome of distilling when the goal is to make the finest spirit using only the most exquisite ingredients and sparing no expense. The Nolet Distillery in Schiedam, Holland has been distilling remarkable gin since 1691. Each batch is individually distilled using an unusually high concentration of botanicals; chiefly juniper, verbena and saffron. The juniper is the base of this traditional dry gin. The addition of verbena gives it a citrus flavor and smooth finish, while the saffron uses its aroma and elegant heated strength on the palate to spice up the finish. There is nothing like this spirit. It has aimed high and nailed its target. We even enjoy it straight at room temperature. Bravo!
GRAPPA
Distillerie Berta Bric del Gaian 1998 Moscato d'Asti Grappa
$175
The 1998 Bric del Gaian from Distillerie Berta is among the most aromatic grappas ever made. There's no need to fight through the 44 per cent alcohol, because it is in perfect balance with the Moscato grape-driven aromas. A hint of ginger and vanilla bean are overtaken by the floral notes of honeysuckle and orange blossom. The palate delivers the perfect ripeness of summer-raised peaches, oranges and apricots surrounded by honey and almonds. The pungent and powerful profile of grappa is redirected here into an elegant and approachable spirit of high merit.
RYE
Rittenhouse Very Rare 25-Year-Old Single Barrel Rye
$250
The original grain for whiskey in the USA has finally reached its apex with the Rittenhouse 25-Year-Old Rye. Its spice and depth of flavor are so intensely satisfying, your brain will take you on a journey while you are tasting it. Rye lovers should purchase this pure American genius without hesitation, regardless of its price tag — because this unique combination of flavor profile, heat, balance and class may not come this way again. We found barrel number fourteen, bottle number two, to be 100 proof of perfection.
SCOTCH
The Dalmore King Alexander III
$268
One of the most recognizable emblems in Scotland is the royal emblem of a twelve-pointed stag that adorns every bottle of The Dalmore Scotch. The finest of these expressions may well be named after King Alexander III, who allowed the Clan MacKenzie the honor of using that royal emblem for saving him in 1263. The malt is rich, both on the nose and on the palate, with a finish that can last until the next meal. As elegant a spirit as Scotland can produce, the mouthfeel is a mouth-full of brown sugar-covered comfort food in the form of Scotch.
TEQUILA
AsomBroso 11-Year-Old Anejo Tequila
$1,000
The idea of the first 11-year-old extra Añejo is exciting enough, but the flavor and finish of the AsomBroso Extra Añejo Tequila is truly astonishing. When we first poured it, we found the aromas emanating out of the bottle so intriguing, we couldn't help but grasp the glass tight in anticipation. The mouthfeel is smooth and rich while engaging the brain like a full gourmet meal of flavors, never before available through drinking tequila. Is it expensive? Yes. Do you get what you pay for? Yes, and then some. Pure hedonism.
VODKA
Beluga Gold Line Russian Vodka
$150
Vodka is supposed to be a neutral spirit, but it's hard to remain neutral about Beluga Gold. It stands out from the rest starting with its unique ingredients, including hyaline artesian water from the springs of Siberia, malt spirit, rice extract and rhodiola rosea extract. While few vodkas enjoy any sort of rest period (as in any business, time is money), the distiller insists on a whopping 90-day rest period so the spirit melds together. The result is worth the wait and the price. Warming, almost caressing to the nose, it is smooth, full-bodied, clean and crisp. As its flavors continue to evolve on the palate over time, we recommend you give it another rest period in your mouth.
MORE ON GAYOT.com
More of the World's Best Spirits