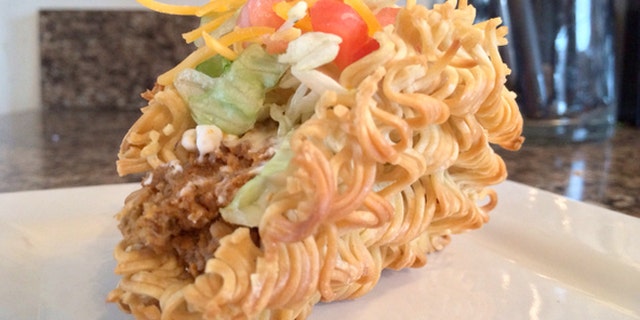 It was only a matter of time.
Following on last year's Ramen Burger craze, someone has upped the ante and made a ramen taco.
Kyle Marcoux, who writes the Vulgar Chef blog, created this south-of-the-border creation.
"I made it myself. It was just a home experiment for my blog, and really just for fun," he wrote in an e-mail to FoxNews.com.
But sorry, this mashup isn't available to the public, yet.
Marcoux said that he couldn't get into the details of how he prepared it, saying he may use it in a cooking competition.
When describing the taste, he wrote, "It was actually VERY GOOD!"
It looks like it too. The shell is toasted noodles stuffed with beef, lettuce, tomatoes, cheese, and sour cream.
Meanwhile, you can get a taste of the authentic Ramen Burger by creator Keizo Shimamoto at Brooklyn's Smorgasburg –a flea market for food --and soon at BERG'N Beer Hall starting in March.
And now a Californian restaurant is reportedly selling its own version of the famed burger, which happens to be trademarked by Shimamoto.
Toro Burger in Santa Ana describes its creation including angus beef, shaved green onions, baby mixed greens, BBQ pork belly and ramen buns.
Hope we don't have to wait in line for hours to get a bite of these.