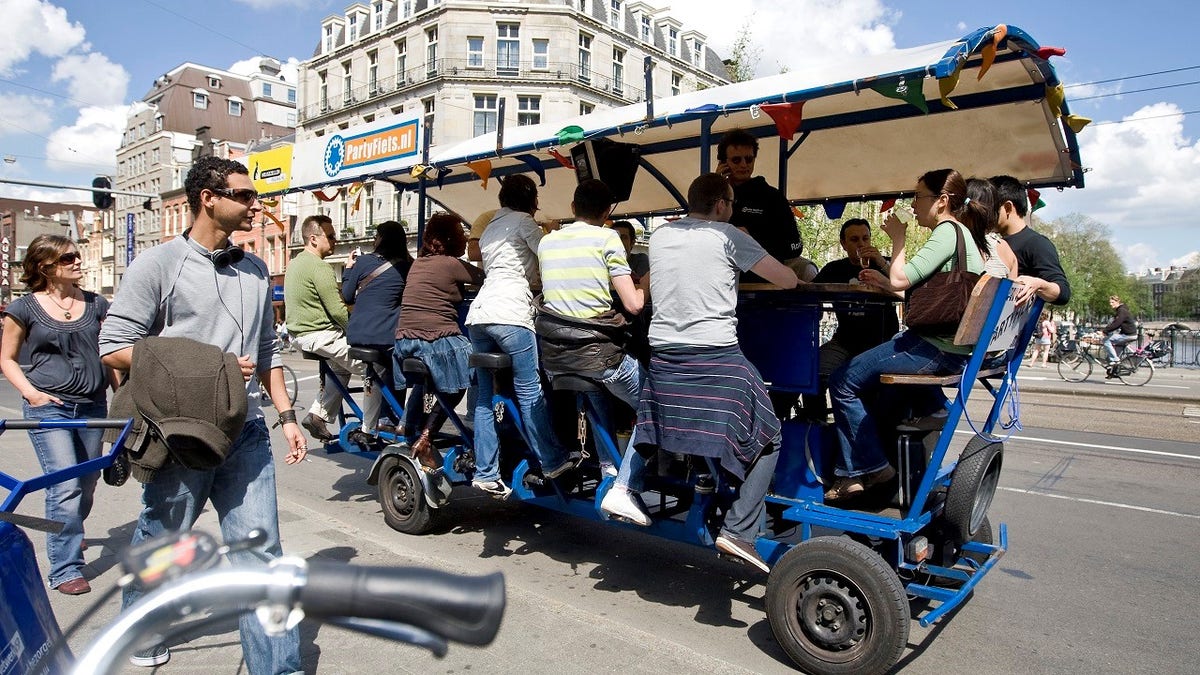 Amsterdam officials banned beer bikes from the city's center after residents complained about drunk and rowdy tourists riding through the streets, a report said on Tuesday.
BUDWEISER'S NEW BEER HAS WAY MORE ALCOHOL
Amsterdam District Court ruling deemed the multi-person bikes a "public order problem" and granted city officials to prohibit people from using them in the city's center, the BBC reported. The court approved the ban so the bikes would "stop … being a nuisance."
"The combination of traffic disruptions, anti-social behavior and the busy city center justifies a ban," the court said during the ruling.
The ban went into effect on Wednesday, the BBC reported.
WISCONSIN MAN GETS LOCKED IN BEER COOLER, STARTS DRINKING
Beer bikes are generally carts with several bicycle seats situated around a bar. Riders pedal through the city's canals while drinking beer.
The contraptions have frustrated local residents so much that more than 6,000 people signed a petition last year to get rid of the "terrible phenomenon." A resident reportedly said Amsterdam "has become a giant attraction park" with the flood of tourists heading to the city each year, according to the BBC. Some have said the bikes symbolized the "wrong type of tourism" that was hitting Amsterdam.
However, some tourists have argued that the beer bikes have allowed them to see more of Amsterdam, also while enjoying touring it with drinks in their hands.
FOLLOW US ON FACEBOOK FOR MORE FOX LIFESTYLE NEWS
Beer bikes are also popular in other European cities, such as Berlin.