Beef, booze, broads are on the menu at this Vegas hot spot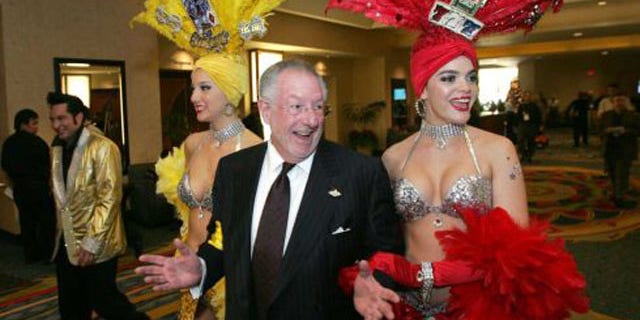 Are beef, booze, and broads an unlikely combination…or a stroke of genius?

"What's better than beef, booze and broads?" exclaimed former Las Vegas Mayor Oscar Goodman.

Apparently he doesn't think much is better than this threesome. It's the tagline for his new restaurant, Oscar's Steakhouse, which opened at the end of last year in downtown Las Vegas.

Goodman, who worked as a mob lawyer before his 12-year tenure as the Mayor of Sin City, said the tagline came from an old court case involving some married casino executives who were caught talking about their unfaithful ways.

"They were overheard in a court authorized wiretap talking about their love life," said Goodman. "They walked into court one day where they sent in a judge from Los Angeles who said 'Oh, this is a booze and broads case.' In my mind I said if I ever have a place, it's going to include booze and broads."

As far as food goes, customers can choose from a menu of succulent steaks, prime rib, and an assortment of seafood. When it comes to the drinks, Goodman suggests one of his favorites----Bombay Sapphire Gin.

"My drink is a very special drink," said the former Las Vegas mayor. "It's Bombay Sapphire Gin, and Bombay Sapphire Gin…and Bombay Sapphire Gin."

But it's the beautiful broads that separate the restaurant from its competition. They're not to be confused with waitresses because they don't serve any food. Their main priority is to mingle with the customers and to make sure they're having a good time.

"They're very attractive, both inside as well as outside," said Goodman.
Antoinette works as one of the broads and says she enjoys her job because "it's all about revitalizing downtown Las Vegas."
Another broad, Cara added she looks forward to "having a lot of fun with all the guests."

Goodman's wife and current Las Vegas Mayor, Carolyn Goodman, was fully aware of her husband's participation in the broads "selection process."
So how'd she take it?

"My wife thought it was a very tough job," said the former Mayor, but jokingly added that he "didn't eat dinner for the whole process."

Guess it's a good thing he owns a steakhouse.