Bangkok's famed street vendors to be evicted by 2018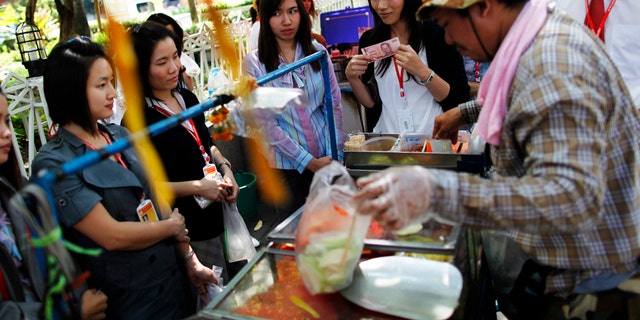 NEWYou can now listen to Fox News articles!
Street cart vendors in Bangkok, Thailand-- and those who love them-- are none too pleased this week, as the world-famous stalls have officially been outlawed by Thai authories. And the government plans to act quickly, saying it will clear the streets by the end of this year.
The Bangkok Metropolitan Administration (BMA) says the city's numerous street food vendors pose a health hazard, block pedestrian paths and contribute to chaos in the roads.
"The BMA is now working to get rid of the street vendors from all 50 districts of Bangkok and return the pavements to the pedestrians. ... No exceptions," Wanlop Suwandee, a chief adviser to Bangkok's governor, said in a statement to the Nation Monday.
THESE 15 CITIES HAVE THE WORST RUSH HOUR TRAFFIC IN THE WORLD
Bangkok district chief, Boontham Huiprasert, said in an interview with the South China Morning Post that the vendors are being asked to clear out in order to fight traffic congestion, poor air quality and the build-up of garbage. "Just don't sell on the sidewalks," Boontham advised vendors.
In 2018, violators could be fined up to 2,000 baht (or $57).
But the thousands of food vendors say they can't afford rent in brick and mortar restaurants, and that they pay rent in the form of small monthly under-the-table payments to city officials.
"Street food is a big part of daily life," Nont Nontiskul, 29, a stockbroker who lives in the Thonglor neighborhood, told ithe South China Morning Post.
FOLLOW US ON FACEBOOK FOR MORE FOX LIFESTYLE NEWS
"Even people who eat at pricy restaurants every day can't avoid street food. It's faster, tastes better, and costs less than half the price."
Tourists and fans of the region took to social media to express their horror about the vendors leaving the bustling streets.
Over the years, Bangkok's street food scene has garnered famous fans worldwide, including celebrity chef Anthony Bourdain who is modeling an upcoming food hall in New York City based on the experience of walking through these bustling markets.