Ballparks keep unleashing insane gut-busting food creations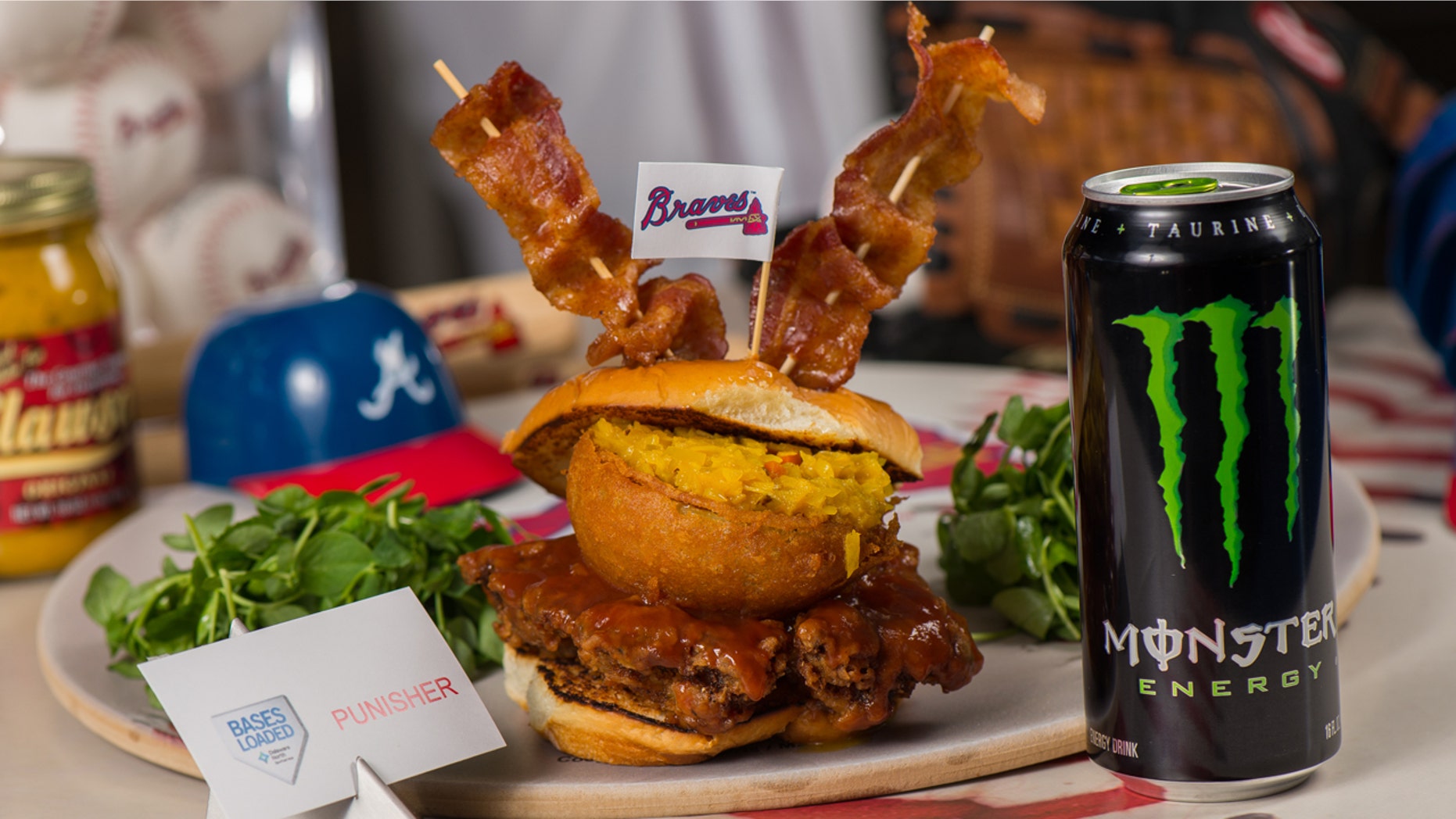 Baseball is a treasured American pastime that signals the start of spring.
And a trip to the ballpark wouldn't be complete without some good grub.
Concessions have come a long way from flavorless hot dogs and lackluster soft pretzels, but in the past few years stadiums across the country have been rolling out over the top junk food mashups that make a footlong seem tame.
Since when did peanuts and cracker jacks morph into chocolate-marshmallow covered bacon and burgers glazed with Monster energy drink?
Remember the Fried Nachos on a Stick at Milwaukee's Miller Park? How about Bacon Cotton Candy at the Texas Rangers' Globe Life Park in Arlington?
We're all for food experimentation but this year's creative crop have so much going on, you may miss the game.
Check out the most belly-busting foods being offered at baseball stadiums this year.
Atlanta Braves, Turner Field
"The Burgerizza"
This behemoth meal is a mashup of America's two favorite fast foods. Thankfully it can easily be cut into, just like a traditional pizza, for sharing.
"The Punisher" 
Pass the Tums please. These heartburn inducing sandwich features barbecued rib meat topped with bacon and onion rings. Did we mention the barbecue sauce is made with Monster energy drink?
"T.E.D. aka The Everything Dog" 
Literally all of your favorite ballpark snacks in one. A foot long hot dog layered with fries, chili, nacho chips, beer cheese and jalapenos, topped with popcorn, then drizzled with Coca-Cola-infused barbecue sauce-- all served in a pretzel bun.
Texas Rangers - Globe Life Park
"Chicken & Donut Skewer"
Satisfy all your cravings at once-- this treat is sweet, spicy and savory on overdrive. It's a 12-inch skewer with donut holes and fried chicken. The whole thing is drizzled with spicy buffalo honey sauce.
(Courtesy of Delaware North)
Arizona Diamondbacks - Chase Field
"The Cheeseburger Dog"
There have been many interpretations mashing up the country's favorite backyard barbecue meats but this is pretty strange. The footlong hot dog is made of chargrilled hamburgers that have been ground up and mixed with chopped smoked bacon, green onion and cheddar cheese. The whole link is breaded with milk and flour, deep-fried and served on a hot dog bun with smoked bacon and secret sauce.
Pittsburgh Pirates - PNC Park
"Cracker Jack & Mac Dog"
This juicy hot dog comes topped with macaroni and cheese, spicy jalapeños, Cracker Jacks...and sticky caramel sauce. We can't possibly imagine what all these flavors taste like at once, and we're not sure we want to.
(Aramark)