Bacon margaritas and chicken-fried lobster: Texas State Fair food finalists
It's state fair season, which means it's time once again to feast on the country's deepest-fried, gravy smothered and sweetest syrupy goods.
And while the Texas State Fair doesn't start for another month, food fans can already get a sneak peek at this year's finalists for the Big Tex Choice Awards—the top food prize that's been handed out at the fair for the last 10 years. T
These eight finalists were chosen from a roundup of 50 entries across the state and will be competing for the titles of Best Tasting and Most Creative.
From deep-fried alligator meatballs to beer battered buffalo, the entries this year are pushing the boundaries on state food fare.
This year's judges include Devin Harris, Dallas Mavericks point guard and member of the 2009 NBA All-Star Team, Drew Pearson, former Dallas Cowboys wide receiver and host of Big Game Sunday on NBC 5 with Newy Scruggs and Tiffinni Young, Dallas native, community leader and Dallas City Councilwoman for District 7. The winners will be announced at the fair.
The Texas State opens Sept. 25 and runs through Oct. 18 in the Fair Park neighborhood of Dallas. Prices have yet to be set for the dishes but we're guessing the Chicken Fried Lobster with Champagne Gravy will set you back more than the average funnel cake.
1. Chicken Fried Lobster with Champagne Gravy by Abel Gonzales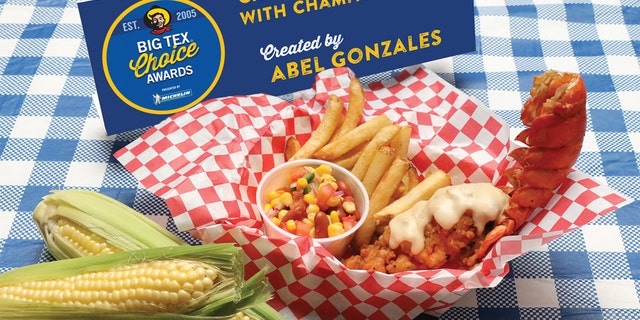 For the first time in Big Tex Choice Awards history, lobster has made its way on the menu. This seafood spread includes an entire lobster tail, breaded and deep fried to perfection-- topped off with a rich sauce combining lemon butter and champagne gravy. Sure it's deep fried, but it's lobster so you can feel extra fancy while chowing down on this feast.
2. Cowboy Corn Crunch by Isaac Rousso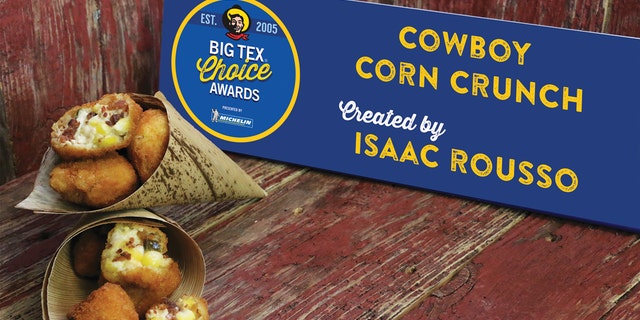 A kickin' mixture of sweet corn, minced jalapeño, rich cream cheese and a hint of smoky bacon captures the quintessential taste of Texas – all in one bite. Cowboy Corn Crunch is a flavorful tot fried to a golden, crispy brown and served in a unique palm leaf portable cone.
3. Deep Fried Alligator's Egg Nest by Cassy Jones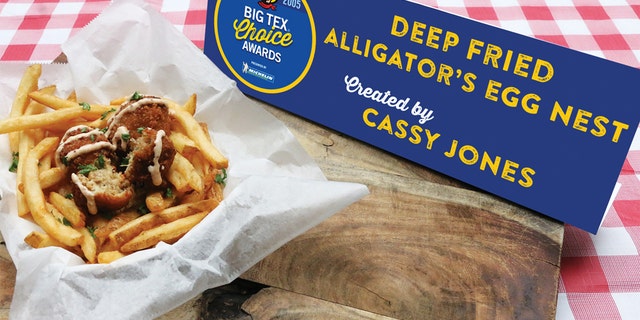 Alligator is also making its state fair debut this year, throwing a whole new flavor into the mix. Giving fairgoers a Cajun experience without having to travel all the way to the swamplands, the Deep Fried Alligator's Egg Nest blends rich alligator meat with Monterey Jack cheese, chopped jalapeños, onions and garlic. This flavorful mixture is then rolled in bread crumbs and deep fried to a perfect golden brown. Served atop a "nest" of shoestring potatoes and drizzled with a chipotle sauce, this dish will make you feel like a real ragin' Cajun.
4. Fernie's Holy Moly Carrot Cake Roly by Christi Erpillo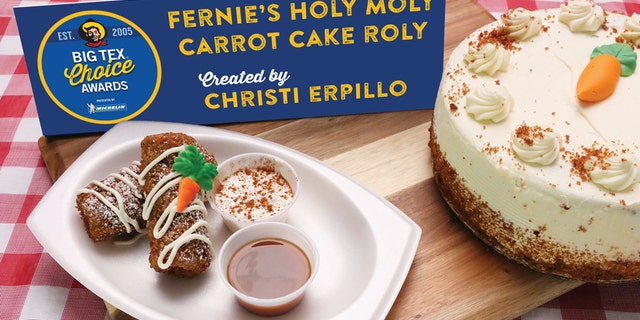 A unique spin on a traditional dessert, this sweet treat turns carrot cake into a heaven-filled roll. Golden-baked bread swirled with cinnamon has been flattened and filled with moist carrot cake, plump raisins and crunchy julienned carrots. Rolled with a light coating of cream cheese and then breaded in a mixture of panko, graham crackers, cinnamon and nutmeg. Drizzled with cream cheese frosting and lightly dusted with powdered sugar, this divine confection is served with extra caramel on the side as well as a caramel macchiato cream sauce.
5. Fried Beer-Battered Buffalo by James Barrera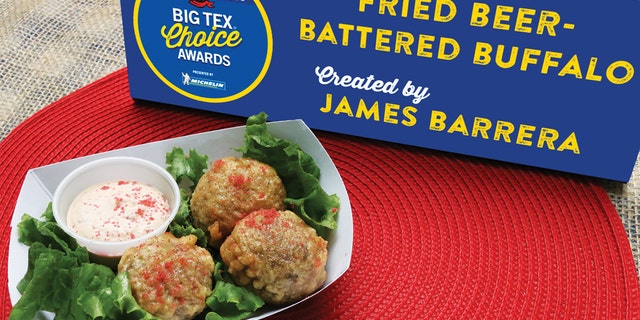 This dish takes lean ground buffalo and gives it the Texas treatment – flavored with a Mesquite smoke and rolled in Pequin chili pepper, known as the state's official native pepper. The meat is then crusted in crushed Corn Nuts and dipped in a batter made from Shiner Bock Beer, also native to the Lone Star State. Lightly dusted with bacon bits and served with a chipotle cream sauce, the Fried Beer-Battered Buffalo is a tiny taste of Texas.
6. Lone Star Pork Handle by Justin Martinez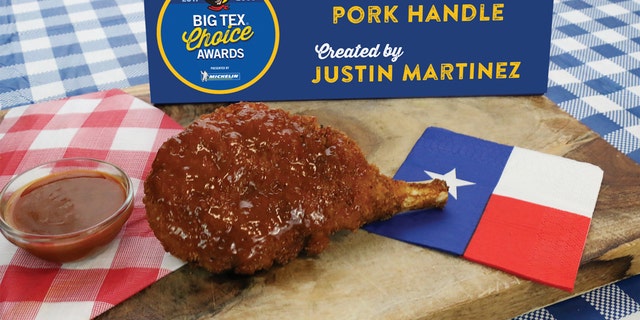 The Lone Star Pork Handle takes a hand-cut bone-in pork chop, marinates it with a rich pork rub, then dips it in batter made from Texas' own Lone Star Beer. The seasoned pork chop is then smothered in toasted bread crumbs and deep fried to a crisp, golden brown. The whole chop is finished off with a coat of bourbon barbecue glaze-- plus the bone serves as a handle, making this item convenient and easy to carry around the fair.
7. Pretzel-Crusted Pollo Queso by Allan Weiss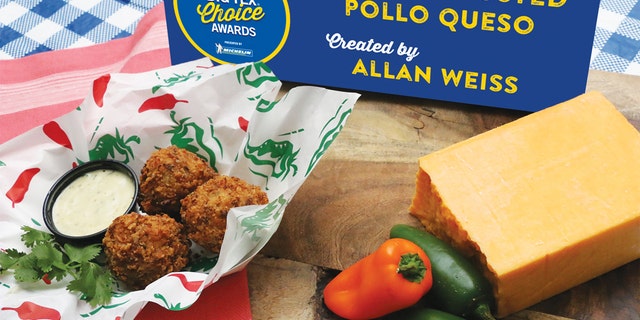 Shredded chicken is combined with a rich blend of cream cheese, Monterey Jack cheese, bacon, cilantro and Sriracha sauce. Rolled into a ball and crusted with a crispy pretzel breading, this item is then deep fried to golden perfection. Served with a jalapeño ranch dipping sauce for an extra kick, this dish is a perfect representation of true Tex-Mex cuisine.
8. Smoky Bacon Margarita by Isaac Rousso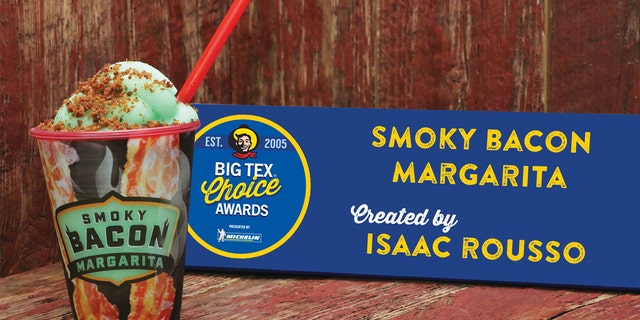 A traditional margarita gets a subtle smoky upgrade thanks to bacon. With just a hint of smoke, this drink still captures the zesty citrus flavor of a traditional margarita. Finished off with a pinch of bacon crumbles on top, this thirst-quenching drink is served in a collectible souvenir cup for an added funky flair. And yes it really does contain alcohol so only festival goers 21 and up can imbibe with this meaty cocktail.