Arby's debuts 'Big City' sandwiches to mixed reviews from locals
Arby's wants to make Chicago's iconic Italian beef sandwiches a national, meaty treasure.
Brand Eating reports that Arby's has added a Chicago-Style Beef Dip to its Big City Sandwiches menu, where it joins other regionally inspired items as the Fire-Roasted Philly and the New York Reuben.
ARBY'S SURPRISING NEW BURGER IS A HIT
According to Arby's online menu, the sandwich features thinly sliced roast beef, melted Swiss cheese, Italian seasoning, banana peppers, and fire-roasted red and yellow roasted peppers on a toasted sub roll. It's also served with a side of what Arby's calls "au jus," or a thin beef gravy, for dipping.
With the Chicago-Style Beef Dip, Arby's is presumably paying homage to the city's signature Italian beef sandwiches, which are made with thin slices of roast beef, sautéed green peppers, and giardiniera, a spicy condiment made with pickled peppers and vegetables.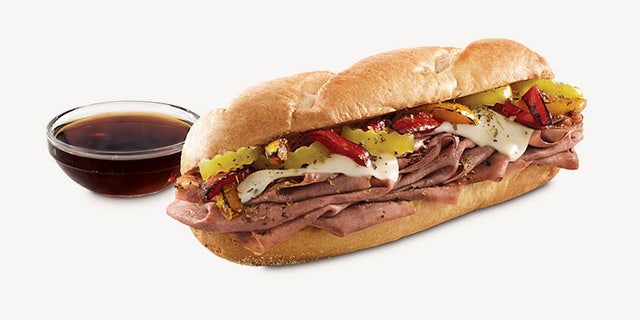 "When you think of Chicago, you think of three things. 1.) Elevated trains. 2.) Wind. And 3.) The Chicago-Style Beef Dip," Arby's writes alongside the sandwich's official description.
Unlike Arby's, however, most Italian beef vendors in Chicago will offer to dip the entire sandwich in beef drippings — bread and all — rather than distribute individual side orders of gravy for dipping.
FOLLOW US ON FACEBOOK FOR MORE FOX LIFESTYLE NEWS
In addition to Arby's new Chicago-Style Beef Dip, the chain is also adding a "Double Stack" version of its New York Reuben featuring double the corned beef of its previous reuben.
A few early online reviews of the new sandwich have been mostly positive.
Dear @Arbys I have mocked you for ages, but you clearly got the last laugh with the Chicago Deep Dip Sub. Incredibly good. Wow. #Converted

— Darrell Louder (@getlouder) February 28, 2017
But the Fire-Roasted Philly-- a take on Philadelphia's iconic cheesteak sandwich which was released in select markets last December-- is already seeing its share of haters (and a few fans) on social media as the chain expands the rollout.
@Arbys should be ashamed of themselves. That new sandwich they are advertising is NOT a Philly Cheesesteak ❌

— Sonya Marie (@sonyasunbeam) February 28, 2017
Only time will tell if Arby's new Chicago-Style Beef Dip fares better than the other Big City bites.