Apples 101: which are the best for baking, cooking and eating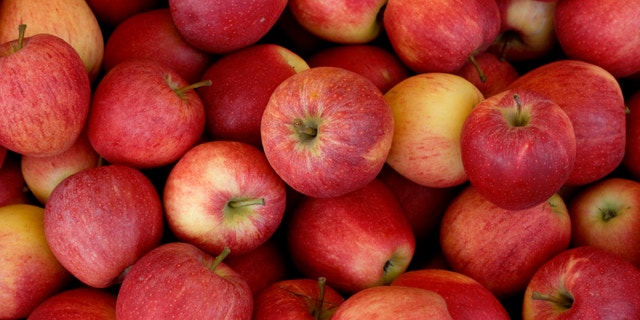 October is National Apple month – and there's no better time to make an apple pie, apple sauce, a pork roast with baked apples--or simply grab one for snacking.
Everywhere you go – to the supermarket, the farmer's market, your local farm stand, the deli on the corner – piles of shiny red, green, and yellow fruit tempt you with their crunchiness.
"There's an apple or a combination of apples for any purpose. Pies, sauces, ciders, or eating fresh – there are so many different options."
People have eating apples for generations--it's believed that the Lady apple variety is the oldest on record, dating back to the first century A.D. And why not? They're fat-free, low in calories, packed with fiber and antioxidants, and they have the potential to dump your LDL cholesterol a whopping 40 percent, according to a recent study from Ohio State University.
As the second largest producer of apples in the world, behind China, the U.S. has nearly 100 commercially grown varieties. Although every state grows some, the bulk of apples come from the top grower states: Washington, New York, Michigan, Pennsylvania, California, and Virginia.
With so many varieties to chose from how do you know which is one is better for baking or just for snacking? How to make the perfect pie.
"Most apples are good for a little bit of everything and have multiple purposes, which is good," offers Wendy Brannen, spokeswoman for the U.S. Apple Association. "The great thing about apples is that we do have such variety. There's an apple or a combination of apples for any purpose. Pies, sauces, ciders, or eating fresh – there are so many different options."
Brannen breaks down apples into taste profiles: tart, tangy, sweet, and sweet-tart. "As far as tart, Granny Smith really stands out," she says, offering that its pleasantly puckery nature is the perfect match for sticky-sweet add-ons like a caramel dip. Other good tart options: Pippin, Newton, Crispin, and Wine Sap.
Recipe: Kaiserschmarrren with Apple Stew
Recipe: Apple Cinnamon Crumb Cake
In the tangy category, MacIntosh and Jonathon reign supreme. For those with sweet tooth, Red and Golden Delicious, Gala, and Rome are right up your alley. And if you don't want to fence your taste buds in, Brannen says some like Honey Crisp, Empire, Braeburn, Cameo, Ginger Gold, and the Pink Lady offer a little sweet-tangy-tart bit of everything.
"They're a flavor fiesta in your mouth," she says.
If you plan to cook with apples, Brennan says to look for versions that hold their shape and don't get mushy in the oven or on the stovetop.
"The higher the starch, the firmer it will be and hold up to heat. Apples that are more soft won't do as well when cooked," she says. "You want a large, firm, crisp apple for baking," like Crispin, Fuji, Braeburn, Cameo, Red Delicious, and Ralls Janet that go well in pies, in baking, or apple sauce, Brannen says.
And as for salads, Brannen recommends fresh Cripps Pink and Honey Crisp.
If you like to slice apples for snacks, Brannen's got a great tip: "You can actually take Vitamin C-fortified apple juice, toss a little on sliced apples, and it prevents browning like a lemon, just without the super tart flavor a lemon gives."
For more information on apple varieties and their uses, check out the handy U.S. Apple Association chartby clicking here.