Anheuser-Busch sending 300,000 cans of water to Hurricane Florence victims
The King of Beers is proving once again it can be the Highness of Hydration in a pinch.
A Georgia brewery that churns out Budweiser is shifting gears to send 300,000 cans of clean drinking water to help anticipated victims of Hurricane Florence. The Anheuser-Busch brewery in Cartersville made the switch after the American Red Cross asked if it could to pause beer production in order to can emergency water.
Anheuser-Busch has donated 79 million cans of emergency water to areas in times of natural disasters over the last 30 years. The Cartersville facility, which also has made the change before during natural disasters, according to WXIA, will send a six-pack of truckloads to communities in North Carolina and South Carolina, a representative for Anheuser-Busch confirmed to Fox News.
CARLSBERG BREWERY DEVELOPS 'SNAP PACKS' HELD TOGETHER WITH GLUE
The news came the same day Anheuser-Busch announced that its brewery in Fort Collins, Colo., is also ready to can emergency water if needed.
"For the last 30 years, we have been working with the American Red Cross and our wholesaler partners to provide clean, safe drinking water for communities hit by natural disasters," said Michel Doukeris, CEO of Anheuser-Busch, in a news release.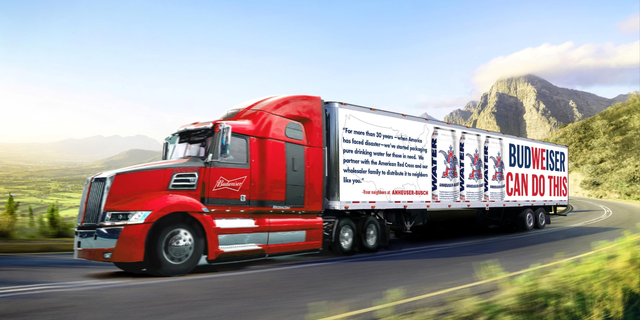 "Earlier this year, we recognized the employees who help make the program possible in Budweiser's Super Bowl commercial and made a new commitment to expand our capacity to produce safe, clean drinking water for disaster relief at our Fort Collins Brewery. Today, we are pleased to deliver on that promise, doubling our production capacity to help our fellow Americans in times of need."
Anheuser-Busch is commemorating the Fort Collins announcement with new cans and trucks that "capture the spirit of the program," according to the release.
FOLLOW US ON FACEBOOK FOR MORE FOX LIFESTYLE NEWS
In August 2017, the same brewery in Cartersville sent over 50,000 cans of water to victims of Hurricane Harvey. Anheuser-Busch even highlighted the facility in its Super Bowl LII commercial, titled "Stand By You," which showcased the company's employees efforting the process.
"This is not something that we are doing today just for the Super Bowl, we have been really working on this for 30 years, and it's a global initiative to make sure our company does what it thinks is the right thing to do," Michel Doukeris, Anheuser-Busch CEO and AB InBev North America Zone president told FOX Business shortly before the ad debuted.
Hurricane Florence, currently a Category 2 storm, is expected to affect millions on the East Coast, and bring storm surges, flash flooding, heavy rainfall, forceful winds and possibly even tornadoes to the Carolinas and parts of Virginia.