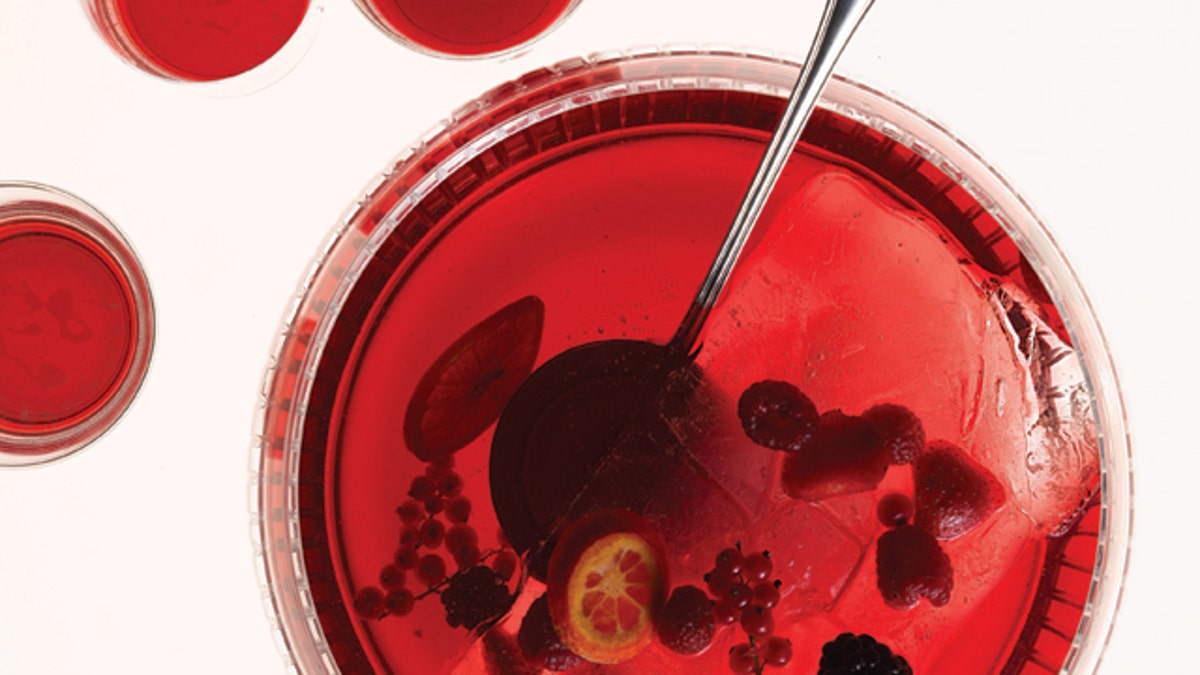 Apologies...I've misled you with the title of this post. The best drink for your holiday party is not a cocktail. It's a punch.
Ask yourself this: do you really want to spend all the time (and effort) it takes to mix a fancy cocktail for each of your guests. Do that, and you'll miss the party. Trust me, I know--at a recent party my cocktail ambitions got the best of me and I spent the entire party muddling and shaking. Instead, make punch. It's festive, it's best made in advance, and nothing says "Let's Party!" like a big bowl of the stuff. I've listed five of my favorite potent punches that were stars of past holiday parties. Just don't blame me if you end up enjoying the punch a little too much.
Algonquin Bar Punch
Peel from 4 lemons (removed in strips with vegetable peeler)
1/3 cup superfine sugar
2 cups fresh raspberries, divided
3 cups Plymouth Sloe Gin
2 cups fresh lemon juice
1 1/2 cups Coruba dark Jamaican rum
6 cups ice cubes
1 ice block
2 cups chilled brut Champagne
Lemon slices
Place lemon peel strips in large bowl. Add sugar and mash with muddler or wooden spoon to infuse sugar with lemon. Add 1 1/4 cups raspberries and mash to blend. Pour in sloe gin, lemon juice, and rum. Add ice cubes; stir to blend. Refrigerate punch 20 minutes. Place ice block in punch bowl. Strain punch over ice block into bowl. Add Champagne; stir to blend. Garnish punch with lemon slices and remaining 3/4 cup raspberries. Ladle into punch cups.
Pomegranate-Champagne Punch
1/2 cup water
1/2 cup sugar
2 750-ml bottles chilled brut Champagne
1 1/2 cups white rum
1 1/4 cups pomegranate juice
1 large lemon, thinly sliced
Pomegranate seeds
Fresh mint leaves
1 ice block
Bring 1/2 cup water and sugar to boil in small saucepan, stirring until sugar dissolves. Simmer 5 minutes. Cool syrup completely.
Combine Champagne, rum, and pomegranate juice in punch bowl. Add enough syrup to sweeten to taste. Mix in lemon slices, pomegranate seeds, and mint leaves. Add ice block to bowl.
----------
More from Bon Appétit
Bon Appetit's 31 All-Time Favorite Holiday Cookies
10 Drinks to Make with a Bottle of Bubbly
The Ultimate Grilled Cheese Sandwich Guide
----------
Admiral Russell's Christmas Punch
6 lemons
1 cup raw sugar
1 750-ml bottle VSOP-grade Cognac
1 cup lightly sweet oloroso or amontillado Sherry (such as Dry Sack 15-year-old or Sandeman Character)
Freshly grated nutmeg
Fill 4-cup metal bowl with water. Freeze overnight (for ice mold).
Remove peels from 4 lemons in strips. Place in medium bowl. Add sugar and muddle. Let stand 30 minutes. Muddle again.
Cut peeled and unpeeled lemons in half; juice enough lemons to yield 1 cup juice. Bring 1 cup water to boil in small saucepan; pour over lemon peel mixture and stir until sugar dissolves. Strain syrup into large bowl; discard peels. Mix in lemon juice. Add Cognac, Sherry, and 4 cups cold water. Cover punch and refrigerate until cold, at least 2 hours and up to 6 hours.
Dip ice mold in hot water to release ice block. Turn ice block, rounded side up, in punch bowl. Add punch. Sprinkle with nutmeg. Ladle into small cups and serve.
Christmas Caipirinhas
Peel from 4 large limes (green part only; removed with vegetable peeler in 2-inch-long strips)
1 cup fresh lime juice
8 1/4-inch-thick slices peeled fresh ginger
1/4 cup sugar
30 large fresh mint leaves plus 10 fresh mint sprigs for garnish
1 cup Brazilian rum (such as cachaça)
3 cups ice cubes plus additional for serving
5 cups ginger beer or ginger ale
Combine lime peel, lime juice, ginger, sugar, and 30 mint leaves in mortar or medium bowl. Using pestle, muddler, or handle of wooden spoon, crush lime peel, ginger, and mint leaves together. Transfer mixture to large pitcher. Stir in rum. DO AHEAD Can be made 6 hours ahead. Cover and refrigerate.
Add 3 cups ice cubes to lime mixture in pitcher and stir to blend. Stir in ginger beer. Fill 10 cocktail glasses with ice cubes. Strain or pour cocktail mixture into prepared glasses. Garnish each drink with mint sprig.
Napa Valley Winter Punch
1 1/2 3- to 4-inch-long cinnamon sticks
2 whole nutmegs
1 1/2 tablespoons whole allspice berries
1/3 cup sugar
2 cups Simple Syrup
2 1/4 cups Charbay Rum or 10 Cane Rum
1 1/4 cups fresh lemon juice
1 1/4 cups fresh orange juice
1 teaspoon Fee Brothers Peach Bitters or other bitters
1 ice block
Lemon and orange slices
Place cinnamon and nutmeg in resealable plastic bag; crack into pieces using mallet or rolling pin. Transfer to spice grinder. Add allspice; blend to coarse powder. Transfer 1 tablespoon to shallow dish; mix in 1/3 cup sugar. Set spiced sugar aside.
Stir remaining spice powder in medium saucepan over medium-high heat until just beginning to smoke, about 2 minutes. Remove from heat. Cool 5 minutes. Repeat heating and cooling process 3 more times until spices are very fragrant but not burned. Add syrup; bring to boil. Reduce heat; simmer 5 minutes. Strain through sieve into bowl. Cool.
Mix 3/4 cup spice syrup, rum, lemon juice, orange juice, and bitters in punch bowl. Add ice and citrus slices. Rub 1 orange slice around rim of 8 glasses to moisten; dip glasses into spiced sugar. Place glasses around punch bowl.