America's most outrageous french fries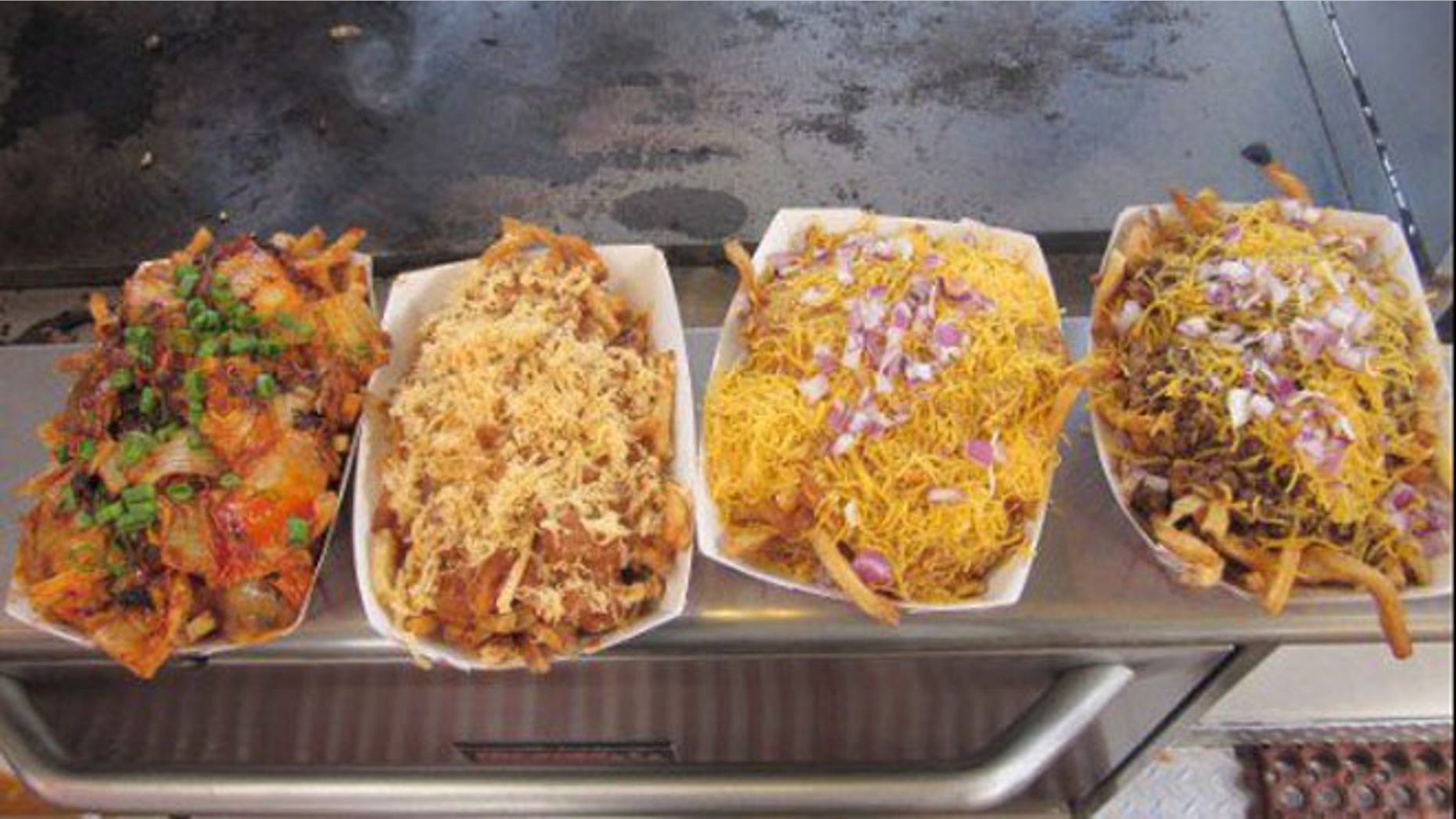 For the average person, there are few foods more addictive or satisfying than a serving of french fries, fresh from the fryer. Whether they're thin-cut or steak-cut, shoestring-style or Belgian-style, curly or crinkled, fries are a food that Americans hold near and dear to their hearts. Here is a look at some unique and innovative versions of this iconic dish.
Just as some restaurants and vendors aim to elevate foods like pizza, burgers, and grilled cheese, many fries experts across the country are serving up their spuds in creative ways. From topping the fries with intriguing ingredients to coming up with outrageous presentations (like spiral-cut and skewered), the opportunities for innovation are endless.
Frysmith, a popular Los Angeles-based food truck is dedicated to offering crispy, golden fries (made with Kennebec potatoes) layered with things like shawarma-marinated steak, chicken braised in tomatillo-tamarind sauce, and homemade kimchi. And over in Portland, Ore., Kenny & Zuke's tops their gargantuan servings of fries with its signature pastrami and melted Swiss cheese.
Take a look through this list, and then check out The Daily Meal's roundup of America's 15 Best French Fries for an in-depth look at the best fried spuds this country has to offer.
Jumbo Lump Crab Cheese Fries — Varga Bar, Philadelphia
The playful Varga Bar is decorated with photos of pinup girls and serves a menu of elevated comfort foods. In this outrageous dish, thin-cut fries are fried to perfection and tossed in a coating of truffle oil, then topped with a healthy serving of jumbo lump crabmeat, melted white Cheddar, and dusted with Parmesan.
Rajas Fries — Frysmith, Los Angeles
Angelenos flock from miles away to wherever this mobile food truck sets up shop. The masterminds behind Frysmith are known for their innovative twists on the ultimate guilty pleasure food: french fries. This out-there menu item includes fire-roasted poblano chiles, caramelized onions, shawarma-marinated steak, and melted Jack cheese — an unexpected combination of flavors that works wonderfully together.
Goat Cheese Fries — Fresh Fries Truck, Los Angeles
Another Los Angeles-based food truck serving gourmet french fries (and a handful of other vegetarian dishes), the Fresh Fries Truck has plenty of outrageous choices on their menu. The goat cheese fries are tossed with fresh goat cheese and homemade raspberry sauce, adding cool, sweet, and tangy flavors that pair expertly with the freshly fried potatoes. If you're looking for a sweeter treat, the Peanut Buttercup fries include sweet potato fries topped with Nutella and peanut butter.
Bacon Mac and Cheese Fries — Jonesy's EatBar, Denver
Denver locals and visitors praise Jonesy's for its thoughtfully prepared menu of comfort foods and effortlessly hip atmosphere. The bacon mac and cheese fries don't actually include macaroni, but they do include a large bowl of fries topped with cheesy béchamel sauce and morsels of crispy bacon, garnished with fresh chives. The result is highly reminiscent of the classic dish, with a crispy twist.
Pastrami Cheese Fries — Kenny & Zuke's, Portland, Ore.
Kenny & Zuke's has made a name for itself by serving authentic Jewish deli food using ingredients made in-house the old-fashioned way — from the pickles to the rye bread, and certainly the pastrami. This dish features Kenny & Zuke's signature pastrami, piled high atop a heaping bed of fries and topped with melted Swiss cheese.
Urban Fries — Jack's Urban Eats, Sacramento, Calif.
This laid-back mini-chain of restaurants in the Sacramento area offers a menu of elevated diner foods, including a "make your own" salad bar. The signature dish here is the Urban Fries, which come topped with a unique combination of blue cheese, spicy chile oil, and crushed red chile flakes. The result is earthy with a kick of heat.
Pommes Frites with Pomegranate Teriyaki Mayo — Pommes Frites, New York City
One of the most popular fries-only establishments in the country, Pommes Frites in New York's East Village neighborhood serves up cones of freshly fried Belgian-style frites to hungry Manhattanites. The sauces here are where things get very interesting, exemplified by the addictively delicious pomegranate teriyaki mayo. Other options include Vietnamese pineapple mayo, smoked eggplant mayo, and Irish curry sauce.
Kimchi Fries — Del Seoul, Chicago
Serving quick-serve Korean barbecue street food in Chicago's Lincoln Park neighborhood, Del Seoul offers a mouthwatering french fries dish with a truly unique combination of flavors. The Kimchi fries are topped with sautéed homemade kimchi, onions, pork belly, scallions, melted cheddar and Jack cheeses, and finished with sour cream. The elements of sweet, sour, spicy, and creaminess balance expertly with the crispy fries.
For more outrageous fries, click here
More from The Daily Meal

15 Cheapest Ways to Eat at the Ballpark

The Great American Fried Chicken Roadmap

The Coolest Food Trucks Ever

8 Ice Pop Flavors You Didn't Know Existed