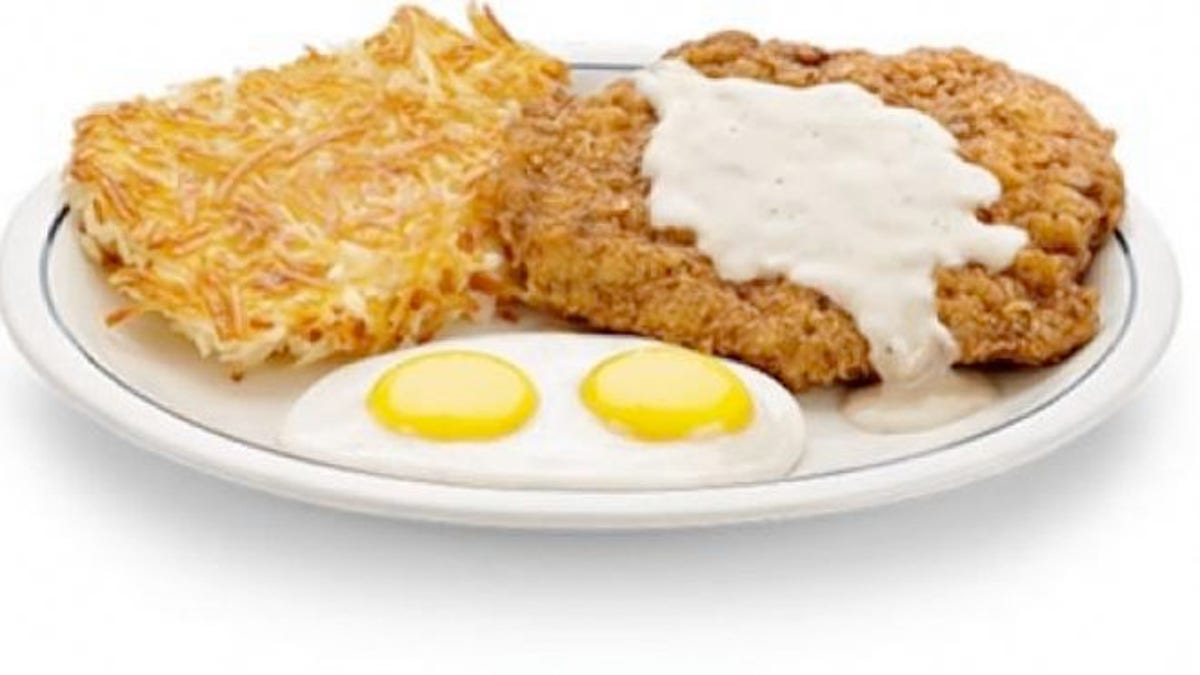 Okay, so we know that eating out isn't always the healthiest. But it's that time of year again when we're reminded just how much.
The Center for Science in the Public Interest (CSPI) has announced its seventh annual Xtreme Eating Awards --food extremely high in calories, saturated fat and salt or sugar.
The Bistro Shrimp Pasta from the Cheesecake Factory, with 3,120, won the top spot for "dis-honorable" mention. The Cheesecake Factory makes a second appearance in this year's awards with the Crispy Chicken Costoletta: a single dish that has more calories and fat than an entire bucket of KFC Original Recipe Fried Chicken.
Here's a closer look at how the list breaks down:
The Bistro Shrimp Pasta -- The Cheesecake Factory: Despite some of healthy ingredients like shrimp, tomato, arugula, the amazingly large 3.5 cups of pasta, battered and fried shrimp, and a butter-and-cream-sauce makes this meal an unbelievable 3,120 calories and 89 grams of saturated fat. That's the equivalent of three orders of Olive Garden's Lasagna Classico plus an order of Tiramisu.
Chicken Costoletta -- The Cheesecake Factory: This meal --at 2,610 calories, 89g of saturated fat, and 2,720mg of sodium--has three pieces of fried chicken, and 3/4 of a pound of mashed potatoes with butter and cream. This is the equivalent of eating an entire KFC 12-piece Original Recipe bucket (2,550 calories), except that the KFC has less than half the saturated fat.
The Veal Porterhouse -- Maggiano's: This whopping 18 oz. piece of veal comes with roasted, fried, and garlic-buttered Crispy Red Potatoes making for a bomb of a meal with 2,710 calories, 45g of saturated fat, and 3,700mg of sodium. "You'd be better off eating four Pizza Hut Personal Pan Pepperoni Pizzas," writes the CSPI.
The Chocolate Zuccotto Cake -- Maggiano's: This dessert has 1,820 calories, 62g of saturated fat and 26 teaspoons worth of sugar. "Few would consider eating an entire, eight-serving Entenmann's Chocolate Fudge Cake," writes the CSPI, "Yet a slice of [this dessert] is roughly equivalent."
The Country Fried Steak & Eggs combo -- IHOP: A deep-fried steak with gravy, two fried eggs, deep-fried potatoes, and two buttermilk pancakes might be a great way for some to start their day. But those mornings could become numbered regularly eating this breakfast that clocks in at 1,760 calories, 23g of saturated fat, 3,720mg of sodium, and 11 teaspoons of added sugar. The CSPI says you might as well eat five McDonald's Egg McMuffins sprinkled with 10 packets of sugar.
The Bacon Cheddar Double Burger -- Johnny Rockets: Just the burger alone is more than recommended daily caloric intake. At 1,770 calories, 50g of saturated fat, and 2,380mg of sodium, this meal is heart-stopping enough, before you add in Johnny's Sweet Potato Fries (590 calories and 800 mg of sodium) and a Big Apple Shake. In total it comes in at 3,500 calories, 88g of saturated fat and 3,720mg of sodium--the same as eating 3 McDonald's Quarter Pounders with Cheese, a large Fries, a medium McCafé Vanilla Shake, and 2 Baked Apple Pies.
The Deep Dish Macaroni & 3-Cheese -- Uno Chicago Grill: This comfort food classic has got an incredible four cups of pasta. The three-cheese sauce is made with heavy cream, rendered chicken fat, and butter — and is topped with a crushed Ritz Cracker topping. This clocks in at 1,980 calories, 71g of saturated fat, and 3,110mg of sodium. CSPI says it's better to go for a Family Size box of Stouffer's Macaroni & Cheese (with half a stick of butter melted on top).
The Full Rack of Baby Back Ribs with Shiner Bock BBQ Sauce -- Chili's: These ribs alone are 1,660 calories, but they also come with a side of Homestyle Fries (400 calories) and Cinnamon Apples (270 calories) --which brings this meal to a grand total of 2,330 calories, 45g of saturated fat, and 6,490mg of
sodium. That's the same as eating two Chili's 10 oz. Classic Sirloin Steak dinners (each with Loaded Mashed Potatoes and Steamed Broccoli), with a 10 oz. Classic Sirloin Steak on the side.
The Peanut Power Plus Grape Smoothie -- Smoothie King: Not all smoothies are created equal. First this one comes in an obscene 40-oz. large size. Filled with peanut butter, banana, sugar, and grape juice, it has 1,460 calories and 22 teaspoons of added sugar — on top of the 17 teaspoons of naturally occurring sugar in the grape juice and the 12 teaspoons of sugar coming from the banana and nonfat milk. At least it has nonfat milk in it.