The taco inspires fierce passion and loyalty throughout the United States.
Ask a resident of Texas (Austin and Houston in particular) where the country's best tacos are, and they'll say you're certain to find them in their city, full of pulled and smoked meat. Head to San Diego and you're sure to meet some people who are absolutely convinced that there's nothing better than the fried fish tacos that are ubiquitous there. Elsewhere, purists say there's nothing like a carnitas taco, or a taco al pastor.
And you know what? They're all right. New Yorkers have complained for years that it's tough to find a great taco in their city, but in recent times, several have been introduced that rival the best you'll find in Mexico. And, up in Chicago, a town that has never exactly been a taco paradise, Maxwell Street Market has arguably become a world-class taco destination.
What makes a great taco, exactly? The best ones tend to be simple, with clean, vibrant, and varied flavors, each component good enough to stand on its own. A perfect taco is balanced in flavor, and isn't loaded down by superfluous add-ons. The tortilla (traditionally corn in Mexico, but often flour around the U.S. today) should be super fresh and, ideally, handmade where it will be served. The filling should be made with an eye for balance in taste and moisture level. The toppings, be they traditional onions and cilantro or new-wave chipotle harissa, should brighten, heighten, and tie the whole taco together into a cohesive, delicious dish.
We've tackled the task of ranking the country's best twice before, and this time we looked to our readers to help us identify more of the best. We put out a call to action, asking them to comment on our site or our social media pages, or to email us with their nominations for the best tacos in the country. Additionally, we asked our knowledgeable Daily Meal staff and City Editors to weigh in with their picks. We gathered these nominees together and added them to all the tacos that were considered last year.
In the end, we had a list of about 330 tacos, which we then compiled into a survey and sent to our distinguished panel of taco experts — food and restaurant personalities who know a superior taco when they taste one.
1. Tacodeli, Austin: El Conquistador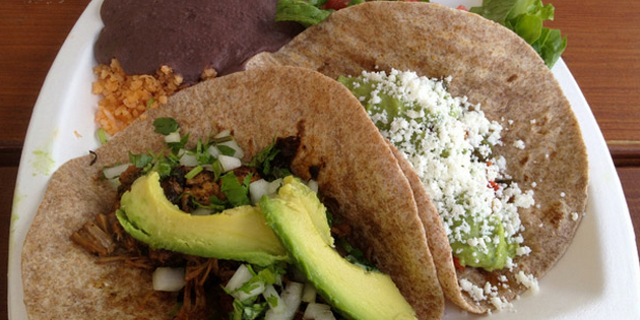 Austin without Tacodeli, which has five locations around the city, just wouldn't be the same. Their made-from-scratch sauces are works of art, and their most popular taco, El Conquistador, is a perfect showcase for the house chile pasilla sauce. Mixed in with shredded, slow-roasted pork shoulder topped with avocado, cilantro, and onion, all wrapped in a fresh flour tortilla, it's the star of a taco you'll be dreaming about. Go for lunch — all Tacodeli locations are only open until 3 p.m.
2. La Taqueria, San Francisco: Carnitas Taco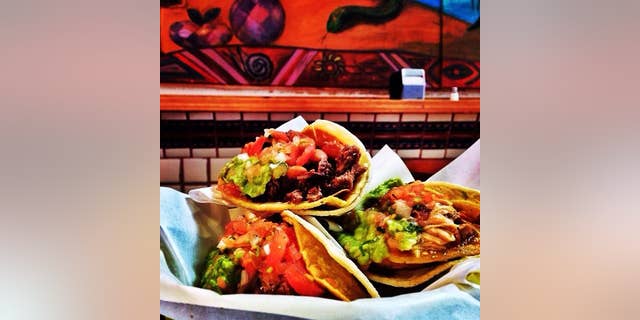 When it comes to leaders of a culinary genre, there are few restaurants in America with greater gravitas for their respective focus than San Francisco's La Taqueria has for tacos. That gives it, and its tacos (carnitas among them, quite arguably the best), quite a heavy reputation to live up to. La Taqueria, just one of the Mission's many casual Mexican joints, does Mexican the way they should be done: fresh. As if the amazing rice-free burritos weren't enough (you'd never notice its absence), there are the tacos. To prepare the carnitas, chef/owner Miguel Jara slow-cooks chunks of pork shoulder in cauldrons of bubbling lard until tender, then roasts it until it's crispy.
3. La Paz, Maxwell Street Market, Chicago: "Quesadilla"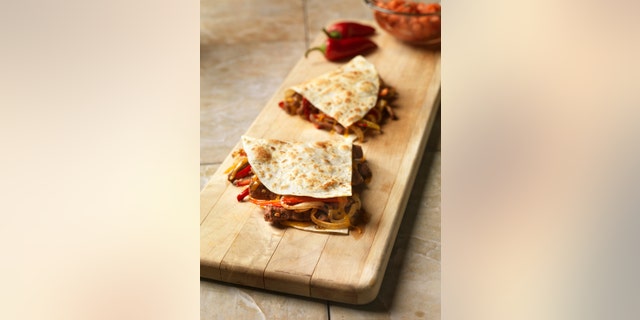 Regardless of the fact that the Maxwell Street Market isn't in its original location, it's pretty cool to think that the birthplace of the "Maxwell Street Polish" is now the home to some of Chicago's, and America's, best Mexican food, if only on Sundays from 7 a.m. to 3 p.m. The La Paz stand on Desplaines between Roosevelt and Polk streets in the South Loop is just one of the many tarp-covered makeshift stands that draws lines for hours, but few can argue that it isn't one of, if not the best. Homemade tortillas are pressed and topped with all the classics, from barbacoa to carne asada, huitlacoche, al pastor, and squash blossoms. Those tortillas come covered with your meat of choice, chopped onions, cilantro, and the super-hot salsa verde.
4. The Shed, Santa Fe, N.M.: Chicken with Green Chile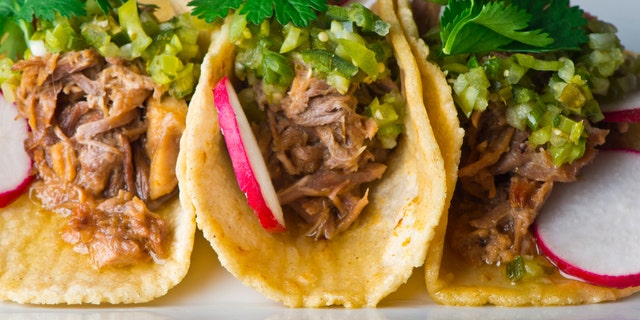 Santa Fe loves the green chiles from Hatch, down in the southern part of New Mexico, and their nearly supernatural ability to pair perfectly with just about any type of food you can think of. At The Shed, in business since 1953, the chiles are grown especially for the restaurant and brought in fresh daily, then processed on-site. One of the best applications of this spicy green sauce that you'll find in the city is on the restaurant's taco plate: two fresh blue corn tortillas with baked chicken topped with green chile, Cheddar cheese, onion, lettuce, and tomato. The chicken is perfectly cooked, but the chile is the real star of the show (as is the stellar posole that comes with it).
5. Torchy's Tacos, Various Texas Locations: Trailer Park Taco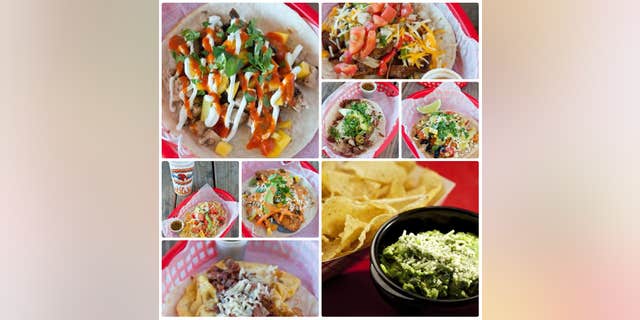 At Torchy's, which has locations throughout Texas (centered in Austin, Dallas, and Houston), owner Michael Rypka has created tortilla-bound concoctions that are nothing short of devilish, and made fresh every day. There's the Brush Fire (Jamaican jerk chicken, grilled jalapeños, and mango), the Dirty Sanchez (scrambled eggs with fried poblano chile, guacamole, escabeche carrots, and shredded cheese) and The Republican (grilled jalapeño sausage with shredded cheese and pico de gallo), but the wildest and most delicious creation on the menu is the Trailer Park, a massive battered and fried hunk of chicken breast, topped with sautéed green chiles, lettuce, pico de gallo, and shredded mixed cheese on a flour tortilla.
6. El Real Tex-Mex Café, Houston: Chicken Puffy Taco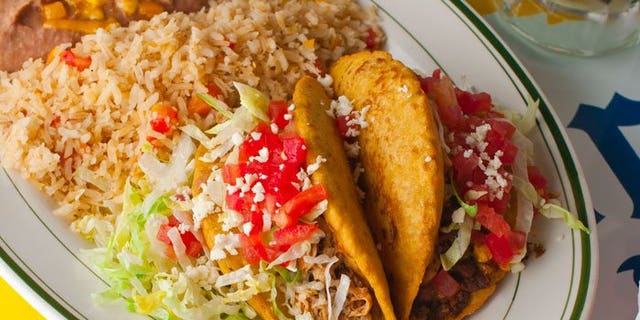 Located inside a restored theater in Houston's Montrose neighborhood, El Real serves Tex-Mex classics like chili con carne, nachos, and Frito pie (Tex-Mex and Texas food authority Robb Walsh is a partner here), but we recommend you head directly for the San Antonio Puffy Taco Plate with smoked chicken. The deep-fried and puffed-up shell gets a smear of refried beans, then the smoked chicken (smoked whole before being shredded) is liberally applied. Lettuce and tomato come on top; it's a taco you're not likely to forget any time soon.
7. Mariscos German, San Diego: Fish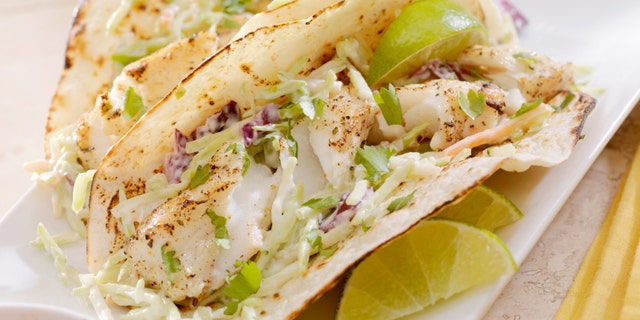 Mariscos German's version is the quintessential San Diego fried fish taco: generous in size and filled with grated cabbage and fresh, battered pieces of fish fried to golden brown perfection, topped with a creamy sauce. If you're really hungry, order the Baha Trio — one fried fish taco, one marlin taco, and one shrimp taco — and wash it all down with a cheap can of beer or some coconut juice sipped right out of the coconut.
8. Tito's Tacos, Culver City, Calif.: Tito's Taco with Cheese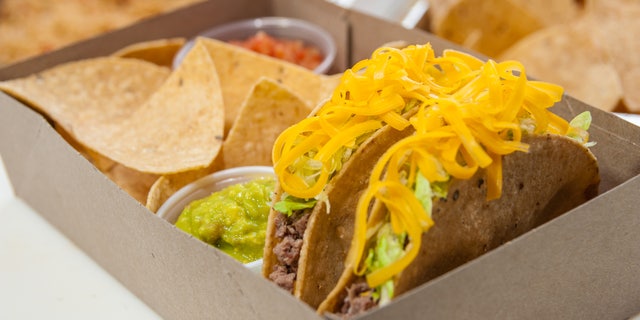 This Los Angeles Westside institution is famous for its plump burritos (like one with chili con carne and refried beans that people dream about), but for good old American-style tacos — the kind purists scorn — it's hard to beat this place. The beef is long-cooked and shredded, not ground. The shredded Cheddar is tart, and the julienned iceberg is crisp and cool. It's nothing short of hard-shell taco perfection.
Check out more of the country's most amazing tacos.
More from The Daily Meal
America's 50 Best French Fries