America's best steakhouses
From grand Las Vegas shrines helmed by world-famous chefs to old-school Midwestern chophouses where a rib-eye is preceded by a visit to the salad bar, from clubby Chicago dining rooms loaded with mahogany and brass to New York institutions with now-household names, America has no shortage of great steakhouses. These are the 50 best.
We're lucky enough to live in a country that has more varieties of steakhouses (and restaurants in general) than previous generations could have ever imagined. There are the cavernous Wild West temples to beef where everyone's wearing a Stetson; the power-broker-with-an-expense-account clubhouses; the joints that serve steak at the bar but don't quite fall into the bar-and-grill category; and the modernist steakhouses that turn all these conventions on their head. All types of steakhouses are included in our ranking of America's best.
The best steakhouses in America are places of worship built to honor the deceptively complex art of a perfectly cooked steak. Whether they're clad in red leather or plywood, décor is only one aspect of the overall steakhouse experience. When it comes down to it, it's all about the steak. And from ripping-hot broilers to mesquite grills, these restaurants do it right.
To assemble our ranking of the best steakhouses in America (building on last year's top 20), we started by compiling a list of nearly 200 of America's leading steakhouses, culled from pre-existing rankings from leading authorities both in print and online. For the sake of fairness, we excluded chains with more than a few locations, like Capital Grille, Fleming's, and Smith & Wollensky. We also barred restaurants that don't focus exclusively on steaks, such as San Francisco's House of Prime Rib (prime rib is technically a roast, not a steak). Ethnic steakhouses, like Brazilian churrascarias, were also left out since they form a category of their own.
We then judged them according to strict criteria: Is the meat sourced reputably and USDA Choice or Prime? Is it dry-aged, and if not, is it as high-quality as can be? Is it served at the proper doneness without fail and with a touch of ceremony? And is it revered by locals and out-of-towners alike? We also considered the overall steakhouse experience. No matter the setting, the service must be top-notch, the attention to detail should be spot-on, and diners should feel compelled to sit back in their chair after their meal, pleasantly stuffed and content in the knowledge that they just ate one heck of a steak.
So journey with us to a fabled dining room on a ranch in a small Texas town (Perini Ranch), a Tampa legend with seven different cuts in 51 sizes and a 7,000-bottle wine list (Bern's), Las Vegas palaces run by the likes of Batali and Jean-Georges, a New York spot that's famous for its steaks and infamous for a mob hit (Sparks), and everywhere in between on our quest to find the 50 best steakhouses in America.
1. CUT, Beverly Hills, Calif.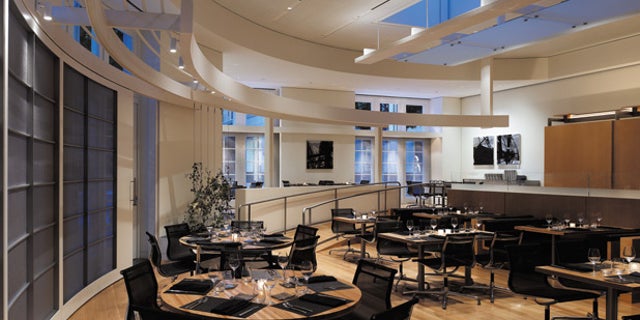 Wolfgang Puck helped invent California cuisine (and gave us California-style pizza) at Spago, pioneered Asian fusion food at Chinois on Main, and even figured out a way to produce decent airport food at his many Wolfgang Puck Express outlets, so we shouldn't be surprised that he has also reinvented the steakhouse, with CUT in the Beverly Wilshire Hotel (there are now spin-offs in Las Vegas, London, and Singapore). The traditional red leather booths and bucolic paintings have given way to a cool white interior by rationalist architect Richard Meier and a series of pieces by conceptual artist John Baldessari. In place of iceberg wedges and grilled swordfish, look for warm veal tongue with baby artichokes and roast Maine lobster with black truffle sabayon. Oh, and the steaks? Not the usual four or five choices, but a total of 17 cuts and places of origin, from Australian filet mignon to Illinois bone-in New York sirloin to genuine Japanese Wagyu rib-eye from Miyazaki Prefecture. Puck has reinvented the steakhouse experience at CUT, and what he's done is nothing short of mind-blowing.
2. Peter Luger, New York City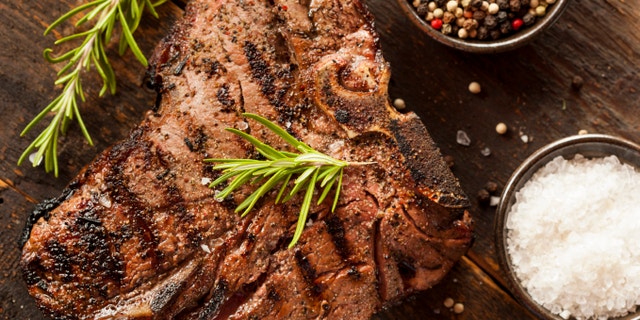 When you sit down at your table at the perpetually packed Peter Luger, located in an off-the-beaten-path corner of Brooklyn's Williamsburg neighborhood, don't ask for a menu. Just order the tomato and onion salad, some thick-cut bacon, creamed spinach, hash browns, and the steak for three, a massive porterhouse, broiled under extreme heat before being sliced and presented on a platter. Sure, the waitstaff might be a bit gruff in this surprisingly casual German-styled old steakhouse that's been here since 1887, but that's all a part of the show. The star attraction, the steak, is the best you'll find in New York City. It's dry-aged and butchered on-premises, and when it's presented, in all its crusty, well-marbled, beefy glory, your jaw will drop. Use the house steak sauce to douse the onions and tomatoes (don't let it anywhere near the steak), and be prepared to drop a wad of cash on the table before leaving — no credit cards accepted here, big spender.
3. Bern's, Tampa, Fla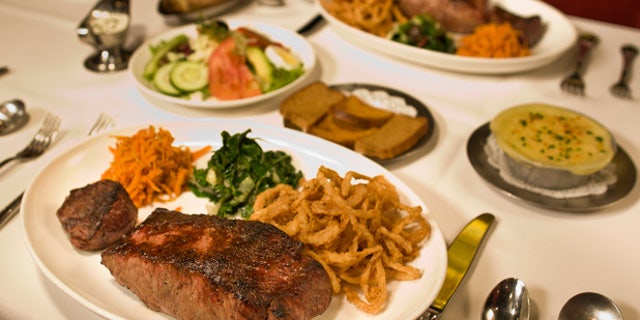 Don't come to Bern's if you're on a diet; Bern's is about wonderful excess. There are 20 kinds of caviar on the menu of this big, old-style, legendary establishment; also two preparations of foie gras, two kinds of steak tartare (one with truffles), oysters three ways, endless varieties of fish and shellfish, 16 different cheeses both domestic and imported, nearly 50 desserts (including gluten- and sugar-free varieties) — served upstairs in a special dessert room — and a list of about 7,000 wines (5,500 of them red). Oh, and did we mention steaks? Seven different cuts, in a total of 51 different sizes (from 6 ounces of filet mignon to 60 ounces of strip sirloin), broiled to eight different temperatures, from very rare ("no crust, cold and raw") to, gulp, well-done ("sturdy little crust, no color, no juice, dried out"). Come hungry.
4. Barclay Prime, Philadelphia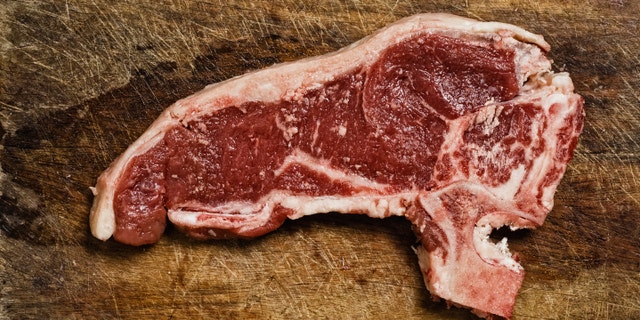 Sure, this Stephen Starr steakhouse on Rittenhouse Square might boast a selection of as many as seven different steak knives and a $100 Wagyu rib-eye and foie gras cheesesteak that comes with a half-bottle of Perrier-Jouët, but that doesn't mean it's gimmicky. Described as a "luxury boutique steakhouse" on its website, the restaurant replaces red leather with green and yellow suede, a clubby soundtrack, and slightly incongruous crystal chandeliers. While the setting is undoubtedly twenty-first-century, the menu is as classic as can be: steaks are dry-aged for 28 days, and their rib-eye, from Gachot & Gachot, is arguably the best steak in the city, with world-class service to boot. Don't forget to order the shrimp cocktail; these monsters come four to a pound.
5. Pappas Bros. Steakhouse, Dallas and Houston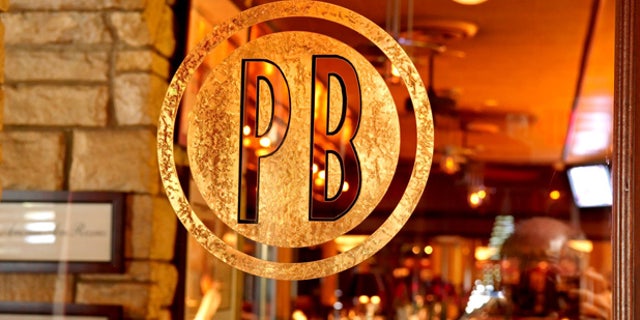 If you're in Dallas or Houston and you find yourself in need of a perfect steak, a red leather booth, wood-paneled walls, and a wine list that boasts about 2,300 options, head over to Pappas Bros. At this temple to beef, which has repeatedly been lauded as one of the state's best restaurants since it opened in 1976, the meat is dry-aged in-house, and served bone-in or bone-out. There's something for everyone, from a 40-ounce Porterhouse carved tableside down to an eight-ounce filet mignon, with stops along the way including an 18-ounce bone-in New York strip and a rib-eye of Texas Akaushi Kobe beef. They're seasoned with just salt and pepper and finished with some butter, and the entire experience is about as classic steakhouse as you're likely to find.
6. Cattlemen's Steakhouse, Oklahoma City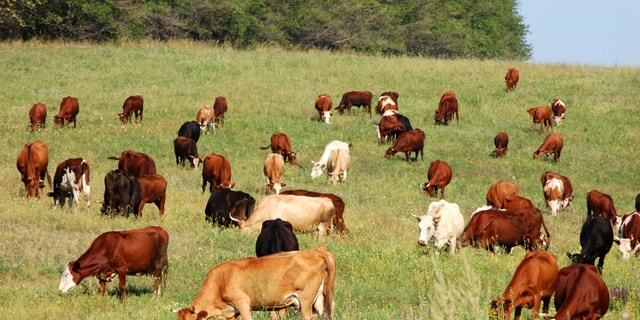 Not to be confused with Cattleman's Steakhouse down in Texas or any of the other restaurants with the same name across the country, this 103-year-old gem is Oklahoma City's oldest continually operating restaurant, and is located right in the heart of the city's famed Stockyards City. The no-frills temple to the noble steer is as popular with cowboy-hatted locals as it is with former President George H. W. Bush when he's in town, and one look at what's on everybody's plate — beef, for breakfast, lunch, and dinner — will tell you what this place is all about, as will the giant illuminated photo of grazing cattle along the back wall. The beef here is sourced locally, aged "according to a closely guarded house secret," the website says, portioned out on-premises, broiled under an intense charcoal fire, and served with natural jus. Go for the T-bone after your appetizer of lamb fries (don't be afraid, they're good), and finish it off with a slice of homemade pie. Now that's a country steak dinner we can love.
7. Cattleman's Steakhouse, Fabens, Texas
In Texas, it's all about the cattle, and you can't get much closer to the source than at Cattleman's Steakhouse, just outside El Paso. For 40 years, owner Dieter Gerzymisch has been purchasing fresh meat daily from local ranches and portioning it out on the premises, and it goes without saying that the menu is all about meat, meat, and more meat. There's the top sirloin, New York strip, filet, and rib-eye, each weighing in at 10 ounces, and then come The Wagon Master, a 1¼-pound T-bone, The Cowgirl, a 1½-pound T-bone, and finally, The Cowboy, a full two pounds of T-bone goodness. Each steak comes with a baked potato, beans, coleslaw, bread, butter, and sour cream, just in case you're still hungry. Yeah, it may be a little kitschy with its Wild West theme and gift shop, but when it comes to steak, Cattleman's is the real deal.
8. Bavette's Bar & Boeuf, Chicago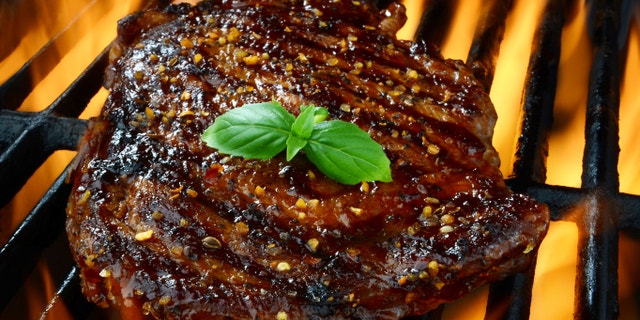 This warm and welcoming steakhouse is the opposite of stuffy, a breath of fresh air in a town that's full of leather and mahogany. Dark and romantic, the menu is fun and tongue-in-cheek (a slightly-dated baked goat cheese appetizer claims that it's "circa 1992," and there are a whole host of non-traditional steakhouse menu items, like fried chicken, meatloaf, and stellar garlic shrimp. But don't be fooled: the steak here is out of this world. Order the Prime dry-aged 22-ounce bone-in rib-eye, and prepare to be wowed.
9. Bazaar Meat, Las Vegas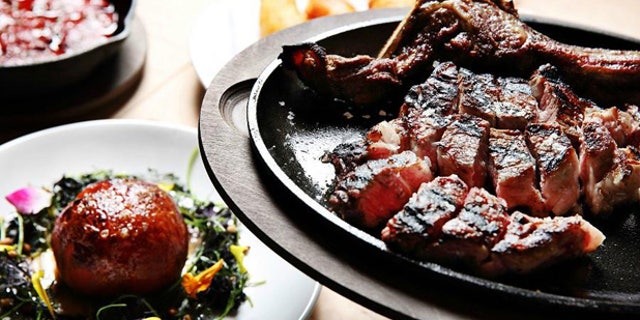 Having conquered Spanish cuisine both traditional and avant-garde, the cooking of the Eastern Mediterranean, historical American fare, and both the Mexican-Chinese and Chinese-Peruvian idioms, what was the ceaselessly energetic José Andrés going to tackle next? Hmmmm. How about, oh, I don't know, meat? At his latest Sin City venture, Andrés includes plenty of Spanish tastes as well as an extensive raw bar and "meat from the sea" (fish to you), but while pedants might argue that this isn't exactly a steakhouse, the focus is appropriately meaty. A menu of carpaccio, tartares, cured meats, and, yes, serious beef rib steaks from California, Oregon, and Washington, including a chateaubriand from the Golden State's Brandt Beef, served with truffle sauce and pommes soufflés, Bazaar Meat can provide pretty much all the meat you need when you're out on the town.
10. Killen's Steakhouse, Pearland, Texas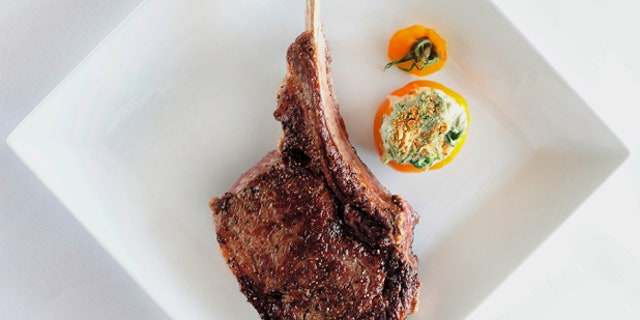 Even though it might look like a roadhouse from the outside, once you set foot inside the surprisingly elegant Killen's Steakhouse you'll know that you're in for a world-class steakhouse experience. Le Cordon Bleu-trained chef Ronnie Killen opened the restaurant in the outskirts of Houston in 2006, and it's since been hailed as one of the top steakhouses in the state by innumerable publications. It's one of the few restaurants in the country that has separate menu sections for wet-aged and dry-aged steaks, which are sourced from Allen Brothers in Chicago and Strube Ranch in Pittsburg, Texas, and options include a 34-ounce dry-aged long bone-in rib-eye, a Mishima center-cut filet, and even a chicken-fried sirloin. As another nod to the Lone Star State, the menu also includes fried chicken, jumbo fried Gulf shrimp, and smoked pork and black-eyed pea gumbo. Be sure to save room for the crème brûlée bread pudding, which Food & Wine Magazine named one of the top 10 dishes in the United States in 2008.
See who else made the top 50 list of best steakhouses in the country.
More from The Daily Meal
America's Best Chain Steakhouses
11 Things You Didn't Know About Red Meat
9 Ways to Make Cheap Steak Tender and Delicious