America's best poolside bars
Every weekend, the question is the same: Where should I go drinking? But in the summer, the question is slightly different: Where can I go drinking and cool off? As the temperatures rise, the 21-and-over crowds seek recreational bars that aren't filled with heaping masses of sweating bodies (here's looking at you, New York bars).
So while the heat wave continues from coast to coast, we're seeking the best poolside bars across the country that allow us to dip our toes in, cool off for a brief moment of respite, and relax with a drink in hand. Consider the poolside bar the chicer cousin to the tiki bars of the last century; while tiki bars (and cocktails) are making their comeback, nowadays, the crowds are heading toward the nearest watering hole with reflection pools, chaise lounges, and updated summer cocktails.
You'll notice a couple of themes throughout our list of America's best poolside bars: they're almost all located within hotels, which makes a lot of sense. Not every bar is as considerate as The Standard in downtown Los Angeles, which offers swimsuits to purchase at the front desk, but swimwear and beachwear is highly encouraged. (Besides, out-of-towners are the most likely bar-hoppers to have a swimsuit on hand.) While that makes it harder for in-town, pool-seeking residents to crash some of these poolside bars, many of them offer day passes to drinkers not staying in the hotel. Oh, and the other noticeable trend among these bars? They're almost all on rooftops — win.
We considered the pools, location, décor, and cocktails when picking through America's best poolside bars; although cannonballs and pool toys may be discouraged at these bars, relaxation and partying are not. Click ahead to find America's hottest — or rather, coolest — poolside bars for your mid-afternoon daydreaming excursion. After all, everyone needs a little vacation.
1. The Colonnade, Boston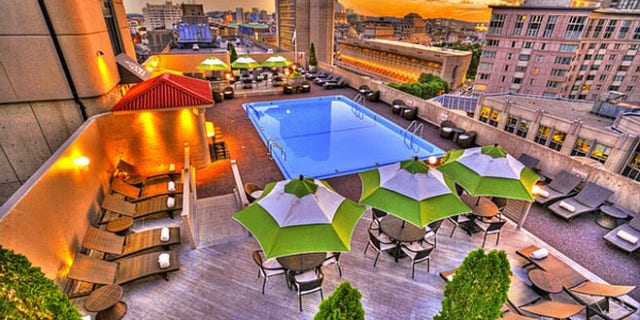 Boston is not necessarily where you'd expect to find a ritzy rooftop pool and bar, but lo and behold, there it is. Up on the 11th floor of the hotel, dip your toes into the pool and sip on a mojito and just relax. The pros? There are live concerts at the pool bar (ahem, Robin Thicke on July 12?!). The cons? It's not open on the weekends to the general public. To get in during the week (provided that you're not a guest, when you can go any time), it costs $25 for a half-day and $50 for a full day.
2. OH Pool Bar + Cabanas at Hotel Valley Ho, Scottsdale, Ariz.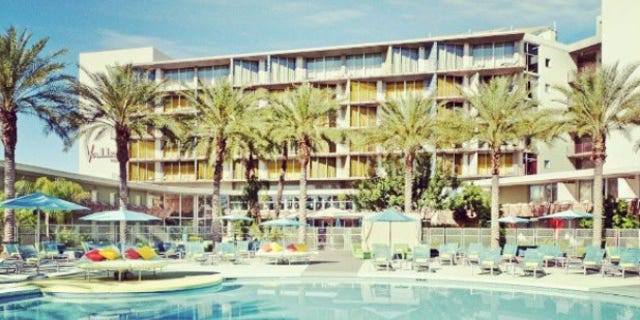 This hotel pool bar is coveted for two reasons: the cabanas (stocked with buckets of food, water, and beer, for an extra cost), and the cocktails. Hello, Scottsdale Slurpee and Cucumber Caesar cocktails. There are plenty of pool parties and DJs on tap for the summer, so get ready to relax poolside all summer long.
3. King & Grove Hotel, Brooklyn, N.Y.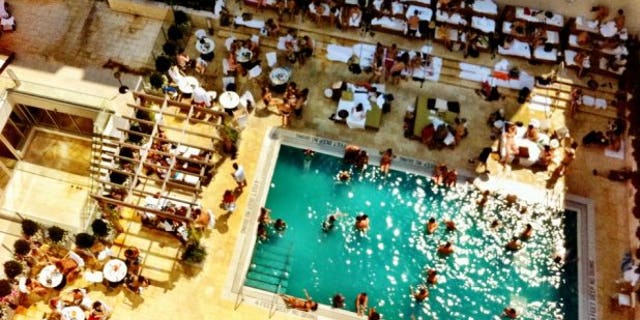 High on a rooftop in Williamsburg, Brooklyn, is a premier poolside bar. The newly redesigned King & Grove pool and rooftop bar, Upper Elm, has everything you need to relax: day beds, stadium seating with comfy cushions, and plenty of drinks. Now on tap at the Upper Elm is a pretty great cocktail list: mojitos, watermelon cocktails, and tequila cocktails (pretty much anything you'd want to drink poolside). To gain access to the pool is $35 on weekdays and $45 on weekends (it's free for guests of the hotel); seating is first come, first served — so be prepared.
4. Sunset Pool and Sunrise Pool at the Modern Honolulu, Honolulu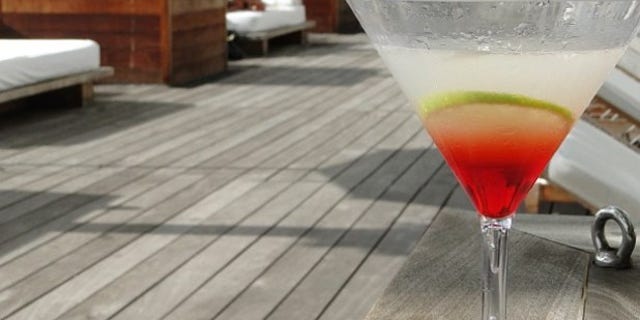 As if you weren't already in heaven staying at the Modern Honolulu, these pool bars just might set you over the edge. By day, the Sunrise Pool offers chaises and lounge chairs to kick back with an artisanal cocktail in hand; by night, adults can head over to a sultry "lagoon" with 100 tons of imported sand, hanging lanterns, and candles everywhere. (Oh, and the drinks, obviously, are heaven, too.)
5. Sky Hotel, Aspen, Colo.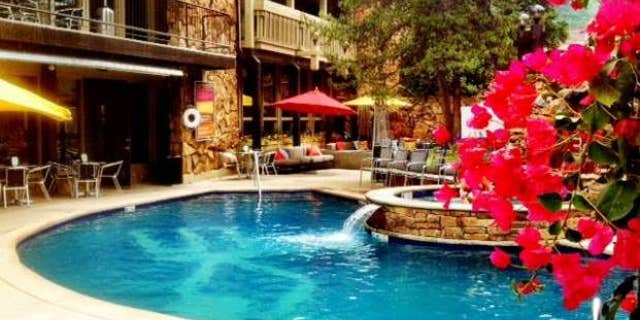 Sky Hotel's outdoor, heated pool is officially the hippest pool in Aspen all year round (that goes for the winter months, too). And because it's adjacent to the hotel's 39 Degrees Lounge, the pool and its outdoor bar makes it the "it" spot for Aspen revelers. Try the IPA Smash (made with Aspen Brewery's IPA, Hendrick's Gin, Aperol, grapefruit juice, habanero-lime syrup, and basil), and you won't want to leave the pool ever.
See all 11 poolside bars at The Daily Meal
More from The Daily Meal
10 Beautiful Hotel Pools to Laze By
25 Bars with Jaw-Dropping Views