America's best chicken and waffles
At first glance, fried chicken and waffles shouldn't be a combination that works. Fried chicken is juicy, crunchy, and super-savory, and waffles are a breakfast dish eaten with syrup and butter. But somehow, when you pair the two together, something magical happens. These restaurants do chicken and waffles better than just about anyone in America.
The history of chicken and waffles is long and winding. While nobody knows who it was who first paired them, we do know that Daily Meal Hall of Fame member and legendary gourmand Thomas Jefferson was the first American to bring a waffle iron over from France, and that fried chicken was also a common breakfast meat during that time. There isn't much evidence of the dish's existence in the South until the 1900s (fried chicken was a delicacy reserved for special occasions, and waffles were rarely found), but by the time the 1920s rolled around, the dish had become popular in the African-American community in New York, and especially in Harlem, and most modern interpretations are influenced by Harlem forebears.
Chicken and waffles is a much more difficult dish to perfect than it may appear. First of all, fried chicken itself is a notoriously difficult dish to do right – the outside needs to be crisp, flavorful and non-greasy while the inside needs to remain moist – and waffles — those lame toaster versions aside — need to be made from scratch, to order, and have to complement the flavor of the chicken. When done right, the combination of savory chicken and sweet waffle is like a warm blanket for the soul. If you've ever had amazing chicken and waffles, you'll know what I'm talking about.
In order to assemble our ranking, we searched existing best-of lists both in print and online (including our own), and also combed through regional publications and local restaurant reviews. All of these restaurants make their fried chicken and waffles from scratch, and are certifiably renowned for them. From an old-school Harlem joint to a Miami gamechanger, these restaurants are serving the best fried chicken and waffles in America.
1. Roscoe's House of Chicken and Waffles, Los Angeles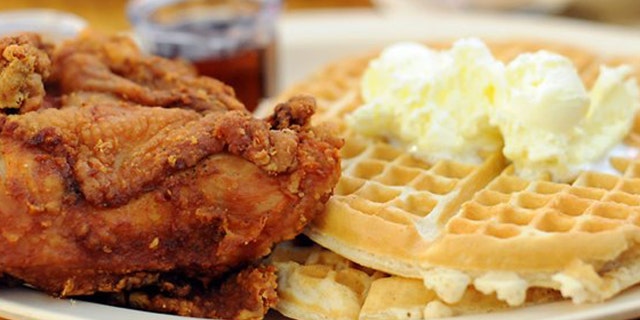 This late-night spot, originally located in Hollywood, has been serving fried chicken and waffles since 1975 — when owner and Harlem-bred Herb Hudson brought some recipes from home to the West Coast — and has since expanded into a small local chain of restaurants. The list of celebrity diners is endless (which is no surprise, considering its Los Angeles locale), but regulars include Snoop Dogg and Larry King; even President Obama made a pit stop at Roscoe's during a visit to Los Angeles. The chicken is skillet-fried fresh to order, and make sure to ask for your waffles to be cooked extra-crispy.
2. Amy Ruth's, New York City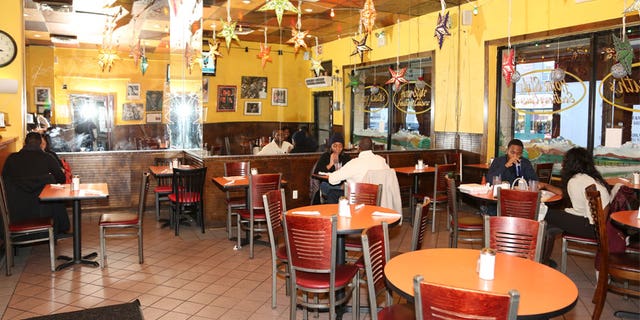 If chicken and waffles were popularized in Harlem, Amy Ruth's is ground zero. Order white meat and you'll get a whole breast with the wing still attached, on top of a fresh and crispy Belgian waffle with a side of thick gravy that's been flavored with Vermont maple syrup. That gravy could probably make even an old shoe taste good, but atop these chicken and waffles, it's heaven.
3. Early Bird Diner, Charleston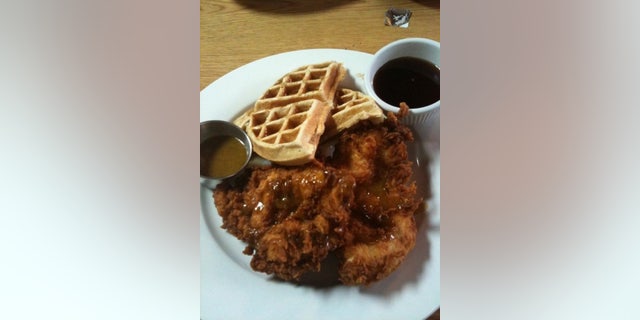 It's all about the little details at this Charleston institution. For example, the chicken in their chicken and waffles is double-breaded with a combination of ground pecans and flour, so it takes on a nutty flavor. The waffle batter is spiked with a small amount of cinnamon, and honey mustard sauce served on the side (along with maple syrup) is a no-brainer. With so much thought given to every single component, there's no way that these chicken and waffles wouldn't be legendary.
4. Lo Lo's Chicken and Waffles, Phoenix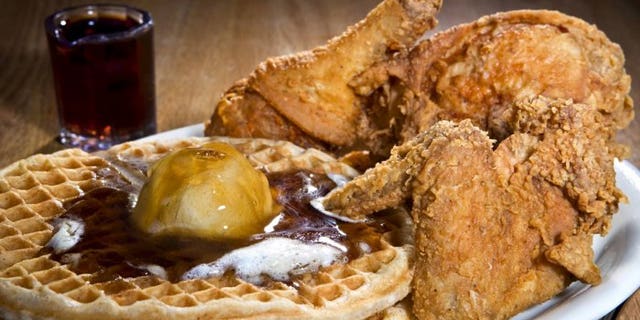 Everything is made from scratch at this Phoenix mainstay, which has five locations in Arizona, one in Omaha, and others coming to Las Vegas and Southlake, Texas. The seasoning blend on the chicken has been passed down through several generations, and the waffle batter recipe yields a light and fluffy waffle with an almost creamy center.
5. Maxine's Chicken & Waffles, Indianapolis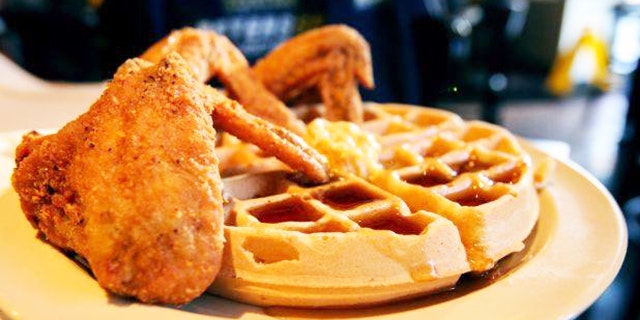 The chicken and waffles at the lively Maxine's are things of beauty — a waffle (which you can also order filled with blueberry or sweet potato) balances three huge savory fried chicken wings, and house-made peach butter ties it all together. If that's not "a taste of love in every bite," as the restaurant promises, we're not sure what is.
Check out more of the country's best chicken and waffles.
More from The Daily Meal
America's 25 Best Cheese Pizzas
35 Chicken Recipes for Busy Weeknights