America's best chain steakhouses
There comes a time in just about everyone's life when they feel the urge to eat some red meat. Sure, a supermarket steak cooked in a frying pan might suffice, but there's nothing quite like the experience of going to one of those big chain steakhouses. We've come to depend on these places for a good steak and a cold beer, enjoyed in a comfortable and just-boisterous-enough atmosphere, with an overall experience that leaves you full and content. From sea to shining sea, it's our right to have unrestricted access to chain steakhouses, darn it, and for that reason we set out to find out which are the country's best.
There are two very different types of chain steakhouses, and for today's purposes we're ranking only one of them: the casual chains. While both Outback and Ruth's Chris specialize in steak, they couldn't be more different otherwise, so comparing the two is like comparing apples to oranges. Comparing Outback to LongHorn, on the other hand, well that's something worth exploring.
So when you think "chain steakhouse," what comes to mind? Odds are it's a rustic, masculine, most likely wooden building, emblazoned with an eye-catching, brightly lit logo. Inside, there's a bar with some TVs, plenty of comfortable seating, maybe some cattle paraphernalia on the walls (or boomerangs, in the case of Outback), neon beer signs, and a steak-heavy menu, obviously. But there are plenty of subtle differences, and no chain is exactly like any other.
To assemble our ranking of America's top chain steakhouses, we took a look at all the steakhouses across the country with more than 15 locations, and ranked them according to the variety of steaks on the menu, the quality of the meat used, the overall dining experience and atmosphere, the quality and variety of side dishes and other menu items, and additional perks like lunch deals, charitable efforts, promotions, and efforts to go above and beyond, like mentioning when specific menu items are in peak season. We assigned each of these categories a point value, tallied them up, and at the end of the day there was one clear winner.
1. LongHorn Steakhouse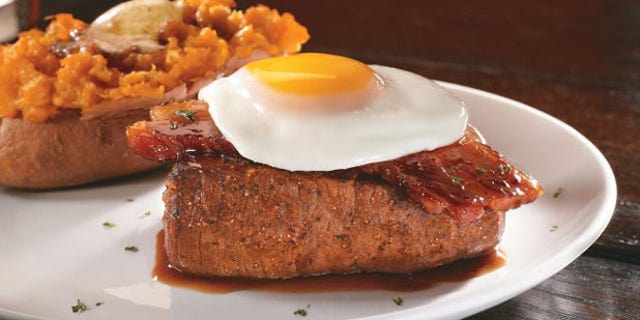 LongHorn Steakhouse, which has more than 435 locations in almost 40 states, is essentially the ideal chain steakhouse, and excelled in just about every category we judged it on. Its Western theme is showy enough so you know it's there but doesn't smack you in the face, the dining rooms are comfortable and not tacky, steaks are aged and USDA Choice, there's a solid lunch menu and a less-than-500-calorie menu, a good bar with nine different margaritas, the restaurants are energy-efficient, they give back to the community, specials are based on seasonal ingredients (indicated on the menu), and there's even a hotline they've set up that'll give you grilling tips. Starters range from Parmesan-crusted asparagus to shrimp and lobster dip, and the wide variety of steaks include a 30-ounce porterhouse for two with steak sauce made tableside, which you won't find at any other chain steakhouse except for the expense-account ones like Smith & Wollensky. There's also a filet stuffed with white Cheddar and bacon and grilled sirloin topped with bacon, a sunny-side up egg, and bordelaise (pictured) to go with the usual assortment of steaks in various sizes. When all is said and done, Longhorn is the best casual chain steakhouse in America.
2. Texas Roadhouse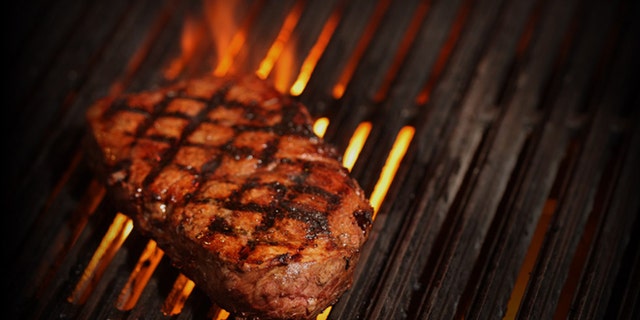 The name says it all: Texas Roadhouse has just about everything you'd want in a bar and chain steakhouse, if you're into that honky-tonk vibe. The Indiana-based chain has locations in nearly every state, and delivers not only a fun experience (and peanuts!), but a solid menu, killer margaritas, and some of the best steaks you'll find at a chain. Hand-cut USDA-Choice steaks are on view to the whole restaurant via a display case before they're cooked, and come in on average three sizes each, except for the 23-ounce porterhouse (you're on your own for that). The prime rib is made all day, and just about everything on the menu is made from scratch at each location. Not only are the steaks expertly prepared, the ribs and chili are also world-class, and specialty drinks like the Jamaican Cowboy probably go down a little too easy. The name promises a good time, and Texas Roadhouse delivers that, as well as steaks that are much better than they need to be.
3. Black Angus Steakhouse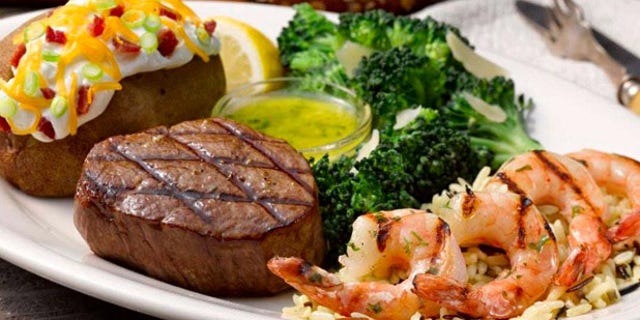 A West Coast chain, there are 44 locations of Black Angus in California, Washington, Arizona, Alaska, New Mexico, and Hawaii. The chain dates back to 1964, and all steaks served here are from Black Angus cows and are aged for a minimum of three weeks, grilled over an open flame, and basted with seasoned butter. Filet, NY Strip, rib-eye, top sirloin, flat iron, and prime rib are available, and the 16 sides include steak soup, fresh green beans with bacon, and loaded baked potato. As opposed to the sprawling menus at a lot of other chains it's all about the steak here, and a "feast for two" comes with steaks, appetizers, and dessert. There's also a special menu for large parties, and some locations have a separate Bull's Eye Bar sports bar attached.
4. Saltgrass Steak House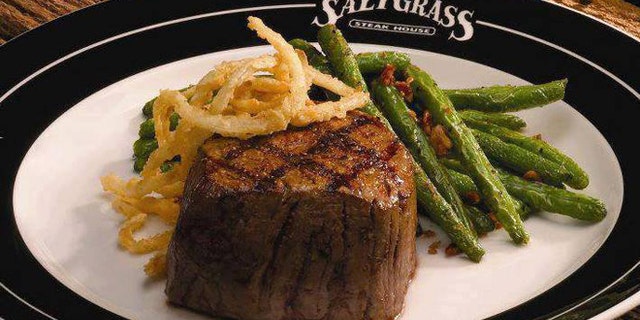 The vast majority of Saltgrass' locations are in Texas, with other locations in Louisiana, Colorado, Nevada and Oklahoma, and their certified Angus USDA Choice steaks are seasoned with a blend of seven spices and topped with garlic butter. There's top sirloin, prime rib, rib-eye, NY strip, porterhouse, filet, and a 24-ounce cowboy rib-eye, with additions like Gulf shrimp, mushrooms and onions, and Oscar topping, a steakhouse standby combo of crab, lemon butter, and asparagus. Banquet rooms are available for private parties, Happy hour includes $2.50 draft beer, and unique appetizers include shrimp and chicken "enbrochette" (wrapped in bacon and basted with barbecue sauce), seafood fondeaux (creamy crawfish, shrimp, and mushrooms baked with cheese), and jumbo lump crab stacked with avocado and pico de gallo. It's enough to make a Yankee jealous.
5. Outback Steakhouse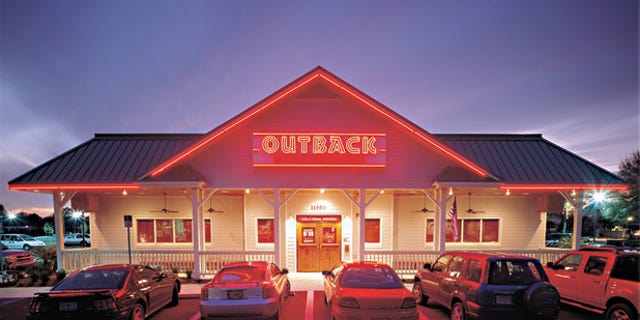 The largest chain on our list by far, Outback has around 1,000 locations throughout the country and a couple hundred more abroad, and has probably done more to spread faux-Australian culture than Crocodile Dundee even though it was founded in Tampa in 1988. Like a lot of the bigger chains, there are always plenty of promotions and regional dishes, but no matter where you go the steaks can be counted on for consistency. You can choose from sirloin, filet, strip, rib-eye, and porterhouse, and whether you want it "classic seasoned and seared" — that is, hit with a blend of 17 spices and seared on a flattop with butter and beef tallow — or "wood fire grilled," treated a little more delicately. Other beef options include prime rib and sirloins topped with Bloomin' Onion petals, mushroom sauce, and chile pepper cream sauce. Its famed Bloomin' Onion and Aussie Cheese fries are some of the unhealthiest things you can order at a chain restaurant, and there's no indication as to whether the beef is USDA Choice or aged at all, but at Outback, you know you're in for a true chain steakhouse experience, for better or worse.
See more steakhouses at The Daily Meal
More from The Daily Meal
101 Best Restaurants in America
The Ultimate Chain Frozen Yogurt Taste-Test