America's best butcher shops
The past few years have been nothing short of revolutionary for the world of butchery. Ten or so years ago, when we thought about a butcher shop, we most likely thought about an ancient storefront, a well-worn butcher block, a grizzled old man in a bloodstained smock, and possibly some hanging sides of beef in the back.
While this caricature certainly wasn't too far from the truth throughout history, there's been a butchery renaissance in recent years and a new wave of butcher shops has sprouted up, redefining the common perception of butchery and also helping to bring organic, grass-fed, local meat to the people. In order to salute the old guard as well as the new wave, we've assembled a ranking of America's 25 best butcher shops.
From an ancient Italian meat market in the Bronx to a San Francisco boucherie specializing in hard-to-find French cuts, today's butcher shop takes many forms. The old-guard shops are carrying on tradition, cutting meat the same way their grandfathers did, in many cases in the same location, on the same block, and are unfortunately a dying breed. The new wave is committed to building relationships with local farmers and educating the public about sustainability and the benefits of whole-animal butchery. Both are equally commendable, and are indispensable parts of the American culinary landscape.
In order to determine which butcher shops are America's best, we considered several factors. Do they offer all-natural, sustainable meat? Do they practice whole-animal butchery, sourced from hand-picked local farms? That's not to say that butcher shops that don't practice this were automatically disqualified, but it's something we took into account.
We also considered whether they offer classes on simple butchery, sausage-making, and the like; if they offer unique cuts of meat and could cut those to order; and if they offer "extras" including sausage, charcuterie, and sandwiches.
One other aspect we couldn't overlook was historical relevance. Some of America's best butcher shops don't sell local pastured meat, but they've been neighborhood fixtures for decades, generations of the same family selling expertly cut, high-quality meat. We made sure to take both new wave and old-world legends into account. We started with a list of more than 150 shops from across the country, and narrowed it down to the top 25.
One question that's worth exploring is why, exactly, butcher shops are coming back into vogue after years on the sidelines. For decades, walking into a supermarket and seeing rows and rows of individual plastic-wrapped steaks was considered the height of convenience and modernity. But today, in a time when it's fairly common knowledge that one 4-ounce ground beef patty could contain meat from more than 1,000 individual cows, it's comforting to be able to walk into a shop where you not only know the person who's trimming your steak (or grinding your hamburgers), you know exactly where that steak came from and what the cow ate during its life.
Meat purchased at a supermarket is also rarely, if ever, grass-fed, locally-raised, and antibiotic-free, which is to say it doesn't often meet the high standards of today's meat-buying consumer. In a "Slow Food" era when we're desperate to get back to the land and learn as much as possible about the food we put into our bodies, the trusty butcher shop is there, ready to make sure that the meat we eat is of the highest possible quality.
So to all those who making a living by cutting meat, we salute you. Here's our ranking of America's best butcher shops.
1. Lindy & Grundy, Los Angeles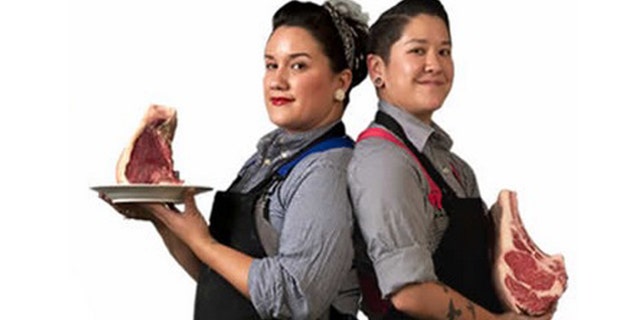 What makes Lindy & Grundy America's best butcher shop? In short, its owners, Amelia Posada and Erika Nakamura, also known as Lindy and Grundy. They've forged close relationships with the area's finest farmers, and source all their meats from within 150 miles of Los Angeles, except for the lamb, which comes from Santa Rosa, Calif. They hand-select the meat, use the entire carcass, and nothing goes to waste. (Want a pig spleen? All yours.) All beef, pork, lamb, and chicken are 100 percent pastured, hormone- and antibiotic-free, raised organically, and allowed to graze throughout their lives, leading to happy animals and delicious meat.
They could simply butcher the meat, put it in the display case, and call it a day, but Posada and Nakamura go above and beyond, rotating through about 25 different types of sausages weekly, making stocks, rillettes, dog food, and specialty burger grinds, and a cherrywood smoker wafts the smell of smoking bacon and guanciale out into the street all day long.
They also offer a world-class apprenticeship program and some of the West Coast's best butchery classes (they'll even teach you how to roast the perfect Thanksgiving turkey), they deliver your order right to your house, and also sell a daily-rotating sandwich that's always a sellout. And guiding it all are Posada and Nakamura, who somehow also have the time to give each customer individualized attention. There's no other butcher shop quite like Lindy & Grundy, and it's America's best.
2. The Butcher and Larder, Chicago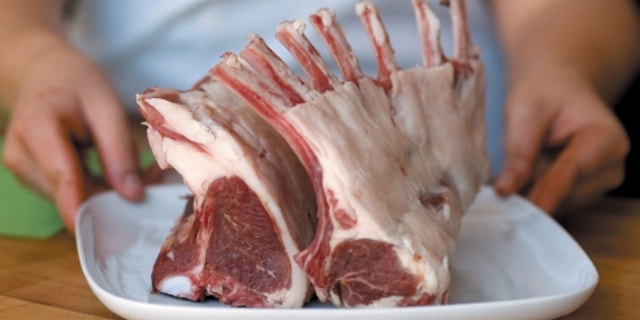 Every visit to Chicago's first sustainable whole-animal butcher shop, The Butcher and Larder, is an adventure. Opened eight years ago by Rob and Allie Levitt, the shop sources all its meat from small, Midwestern family farms, and really showcases the finest the country's heartland has to offer.
Like all shops that purchase their animals whole, not every cut is available every day, but it's cut to order and they'll be able to get you any part of the animal you need as long as you call ahead. But at this shop, it's best to leave yourself in Rob's hands. Give him an idea of what you're looking for and he'll give you a tour of the case, proudly showcasing what's available. Housemade sausages and charcuterie also change daily. You'll most likely leave with something exciting and delicious, and can be assured that it's going to be hormone- and antibiotic-free, pasture-raised, and of the highest quality possible.
3. The Local Butcher Shop, Berkeley, Calif.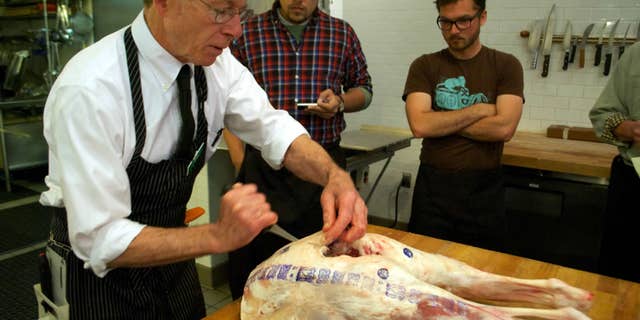 The Local Butcher Shop was opened in August 2011 in Berkeley by Chez Panisse alum Aaron Rocchino, and has since become the town's go-to spot for all things meat. The secret to its success is the fact that almost all of its butchers are also trained chefs, able to not only offer cooking tips and tricks but in-depth knowledge about everything they sell (they can also whip up restaurant-quality pâtés, sausages, deli meats, soups, sauces, stews, and sandwiches).
The animals are bought whole and intact, so literally any part of it, if you want it, just ask for it. Beef, pork, and lamb all come from two local farms each, and they're some of the country's finest, focused entirely on animal welfare and all-natural practices that allow the animals to live happy lives and eat only real, natural food with no hormones or pesticides.
Classes include lessons in sausage-making as well as harder-to-find ones like holiday cooking, pork-leg butchery, and stock-making, and their daily rotating sandwich is consistently outrageously delicious.
4. The Meat Hook, Brooklyn, N.Y.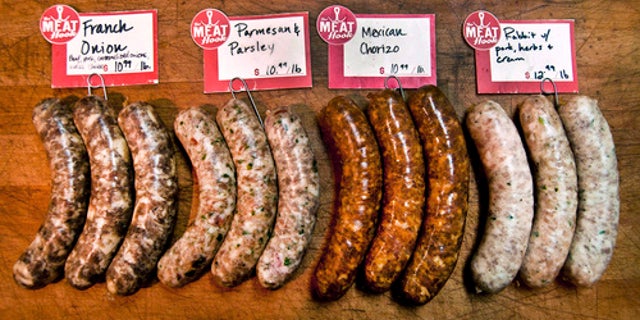 In 2009, Tom Mylan, Brent Young, and Ben Turley, former butchers from Brooklyn's renowned Marlow & Daughters, struck out on their own and opened The Meat Hook. Committed to rewarding the hard work of their farmers, every month they visit the farms to hand-pick which animals will be slaughtered, broken down whole, and sold nose-to-tail.
Beef is 100 percent grass-fed, raised without hormones or antibiotics, allowed to graze on 1,000 acres of land, and dry-aged before being sold. Lambs are slightly older than what you'd usually find for better marbling and flavor (without being at all gamey thanks to the breed). Free-range and pastured heritage pigs are predominantly 100 percent Berkshires, bought when they're at least 200 pounds for the best marbling from small family-owned upstate pig farms.
Nearly 50 different types of sausages are also produced here, in varieties ranging from "Classics" like toasted fennel and garlic, agrodolce, and red wine and rosemary to "Trashy" options like French onion, baked potato, and chicken Parm, as well as a host of charcuterie, cold cuts, and other ways of making sure nothing goes to waste. Their classes are also indispensable for anyone who's interested in the craft.
5. Fleisher's Grass-Fed and Organic Meats, Kingston and Brooklyn, N.Y.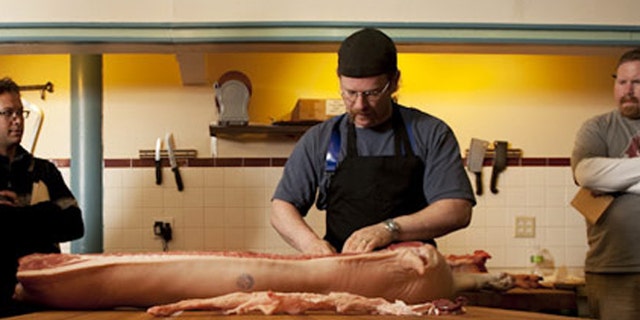 Joshua and Jessica Applestone are renowned in the world of butchery, and have done more to spread the gospel of local, grass-fed, pasture-raised meats than just about anyone else since opening their shop in 2004. From their shop in upstate New York (and their newer one in Park Slope, Brooklyn), they sell locally sourced (from within 50 miles of the Kingston shop), antibiotic- and hormone-free meat raised on a pesticide-free, vegetarian, grass-based diet, purchased whole and butchered nose-to-tail.
Along with just about any type of cut you want, they also sell some ridiculously good bacon, rotisserie chicken, homemade ham, cheeses, a wide variety of sausages, and heat-and-eat items like shepherd's pie and Texas chili, along with dog food and reduced stock. They also have a world-class training program that's spawned some of the country's top butchers.
Above all, Fleisher's is a neighborhood butcher shop where you can drop in, browse, chat with the butchers about the different cuts, and be a part of a community, and that's exactly what the Applestones set out to create, by carrying on the legacy of Joshua's great-grandfather, Wolf Fleisher, who opened the original Fleisher's not far away from the Brooklyn shop in 1901.
6. The Swinery, Seattle
Seattle's first sustainable butcher shop, The Swinery purchases only whole animals from within 300 miles of the shop, and butchers them using only old-fashioned techniques into unique cuts like pork porterhouse, fresh coppa roast, and pork souvlaki kebabs. But they're not just butchered: they're brined, aged, hung, and turned into sausages, charcuterie, and world-class bacon.
They're also taken to the grill out back, where they're serving some of Seattle's finest burgers, along with crazy-good sandwiches, bacon dogs, fries smothered in bacon and blue cheese béchamel, and chicharrones.
7. Publican Quality Meats, Chicago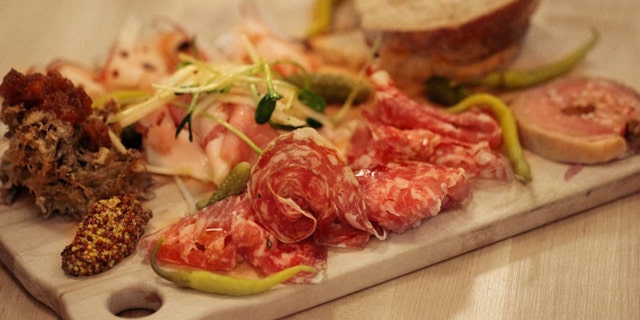 Paul Kahan is nothing short of a Chicago legend. He's given the city four of its finest restaurants, The Publican, Big Star, avec, and Blackbird, and has also opened up one of its finest butcher shops, Publican Quality Meats.
Beef is sourced whole-animal from four local farms and you can request any part of it that you want (either corn-fed or grass-fed); and the same deal with pork and lamb: only the finest, and whichever cut you want, it's yours for the taking. Chicken and duck are also available; chickens get a signature marinade and ducks are aged with a little brandy, a brilliant touch.
All of Kahan's breads and charcuterie are also made here, and there's a wide variety of sausages, including Cotechino, Morteau, Blood, and Toulouse. And if there's anything else your little heart may desire, there's a market selling nearly 200 boutique retail items including olive oils, spices, cheeses, beer, and wine, and a café selling coffee, pastries, sandwiches, and salads.
8. Dickson's Farmstand Meats, New York City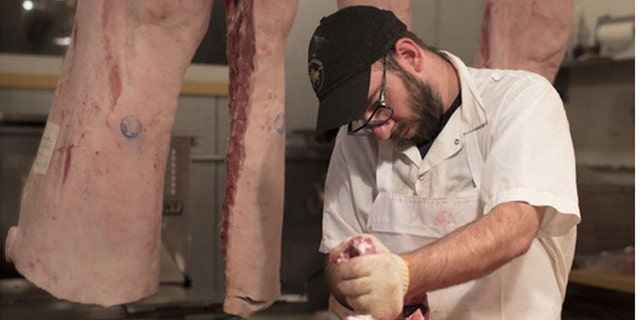 Located inside the bustling Chelsea Market, Dickson's sells beef, lamb, goat, pork, and poultry hand-picked by Jake Dickson himself from a few upstate farms. All meats are humanely raised, small-scale, sustainable, antibiotic-free, and spend no time in feedlots, and they're stunningly gorgeous in the display case (seriously, this place could be a meat museum).
Unique cuts include royal short rib, zabuton, bistec norteño, and culotte roast, but the awesomeness of Dickson's doesn't stop there. They also happen to make some of the best beef jerky you'll ever eat, along with bacon, ham, sausage, charcuterie, rotisserie chicken, dog food, and the market's best sandwiches (which is saying a lot).
The butcher block is on-view from the small shop, and it's clear that these guys really know what they're doing. They're more than happy to answer all your questions, but if you want really in-depth info, you should attend one of their classes, which range from jerky-making to a "tour of the whole hog."
9. Saugatuck Craft Butchery, Westport, Conn.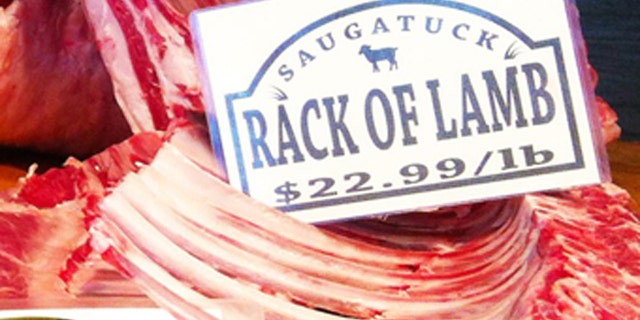 Saugatuck's founders, Ryan and Katherine Fibiger, source only whole, pasture-raised animals and break them down on the premises. All their beef, pork, lamb, and poultry are antibiotic-, hormone-, and steroid-free, and the goal is to connect the community with the source of the food. Therefore, all farms are located within 150 miles of the shop, steer and lamb are grass-fed in season, animals are fed grain from a local farm co-op and grass that's never treated with pesticides and herbicides, and — oh, yeah — it all tastes really good.
They also make a wide variety of burger grinds and unique sausages (including pulled pork, Pizza Pizza!, and potatis korv); teach classes on butchery, sausage-making, and knife skills; and serve a rotating menu of sandwiches, salads, and burgers.
10. Avedano's Holly Park Market, San Francisco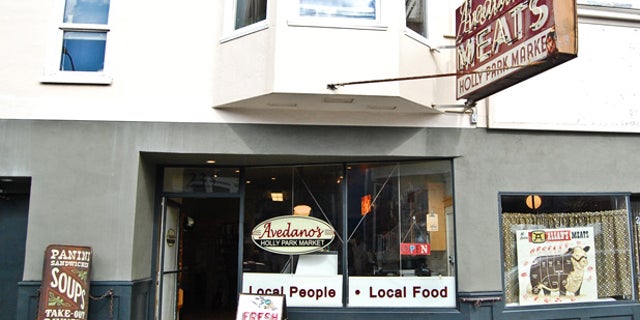 Every week, Avedano's receives a side of grass-fed beef, two heritage breed pigs, and several whole grass-fed lambs from local ranches, and they're all butchered in-house using a hand saw, a meat cleaver, and a boning knife. They also receive fresh wild and sustainable seafood six days a week.
Along with a traditional display case (if you don't see what you want just ask and they'll get it for you), they also offer pre-packed Meat Boxes in several varieties. For example, The Griller includes dry-aged, bone-in steak, tri-tip, flat-iron steak, pork ribs, sausage, 3 pounds of marinated chicken, ground beef, and spice rub. Now that's a party!
There's also a wide selection of dry goods, cheeses, charcuterie, and pantry staples from all the finest small-production local purveyors, as well as insanely good panini (like the Lambwich, with pulled lamb, pesto, pecorino, arugula, and sweet peppers) and daily-rotating take-home dinners. Classes on butchery and sausage-making are also offered monthly. Run by Tia Harrison, Melanie Eisemann, and Angela Wilson, the shop opened in 2007 in the space that has butcher shop roots going back to 1901.
Check out more of America's best butcher shops.
More from The Daily Meal
101 Best Restaurants in America for 2013
11 Things That Shouldn't Taste Like Bacon, But Do