America's best bars for March Madness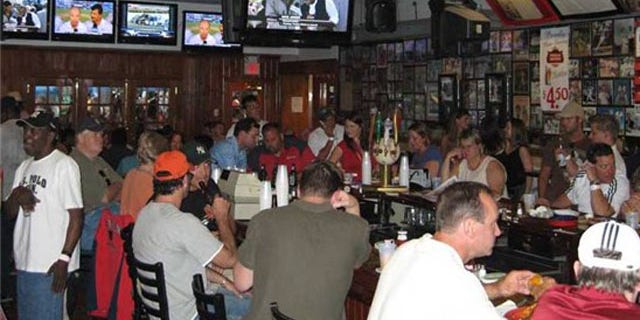 March Madness means office pools, sneaking peeks at the scores at work (if not the games themselves), and taking in the action at sports bars. So, put on your favorite team's gear and get ready to chow down on burgers and Buffalo wings at one of these top 10 sports bars across the country. One of them features a top chef's take on a gourmet Las Vegas sportsbook, another has television screens in the bathrooms so you won't miss a moment of the action, while a third will actually transport you to the game itself. Play ball!
Jake's Dilemma
430 Amsterdam Ave.
New York, NY 10024
212-580-0556
This fun-filled Upper West Side party place appeals to any mood. The front room, spacious and flanked by a long bar on one side and booths on the other, is filled with lots of diversions: foos ball, video games and the usual array of sports games flashing on multiple TVs. A regular and raucous neighborhood bunch makes Jake's ripe for chants, hollers and drinking games. And why not --- with 40 bottled beers and 15 brews on tap, there's plenty of reason to party here. But those who want something more sedate know to hit the cozy couch-crammed back room. Bookshelves stocked with ancient texts and period furniture may make you feel as if you're drinking in an old-moneyed family's living room. Fortunately, with good nightly drink specials, whether you're old money, new money or little money, Jake's won't put you in a financial dilemma. Check out the Top 10 Value Restaurants in New York.
Bobby Valentine's Sports Gallery Cafe
225 Main St.
Stamford, CT 06901
203-348-0010
Make no mistake: this is no ordinary sports bar. It's a shrine to one of Stamford's favorite sons, owner Bobby Valentine. Born in the city, he was a star ball player in high school and is currently the manager of the Boston Red Sox. Think of this as Bobby's annuity, frequented by his local friends and fans. The place is filled with memorabilia and, of course, when a good game is on, with sports fans. With "warm ups" like the hearty chili topped with melted cheeses, chicken tenders served with hot sauce, "Hall of Fame" entrées like the full rack of barbecue ribs and a sizzling 14-ounce NY strip steak, not to mention ten "innings" of everything from salads to pizzas, sports fans will be well fed even if the game goes into overtime.
The Burger & Beer Joint
1766 Bay Rd.
Miami Beach, FL 33139
305-672-3287
The Burger & Beer Joint features 120-year-old Chicago brick walls, wood booths, copper ceilings and an outdoor patio. There are your basic bar soups, salads, sandwiches and snacks, but the Joint lives up to its name, with 99 different bottled beers and design-your-own burgers, for which diners select size (1/2 or 1 pound), bun, toppings, sauces and sides, including mushroom fries and onion rings. Menu burgers range from $11 to $32 for a ten-ounce wagyu beef burger topped with pan-seared foie gras and black truffle demi designed by executive chef Carlos Barillas (Nobu Las Vegas and Miami). There's even a gimmicky ten-pound Motherburger that's free if a single person finishes it within two hours; otherwise, $125. If you'd rather watch something more athletic than competitive eating, the dark B & B Sports Bar has eight flat-screen TVs, chalkboard walls filled with scores, a pool table and $5 beers. Find the best burgers near you.
STATS
300 Marietta St. NW
Atlanta, GA 30313
404-885-1472
Atlanta's Sports Radio 790 The Zone broadcasts live from a glass-enclosed booth created for the station's specific use. As the booth is visible from the street, passersby snag a sneak peak at the pros as they broadcast. All televised remotes are shown throughout the entire restaurant. STATS incorporates new technology by Table Tap, at eight tables and in six private rooms, where computerized equipment lets draught drinkers serve themselves. This sports bar atmosphere, while appealing to adults, also is good for children, and their menu needs are addressed specifically. But grown-ups will enjoy the burgers, salads, and hefty main dishes that grace this widely varying menu. We think the Thai steak salad should stay on the menu. For tables sharing snacks, look out for the nachos, piled high on a platter and easily enough for four hungry folks.
ESPN Zone
L.A. Live
1011 S. Figueroa St., Ste. B101
Los Angeles, CA 90015
213-765-7070
You don't necessarily come to this slick, high-tech sports bar for the food, but ESPN Zone at L.A. Live offers a large menu of all-American fare, from the requisite chicken wings and cheese fries to start, to entrées that include baby-back ribs, pastas and steaks. There is a host of burger options --- including the Sports Center Burger with a nine-ounce Angus patty --- and Philly fans can find a cheesesteak, too, even if it doesn't measure up to Pat's or Geno's. The beer selection is extensive and the sporty environment includes a screening room for the ultimate viewing experience, as well as an upstairs interactive arcade. Its greatest attribute is its proximity to Staples Center.
Lagasse's Stadium
The Palazzo Resort Hotel Casino
3325 Las Vegas Blvd. S.
Las Vegas, NV 89109
702-607-2665
TV star-chef Emeril Lagasse gives the sportsbook concept a gourmet makeover at Lagasse's Stadium in The Palazzo Resort Hotel Casino, which features theatre-style seating in front of a 10 x 20 foot projection wall as well as one-hundred-plus HD TV's. For the ultimate fan experience, book one of the elevated "sky boxes" overlooking the stadium, or a "luxury box" private room with pool tables and video game consoles. Game-day grub includes Buffalo wings, nachos, pizzas, burgers and steaks, along with a complement of beers and cocktails. And with Emeril on board, there's bound to be a few tributes to the Big Easy, such as a shrimp po' boy and tortilla-crusted crab cakes. Even if your team loses, you can still enjoy the taste of "sweet victory" (aka dessert) with an order of banana cream pie or New York-style cheesecake. Check out the Top 10 Value Restaurants in Las Vegas.
Nemo's Bar & Grill
1384 Michigan Ave.
Detroit, MI 48226
313-965-3180
It used to be a family could stop for a meal here, then walk to Tiger Stadium for a baseball game. Sadly, the Tigers have moved to Comerica Park on the other side of downtown; still, Nemo's offers shuttles aboard their own buses to the games, as well as to Lions football, Red Wings hockey games and other major concert and entertainment events as well. Customers appreciate that kind of service, plus one of the better burgers in town. The sports memorabilia-laden décor and completely unpretentious atmosphere have been a winning combination for years under the Springstead family. The menu also includes other basics like chili and homemade soups, in addition to throwbacks like liverwurst sandwiches.
Ricky's Sports Theatre & Grill
15028 Hesperian Blvd.
San Leandro, CA 94578
510-352-0200
Everyone is welcome at Ricky's Sports Theatre & Grill, including kids, but rooting for the Oakland Raiders is encouraged. Serving team-loyal locals since 1946, this family-owned San Leandro sports bar practically bleeds silver and black, as evidenced by the dishes that pay tribute to past and present Raiders coaches and players, such as John Madden's T-bone steak and the Jim Otto sandwich made with smoked turkey, bacon, guacamole and cheese on grilled sourdough. There's the typical line-up of bar food: chicken wings, burgers, sandwiches, chili and salads as well as a few steaks. At the bar, about ten beers are offered on tap and many more by the bottle. Pancakes, Belgian waffles and steak and eggs are served up for breakfast on weekends with morning games. Football, basketball, prize fights: Ensuring that no patron misses even a minute of the action, a few of Ricky's 75-plus TV screens are located in the restrooms.
THE Sportsgrille
Hilton Nashville Downtown
121 4th Ave. S.
Nashville, TN 37203
615-620-1000
Should you find yourself in downtown Nashville without a ticket to the game, this is the next best place to be. The food here is much better than your average sports bar. Each starter and entrée on the menu comes with a wine or beer suggestion, and while the food isn't breaking any new ground, there are some creative takes on traditional favorites, like the meatloaf and potato "sundae," a piled-high tower of hearty goodness. There's also a decidedly un-dudelike but alluring entrée of grilled ginger salmon with wasabi mashed potatoes. The wine and beer lists are both quite good for a sports bar, and there are of course plenty of screens to eyeball. The place is across the street from the Bridgestone Arena (where the NHL Predators play), and within walking distance of the Tennessee Titans' NFL stadium, so it's one of your better bets for pre- or post-game refreshment.
Stadium View
1963 Holmgren Wy.
Green Bay, WI 54304
920-498-1989
Located in the city's entertainment district with the closest parking to Lambeau Field where the Packers play, this sports bar and restaurant is the place to party --- and maybe grab a bite to eat --- during Packers season or after a long week at the office. No matter when you come, the beer is always flowing, and there's a menu with pizzas, hot wings, meatloaf and the chicken "booyah" soup to sustain. On Fridays, try the all-you-can-eat fish fry, with your choice of baked, breaded or beer-battered cod, served with a baked potato or french fries and homemade coleslaw. And don't overlook comfort food favorites like tenderloin tips on noodles and baked chicken with mashed potatoes, available on certain days.
MORE ON GAYOT.com