America's 5 best BBQ hot spots
It's that time of year when a man's mind starts to turn to thoughts of hot, steaming piles of meat, served atop fluffy white bread, drowned in tangy, rich sauce, and accompanied by buckets of slaw, mac and cheese, potato salad, and about 17 buckets of ice cold beer. Now that we think about it, there isn't actually a time of year when we're not dreaming of barbecue, but with summer coming up, it seems as good a time as any to plan a road trip to the following meat masters.
1. Franklin Barbecue – Austin, TX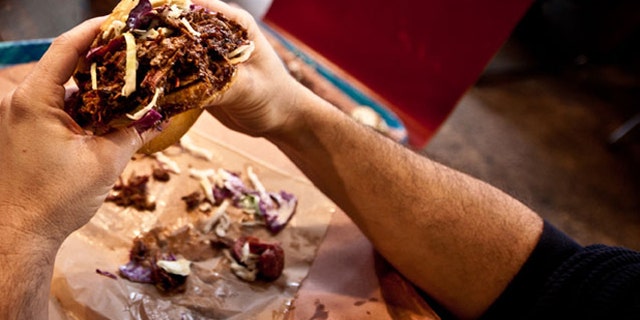 Texas is home to a superabundance of heavenly barbecue places, but we chose Franklin Barbecue, a fresh upstart in Austin that is "giving the big names a run for their money." The wait in line outside the once-trailer can last for over three hours, but people are happy to linger (which can be a gamble, since it opens at 11 a.m., and serves its relatively-modest but out of this world meat until the food runs out). Franklin tends to an all-oak stove through the night (using no electricity), which is the foundation of Texas BBQ. Oak smoke, salt, pepper, and a little bit of elbow grease makes Franklin Barbecue the best BBQ in Texas, and we'll fight anyone who says different. And when we say, "fight", we mean, "strongly disagree with, then offer to buy them a beer, because Texas are fricking crazy".
2. Black Dog Smoke & Ale House – Urbana, Il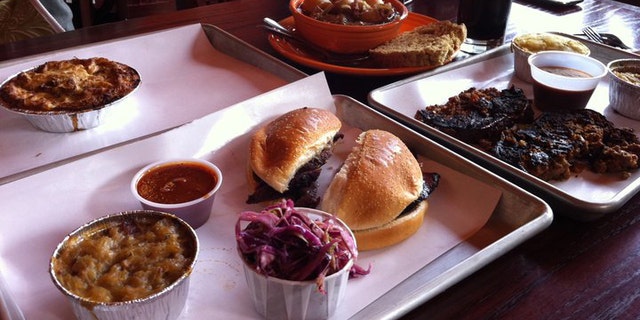 Nestled in southern Illinois, this relatively new BBQ restaurant opened in 2009 and does everything right. Its large bar runs the length of the restaurant, serving craft beers from breweries all over the Midwest. Meanwhile, tall tables and booths cater to large groups from the neighboring cities of Champaign-Urbana and the University of Illinois. It offers everything a good smokehouse should, from smoked, locally raised free-range chicken, to smoked polish sausage, not to mention the Blackdog Cornbread, which is cornbread filled with green chilies, pit beans, cheese, and pulled pork. The main attraction, however, is their burnt ends, for which a whole brisket is smoked in a wood fire pit for twelve hours before the points are cut off, dry rubbed, and smoked for another twelve hours. We would happily go through this exact same process just to taste one right now.
3. The Joint - New Orleans, LA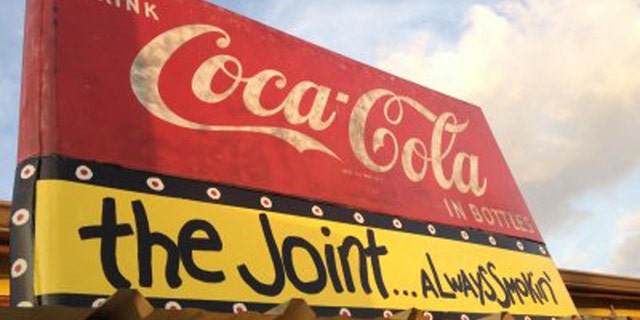 Opened in 2004 in the Historic Bywater District east of downtown New Orleans (and recently moved to 701 Mazant Street), The Joint is climbing to the top of the BBQ world, and fast. Only four years after opening, it was featured on the Food Network, and continues to rise to BBQ stardom. It offers classic BBQ fare, from pulled pork to a good ol' slab of ribs. They've also got some stellar combo plates where you can get a little bit of everything, or a "Dinner Salad," which is everything a salad at a BBQ joint should be, as it comes "topped with pulled pork, chopped brisket, or chopped chicken." Remove whatever else is in the salad, add all the toppings, and that'd be a nice lookin' salad - revolutionary, you could say!
4. Fox Brothers BBQ – Atlanta, GA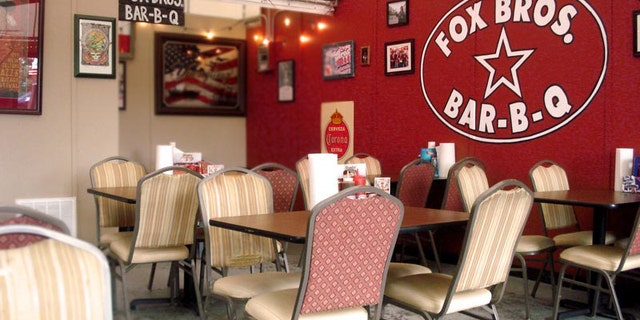 Fox Brothers treats everyone like they're friends of the family, just popping in for a healthy portion of barbecue. The business started as a catering project on the side, but as popularity grew, the Fox brothers had trouble keeping up. It got to the point where 200 people would show up to their events, and their single catering night at a local pub soon turned into a seven-day separate-menu affair. Eventually they started their own standalone business, and the people of Atlanta couldn't be happier. Cooking all their meats "low and slow" with Hickory woods, they consider their style of BBQ to have Texan roots with a southern influence. We consider it to have delicious roots with a tasty influence, but they probably know best.
5. Fiorella's Jack Stack Barbecue - Kansas City, MO
Fiorella's Jack Stack Barbecue started in 1957 as a single restaurant in south Kansas City, but quickly grew to four more restaurants. The demand continued to skyrocket, however, and now the business ships its barbecue deliciousness nationwide, to the delight of food critics and just straight-up food-appreciators alike. The restaurant sears the meat at 350 degrees in an oven that is 60 percent hickory, 40 percent oak. It is then moved to a rotisserie smoker to slow-cook and hold the moisture, resulting in what might be the greatest piece of Kansas City barbecue that will ever be inside your mouth, ever.
More from Maxim
How To Make A 5-Foot Long Burrito
Celebrate International No Diet Day with Some Seriously Stupid Meal Plans
The Best And Worst Official Sports Event Foods and Drinks