"American Chopper" Goes from Bikes to BBQs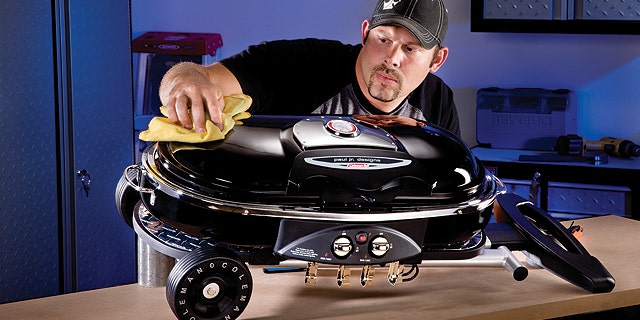 "Awesome, baby!" "Rip it!" "Sick!" Such are the typically lyrical responses to the custom-built bikes featured on TLC's "American Chopper".
Thanks to the relationship between openly antagonistic Paul Teutul, Sr. and his easy-going son, Paul Jr. - better known as "Paulie" – as well as their abundant talent with acetylene torches, a reality show about a family-run motorcycle business evolved into something that transcended personal combat and transportation. In between profanity-laced tirades and tool-tossing tantrums, the Teutuls magically turned motorcycle after motorcycle into works of art. Six years of epic familial agony ended last season with Paul firing Paulie, the company's chief designer and fabricator. They haven't communicated since.
Whether Paulie's exit is a bad thing for the family business, Orange County Choppers (OCC), remains to be seen. But it's turning out to be a very good thing for camping and outdoor gear company, Coleman…and for guys who like cool BBQ grills. Coleman is the first client of Paulie's fledgling company, Paul Jr. Design, hiring him to do for its RoadTrip Grill what he did for OCC's choppers.
"In 110 years, we've never used an outside celebrity designer," says Coleman Marketing Manager, Delaina Lee. "We picked him for his eye for design. Because he knows how to bend metal and twist steel, make it look cool, trick it out. Guys who like our gear appreciate the beauty of motorcycles." Hiring him was a gut decision, she says. "When we thought about Paulie it was like, 'What a cool idea. Let's see what happens.'" And so they gave Paulie a grill.
No, he's not the new George Forman, merely putting his name on someone else's creation. He's the guy who made the grill look and work better. "There's quite a few similarities to motorcycles and grills," Teutul says. "They both run on gas, run hot, there's a lot of metal. In this case, they both have two wheels. They're more similar than you'd think."
Paulie re-engineered the RoadTrip applying the same grinding, welding and shaping skills he uses on bikes. He did a "Pimp My Ride" on a grab-and-go-grill and made it cool. He changed the color from red to an ultra-shiny custom-black, used lots of chrome, added built-in diamond-plate side tables and tool hooks, a speedometer-inspired thermometer and ten rivets for the grill's tenth anniversary. "The functionality was there," he says. It already had electronic ignition and an open-flame drip-through grill. "I added a dash-type pop to it, jacked it up to 22,000 BTUs. I applied what I did innovating motorcycles to a different product," he says. Coleman loves its tricked-out grill and so, they say, do their customers.
Teutul knew he had an eye for design when he came up with the distinctive OCC logo, and he realized that he was good at innovating when he got his hands on the RoadTrip. "I think it's my gift, my God-given talent, to innovate products. We're all good at something. This is my thing." He loves the fact that his designs are now affordable. If you can't buy a motorcycle, you can buy a grill designed by a guy who designs motorcycles.
Every aspect of every design, he says, is his own. "I have to have my hands literally on it and in it. It's just the way I work." And he acknowledges that working with his dad enabled him to open his own design firm.
"My father exposed me to the situation of building motorcycles and I found out I was good. But he's a yeller. He's a yeller and sometimes a very unhappy person." So much so that dad filed a lawsuit against Paulie that Paulie doesn't talk about. Right now he's keeps his head down, ignores his father, attracts new clients and gets the job done. Which is pretty much what he did on the show.
Paulie insists that, despite its profound dysfunction, "American Chopper" is family-friendly fare that's not just for bikers. "At public appearances 98-year-old women would wait in line for autographs. We're on TLC, like, the number one women's network, how 'American Chopper' is on TLC, I don't know," he says of the network that boasts "Kate Plus Eight," "19 and Counting" and all manner of childbirth shows.
"It's not a show about bikes," he says. "It's a show about a family who happens to build bikes." Viewers like them, he thinks, because they're transparent to a fault. Of his chair-throwing, trash can-hurling, door-slamming exit Paulie shrugs, "It was, most likely, on my part, a freak out caused by a long period of time being pushed. Everything that ever happened on that show happened before it was on television. We didn't need any coaxing. I'm laid back. My father's not. That's the dynamic."
Yes, present tense is appropriate because Teutul père et fils lives on. "American Chopper: Senior vs. Junior," debuts August 12th. Separate crews are shooting at Paulie's new design and bike shop as well as at OCC. "We don't communicate. The film crews don't communicate. We're filming two different shows and TLC is going to integrate them. How, I don't know."
The RoadTrip Grill is Paulie's first non-OCC project and he's currently working on other Coleman projects and ones for other clients. But bikes remain his first love, and probably always will, for reasons even he can't explain. As the saying goes, only a biker knows why a dog sticks his head out of a car window.