Amazing desserts around the world you've never heard of
Whether you're a food fanatic or just have a very sweet tooth, you probably enjoy a good dessert. We're all familiar with the delights of a baked apple pie, or even more international dishes like Italian tiramisu, or Asian green-tea ice cream.
But some desserts are still fairly unknown on the global menu even though they are famous in their countries of origin.
Some desserts use ingredients that are not easy to come by like attap chee in the Singaporean delicacy ais kacang. Others, like tavuk göğsü from Turkey, use traditional ingredients in surprising ways. Even right here in the U.S., some dessert combinations are as imaginative as they are popular, like the cherpumple from the West Coast.
Many of the world's most amazing desserts are well traveled, traversing continents and cultures while picking-up new flavors along the way. Some of the most complex desserts originated in the Middle East. Adapted from old European dishes but with interesting new regional flavors, the dishes began as street foods before spreading across the world as far as Southeast Asia.
Today, many of these decadent desserts are enjoyed in both restaurants and home kitchen but one dessert is so richly decadent that it's only served in one hotel restaurant in the world, though it may be worth traveling for if you can afford it.
1. Aletria Doce, Portugal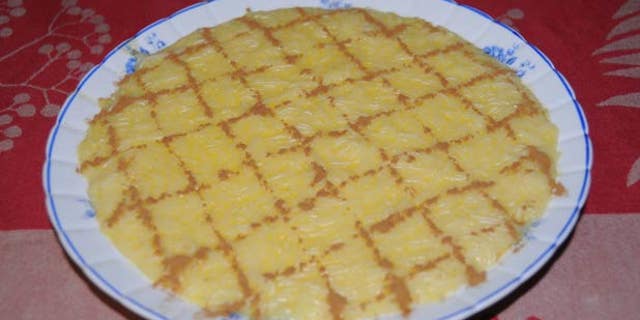 This dish is a sweet angel hair pasta made with sugar, milk, egg yolk, and lots of cinnamon. It's a little like the pasta version of Arroz Doce, or sweet rice pudding and is a traditional dish enjoyed across Portugal, particularly around Christmas time.
2. Cherpumple, Los Angeles, U.S.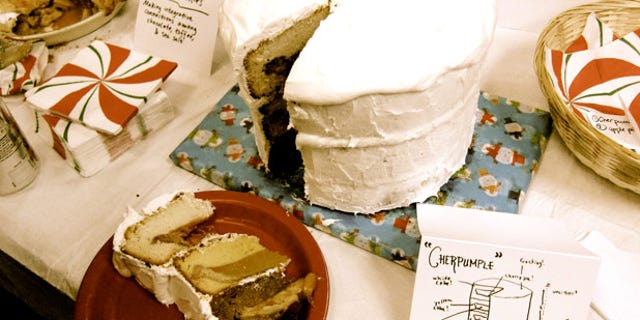 You've heard of the Turducken (a chicken inside a duck inside a turkey), right? Well Cherpumple is the dessert version of that dish. It's a three-layered cake with a pie in each layer: a cherry pie, a pumpkin pie, and an apple pie, all in one white cake casing. Some call it the ultimate American dessert… if your stomach can handle it.
3. Tavuk Göğsü, Turkey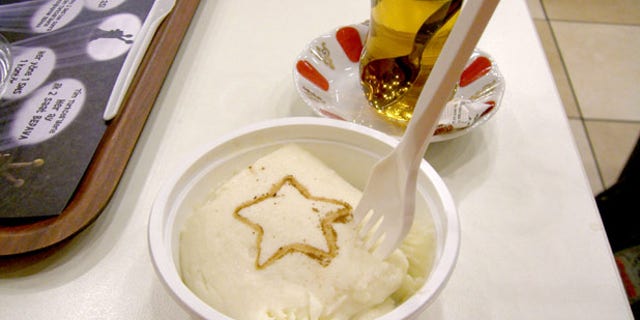 The Turkish are not afraid to make a dessert out of anything, including chicken! Based on the almond and chicken pudding that was once popular in Medieval Europe, this dish was first served to the sultans of the Ottoman Empire. It uses chicken breasts pounded with sugar, thickened with flour, and dusted with cinnamon. While it may seem strange to eat chicken as a sweet dish, Tavuk Göğsü is both delicious and extremely popular throughout Turkey.
4. Martabak — Yemen, Indonesia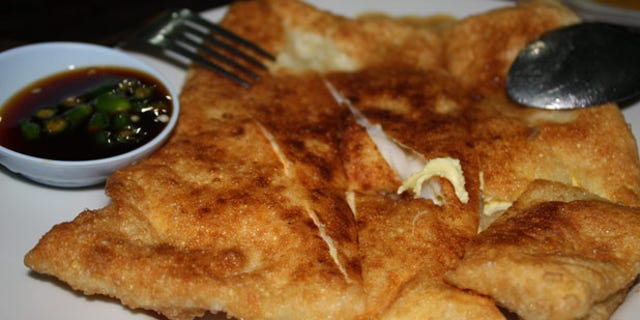 These chocolate and cheese pancakes originated as a street food in Saudi Arabia and its immense popularity soon spread across the Arab world and into Southeast Asia. In Indonesia there are two varieties, a sweet and savory. The sweet version is a thick fluffy pancake filled with chocolate and cheese and topped with crushed peanuts, chocolate rice, and jam.
Check out more surprisingly delicious desserts from around the globe.
More from The Daily Meal
7 Decadent Dessert-Only Restaurants
Famous Pastry Shops Around the World
Around the World in 80 Desserts