A culinary courtship: How these married Disney chefs keep romance alive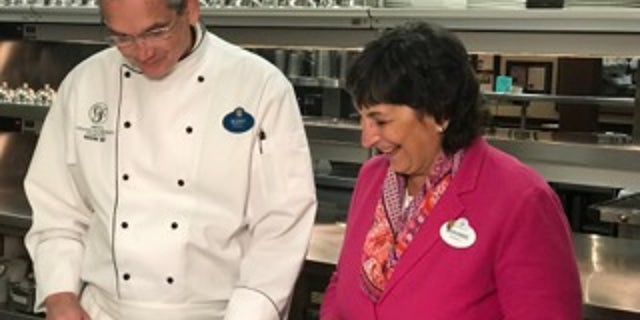 If food is the way to the heart, then chefs Scott and Marianne Hunnel must have the perfect recipe. The two tied the knot over thirty years ago and have been heating up the culinary scene at Walt Disney World in Orlando ever since.
Scott Hunnel, an eight time James Beard Award Nominee was recently appointed as the Executive Chef of the Grand Floridian Resort and Spa, one of the resort's largest hotel properties.
The Hunnels met in their hometown of Chicago and attended culinary school together in the 1980s. They were both recruited right out of college to cook for Disney. Marianne, now the Chef and Content Development Manager for Events for Festivals at Epcot, told Fox News, "It sounds so cliche but it's [working for Disney] really magical. This has been a dream for me since I was a little girl when I first came here with my family in 1972."
The culinary couple have different cooking style-- but they both share an intense passion for food. Scott has mastered the art of fine dining and often plates dishes with tweezers at the 5 Diamond restaurant at Victoria and Alberts. While Marianne has a simpler approach.
"With his style of cooking, it's like we want to eat sometime tonight," Marianne said with a lugh, "but I like to cook everything in one pot, It's like voila! And then there's also not a whole lot of clean up."
Fox News caught up with the married chefs to find out how to keep that love flame burning on the stove-- and outside the kitchen.
Fox News: What's your favorite savory dish that you make for each other?
Marianne: I love his Truffle Risotto. It's so delicious and decadent. He puts mushrooms in there with cheese, risotto and then he tops it off with truffle oil. We actually went hunting for truffles on a farm in France for our 30th wedding anniversary.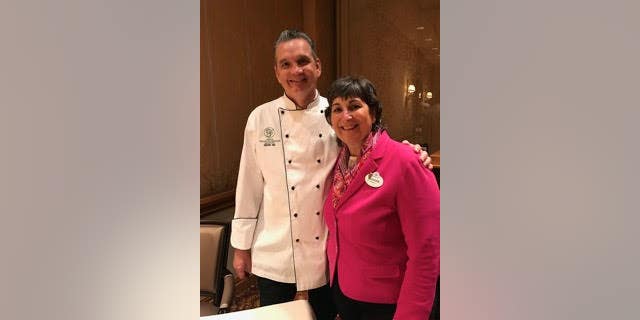 Scott: There are so many dishes of hers I love. She first wooed me though so many years ago with her "Chicken Fasullo." It's a classic dish. She's prepares it perfectly, the way she caramelizes the potatoes, adds just the right amount of garlic, the breading on the chicken. Then she pan fries it all in one pot. The flavor is just perfect.
What really sets a romantic meal apart from the everyday meal?
Scott: It's nice to just have that time together. It's all about setting the tone and setting the moment. Create a mood with candlelight, a little champagne-- which always sets the tone. If not Champagne then any kind of sparkling wine, just chill it down. Celebrate with a little caviar too, why not? You can buy really good caviar at most specialty stores. Set the stage and let things move along from there. You might not even need dinner after that.
What's the real deal aphrodisiac foods? Are there any ingredients that really get men going versus women?
Scott: I've heard aphrodisiacs can work. Oysters can be good for women and men's libidos. Again, though, you have to set the tone. Food really takes you back to places you've been in the world. When you talk about an ingredient and think about where that ingredient is from. It can transport you to other places you've traveled and another place. Food is really more about our memories and time spent together.
Marianne: Basil is a great aphrodisiac. It's such a sweet aromatic herb. And then when you put balsamic with it and fresh tomatoes, it's like wow, perfume in the air...Basil can really get those pheromones going.
As a busy couple, can you share the secret to keeping the spark alive?
Marianne: It's all about being spontaneous. I recently surprised him with tickets to a tennis match. We were both busy and working but we made the time. Otherwise time will [get] away from you. You drop whatever you are doing to be together. The stuff around you will always be there. You have to carve out that time to be with each other-- especially if you're as busy as most of us are these days. If you can't pull away to be with each other for even a few hours, then there are bigger problems.
What's your favorite Valentine memory as a couple?
Marianne: We were recently asked to put together a three course Valentine luncheon in a theater in Tampa. That was a lot of fun because we were able to demonstrate our trade and teach some classes. Even though we were working it really was a nice Valentine's escape for us, too.
Scott: Yes, we were working but cooking really is a way of life and passion for us.
What's the secret to keeping your sanity as a married couple working together?
Marianne: The secret is knowing your boundaries. I am perfectly capable of certain things but when I am in his zone and working with him I call him "chef." It's a respect thing. Yes, he is my husband and life partner, but in that environment he's chef.
Scott: Sometimes I might cook something differently than her but when she's in charge of the meal for the day then its her way. If she wants it broiled rather than grilled, I follow her direction. She also pretty much knows exactly my style and what I need and I know her style and what she needs. It's a back and forth.
This interview has been edited for clarity and length.