A Coke button? Trump reportedly orders Coca-Cola at push of a buzzer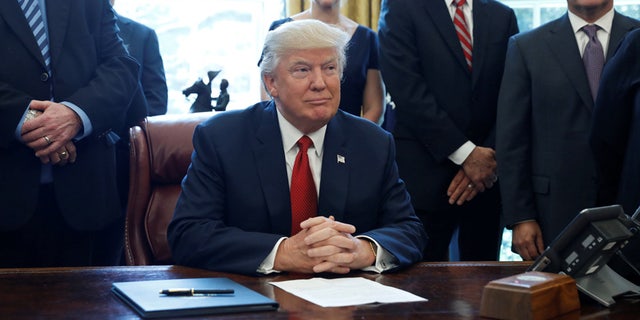 While no president ever actually possessed a "red telephone" specifically for summoning Moscow at a moment's notice (the government actually used a teletype system), there is an equally ominous red summoning device upon our current president's desk.
It's not a direct line to Moscow, though: It's just how he orders a Coca-Cola.
According to the Associated Press, President Trump keeps a tiny buzzer on his desk that summons a White House butler whenever he's in need of a fizzy drink.
HUMAN WASTE FOUND IN COCA-COLA CANS AT IRELAND COKE FACTORY
Trump recently gave the Associated Press an evaluation of his first 100 days in office, covering topics such as Syria, his portrayal in the media, and whether he's upheld his "Contract With the American Voter."
During the interview, however, the AP noted what they observed after the president pressed his little red buzzer.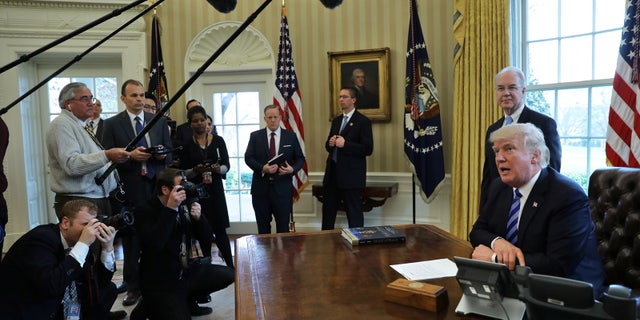 "A man accustomed to wealth and its trappings, Trump has embraced life in the Executive Mansion, often regaling guests with trivia about the historic décor," they write. "With the push of a red button placed on the Resolute Desk that presidents have used for decades, a White House Butler soon arrived with a Coke for the president."
USA Today also reports that the button itself is portable, and can be relocated to other rooms within the White House in case the president requires his butler's services — or just a Diet Coke — wherever he may be.
FOLLOW US ON FACEBOOK FOR MORE FOX LIFESTYLE NEWS
The button itself isn't just new to the White House, either: USA Today points out that President Obama has been photographed alongside the same "butler button" in the past.
However, it's unclear whether Obama used it to order Cokes, or if he was more of a Pepsi guy.