A Christmas classic? The real story of gingerbread
Christmas trees and Santa Claus may be the most recognizable symbols of a quintessential Christmas, but there's another holiday tradition that resonates deeply for anyone celebrating the merriest of seasons.
It's the gingerbread house, a creation that soared in popularity in the 19th century after the Brothers Grimm published "Hansel and Gretel," with its notorious witch's cottage, as part of their collection of fairy tales.
"The tradition of making decorated gingerbread houses started in Germany in the early 1800s," Nicolas Rouzaud, the award-winning head pastry chef of The Lanesborough Hotel in London, told FoxNews.com.
"According to certain researchers, the first gingerbread houses were the result of Hansel and Gretel, in which the two children abandoned in the forest found an edible house made of bread with sugar decorations. After this book was published, German bakers began baking ornamented fairy-tale houses of lebkuchen (gingerbread)."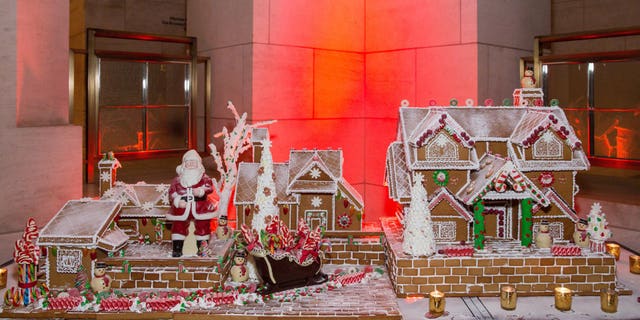 Up until then — from the year 992, when an Armenian monk brought ginger to Europe, to the 17th century — gingerbread was primarily used for religious purposes in Europe. The spice was added to bread to create a paste out of which prominent religious figures could be carved and then decorated with gold or icing.
Gingerbread wasn't available to the masses, though. European royalty permitted it to be prepared only by a specially trained gingerbread guild, and common folk could enjoy the sweet dessert only during the Christmas season.
RECIPE: Classic Gingerbread Cookies
But after Hansel and Gretel skipped onto the scene, ginger bread became a ginger house — lebkuchenhaeusle. And when German settlers brought it to America, building one became a fun family activity for the holidays.
So what's the secret to building a perfect palace made of gingerbread?
"Fun. Just have fun!" Alan Larch, chef at the Pink Sands Club, told FoxNews.com, embracing the spirit of the children's story rather than the perfect details in construction.
Rouzaud also thinks having fun while you build is important but recommends starting off with a solid base.
"The common struggle of making gingerbread is burning," he cautioned. "Once the edges are lightly brown, remove the tray from the oven. If you touch the biscuits in the oven they would be very soft, so you think they're not cooked. They harden when they are out, so don't remove them from the tray for five to 10 minutes, then cool on a wire rack after that. For those who cook by touch, touch the top. If it springs back, it should be ready."
Like other award-winning pastry chefs, Rouzaud recommends using hard gingerbread dough, which provides the support needed for taller and more fanciful structures.
"The dough needs to maintain its shape, hence the harder dough," said Rouzaud, who makes hard gingerbread by creaming butter, sugar and egg and combining it with dry ingredients. "Be careful of the liquid content. Reduce or increase golden syrup or flour for soft and hard dough."
Laurent Jeannin, Le Bristol Paris' award-winning pastry chef, even recommends replacing water with orange juice, lemon juice or rum to facilitate production. "You can choose according to your taste," he said.
Naomi Gallego of the Neighborhood Restaurant Group uses the denser consistency to add lights to her house. After placing the gingerbread house on 2-inch Styrofoam, she carves a channel under the walls of the house to bury a cord of string lights. "I carve a block out of the Styrofoam outside the house to rest the battery packs in," she said. "Then I make a cover for the battery packs, cover the entire base with royal icing and score the opening."
Decorating a gingerbread house doesn't vary much from region to region or country to country. It's the scale and size of the houses that distinguishes efforts. In New York City, for instance, gingerbread houses are meant to be big, like the city's skyscrapers.
RECIPE: Holiday-Spiced Gingerbread Margarita
Building a "big" gingerbread house can take months of planning, said Jasmina Bojic, executive pastry chef at Four Seasons Hotel New York. "My team puts in a lot of time, effort and patience to construct and decorate a brand-new house each year.
"Our annual gingerbread house is a collaboration that starts with a departmental discussion about theme and design. Then we make a sketch with very precise measurements and cut sheets of unbaked gingerbread to match those."
And, of course, there is a National Gingerbread House Competition —hosted this year at The Omni Grove Park Inn in Asheville, N.C. — where gingerbread houses are judged on appearance, originality, creativity, difficulty, precision and consistency of theme.
And one more thing: Every piece of every house must be edible. Gingerbread houses are not just for viewing. They're for eating.