$70,000 of caviar consumed at a Russian eating contest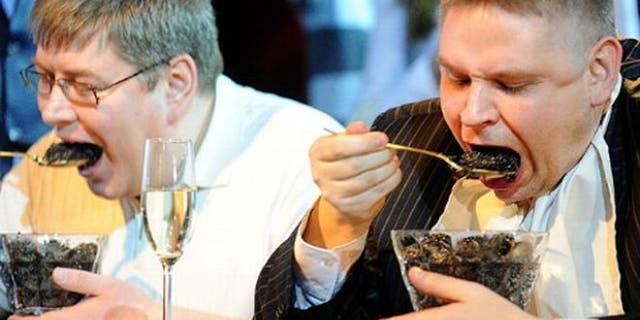 Most of the time food eating contests are about hot dogs or pizza, but not in Russia, where one man nabbed a prize of $340 for shoving $5,000 worth of caviar into his mouth in less than a minute and a half.
Hundreds gathered at the caviar speed eating event at a Moscow restaurant Friday night,organized by the city's caviar producers, reports ITN. The 12 lucky contestants picked out of a hat to get the chance to compete in the first-ever black caviar scoffing contest. In total about $700,000 of the pricey eggs was consumed.
The winner, Alexander Valov, 49, scooped down roughly $5,000 worth of caviar himself, or about a 1 pound, in one minute and 26 seconds. For his efforts he was awarded 10,000 rubles, or about $340, and several jars of caviar.
The organizer of the event, Alexander Novikov, told Reuters in a video segment, "I once saw a report on how they made big chocolate truffles in Georgia and organized an eating competition. I remembered foggy Albion where they compete in nettle speed eating contests and hamburger [speed eating contests] in America. I thought, why shouldn't we do our own, Russian competition? So it happened."