6 popular snacks made better by birthday cake
Maybe it's a little weird to be an adult who gets super excited about yellow cake with Funfetti frosting.
Do we care? No. And snack companies don't either. In fact, they love it.
Some of the nation's biggest product makers have embraced the childish desire to celebrate your birthday every day with that classic, nostalgia-inducing yellow cake with white frosting.
From M&Ms to Oreos to the milk you dip them in, birthday cake-flavored everything has been landing on snack aisles nationwide, evolving into a multimillion dollar industry.
At least 17 birthday-cake flavored new products have hit the market over the past handful of years, according to a report by research firm Datamonitor, cited by USA Today.
The recent birthday cake mania has been fueled not by children -- but adults – specifically, Baby Boomers, according to Tom Vierhile, innovation insights director at Datamonitor.
"Even as kids today act more like adults," Vierhile told USA Today. "Adults seem to be the same way, tapping into their inner child."
So, feel free to indulge your childlike love of cake with our list of some of the wackiest and most delicious birthday cake-flavored snacks.
1. Birthday Cake M&Ms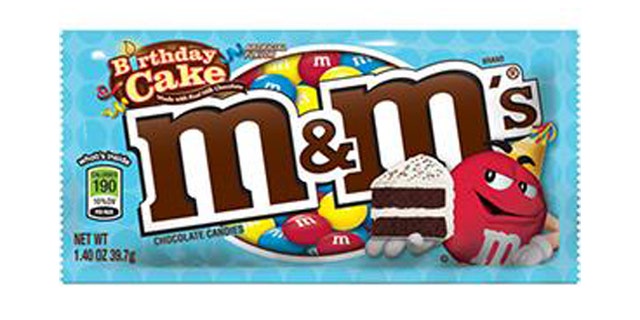 M&M's is joining the ranks of cake-based treats, adding Birthday Cake M&M's to their line of brightly colored chocolates. The candies will hit shelves in May 2014 and come in both single-serve bags and 8 ounce packages. The announcement of Birthday Cake M&M's follows the release of Pumpkin Spice M&Ms, which are part of a different national craze, dubbed "pumpkin spice mania."
2. Birthday Cake Milk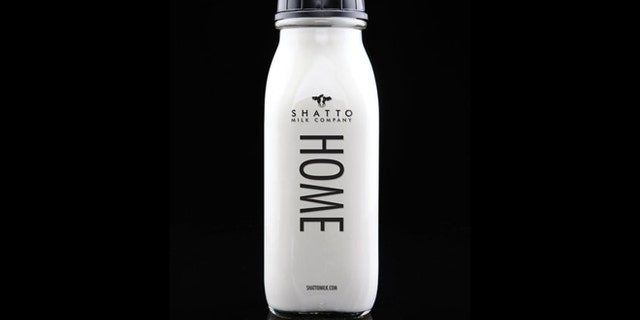 Shatto Milk Co., a family-owned dairy company from Missouri, will celebrate its 10th anniversary this October with special edition birthday cake-flavored milk.
Birthday Cake Milk is scheduled to hit store shelves Monday with the word "Home" written on the side of the bottle. If you're looking to try the special edition flavor, you better hurry. Only 4,000 of the Home bottles were created. Once they're gone, the birthday cake-flavored milk will be available in pint-sized bottles for another week or two, until the flavor runs out.
Think the dairy farm is just capitalizing on the birthday cake trend to boost sales? Think again.
Shatto Milk Co.'s special birthday cake flavor will help benefit a local charity, the Ronald McDonald House Charities of Kansas City. Twenty percent of sales of the limited edition milk will benefit the charity.
3. Birthday Cake Pudding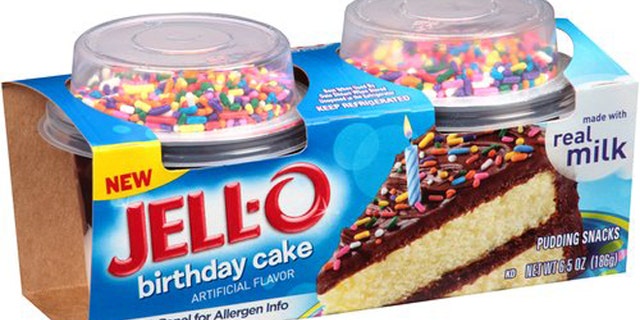 JELL-O Birthday Cake Pudding Snacks are a beautiful blend of childhood nostalgia. First off, you get to rip open a pack of pudding just like you did in grade school. That's followed by the sweet taste of birthday cake. Even the adult in you can celebrate this treat. It contains no high fructose corn syrup and no artificial sweeteners. Prepare the clubhouse. There's a party on the way.
4. Birthday Cake Oreos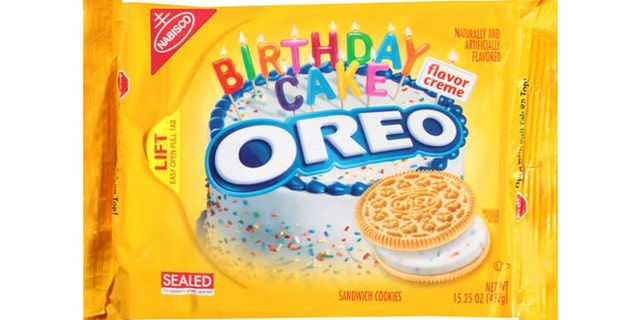 If you've ever debated which is better: cookies or cake, this snack is a godsend. In celebration of their 100th year, Oreo cookies debuted a limited edition flavor: Birthday Cake Oreos. Coming in both chocolate and vanilla-flavored cookies, the Oreos featured a Funfetti-inspired frosting, complete with flecks of rainbow sprinkles.
5. Good Humor Birthday Cake Bars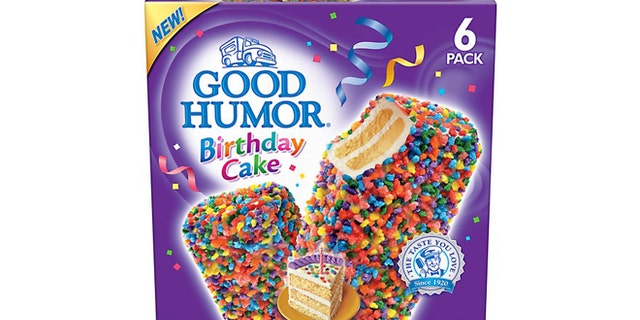 No pun intended. This dessert may take the cake for the most nostalgia-inducing treat on our list. Good Humor's Birthday Cake Bars have all the makings of the Good Humor chocolate éclair bar, but come with a vanilla cake-flavored center. Imagine chasing down the ice cream truck as you did in childhood and then tearing into some frozen birthday cake. It's a whole new level of living like a kid again.
6. Party Cake Peeps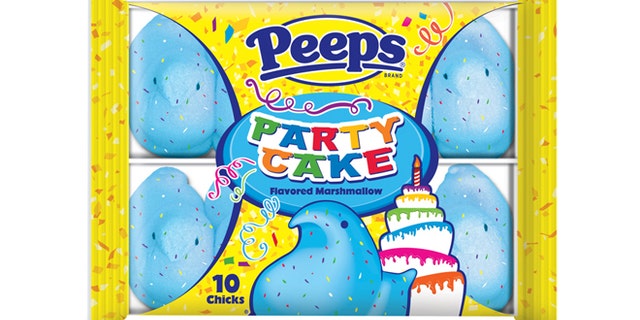 Just Born, the maker of Peeps, tested the birthday cake-flavored Party Cake Peeps in Walmart stores over Easter. The treats were so popular the company plans to take the flavor national next Easter. You can keep your hardboiled eggs. We're going for the sugar-coated, birthday cake-flavored marshmallow Peeps.