5 ways it's getting easier than ever to order pizza
From a meat lover's delight to plain cheese, Americans love pizza, in all its forms.
According to USDA figures,13 percent of us eat pizza on any given day. The average American will eat about 6,000 slices in their lifetime, a CiCi's Pizza poll shows.
The tech world has the heard the pizza rallying call and responded with an explosion of ways where ordering pizza can be as easy a push of a button.
1. Pizza Hut via car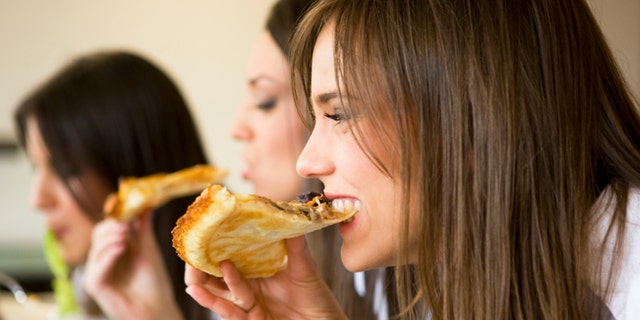 While we don't recommend chowing down on a hot slice while driving, this next invention will certainly make it easier to get your cheese on when you're on the go. Pizza Hut and Visa have announced a partnership that allows customers to quickly place a pizza order right from the car. Using Bluetooth and Interactive Voice Control (IVR) technology, customers can just speak and you order will be sent to the nearest Pizza Hut.
2. Click'N'Pizza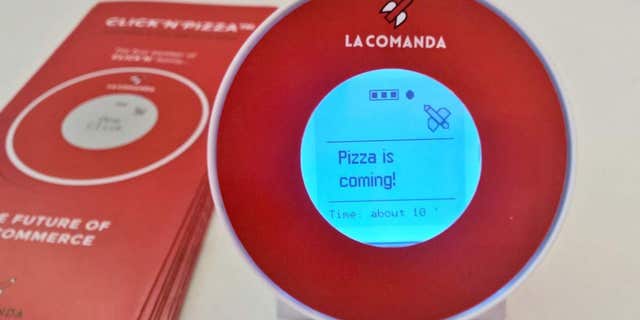 The Click'N'Pizza is like a Staples Easy button that actually does something: bring you delicious pizza. Put on your frig --or someplace convenient -- and simply press for pizza whenever a craving hits. The button was created by the Italian startup La Comanda. It connects to your local Wi-Fi, and once you program your favorite order from your favorite place, you're good to go. A small electronic screen tracks your order-- right until it's at your door. The company has already landed a deal to sell these electronic buttons as Pizza Huts in the U.S.
3. Pizza Compass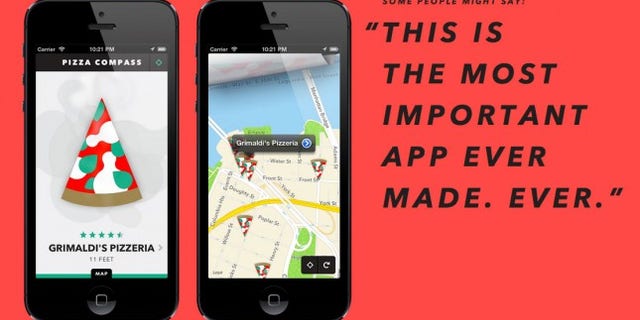 Have you ever found yourself stranded without a pie? Pizza Compass is the ideal app for pizza lovers on the go. Based on your location, Pizza Compass directs you to the nearest pizza restaurants with a simple tap. The app also buzzes when you pass by pizza shop, just in case you didn't know. The app is currently available through the Apple store.
4. Push for Pizza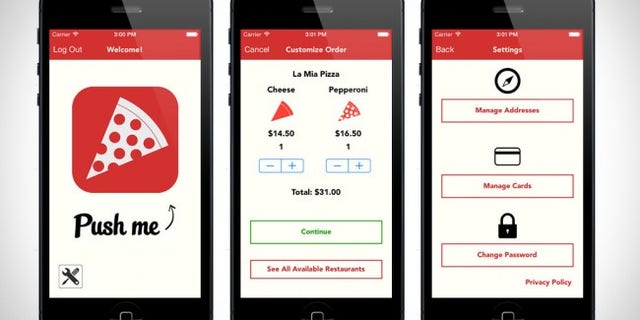 It's one of the simplest pizza related delivery apps out there. Push for Pizza was invented by hungry teens with a clever eye for simplicity. With just two choices-- cheese or pepperoni-- this app isn't for pizza afficionados who like a fancy pie. But when its late and night, and the task of having to locate a pizza shop, or even talk to a person, is too daunting, Push for Pizza is here to save the day.
5. Domino's smartwatch pizza tracker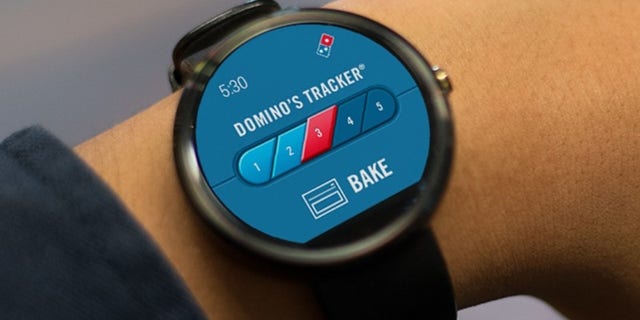 Now ordering pizza isn't just at your fingertips, it's on your body. The chain is developing a smartwatch app that will be compatible with Pebble and Android Wear watches. Time isn't important but how fast your pizza will be at your doorstep is. From ordering to over, delivery or pickup, customers can easily track their order without a bulky laptop or superfluous smartphone.